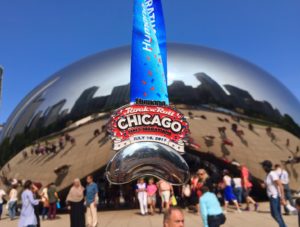 Wasn't exactly sure how I was going to do this, and frankly, if I even should.
Chicago, I don't know why but I love visiting you. My running here has rarely been great, but I come back for more.
Between my mom's accident, my own health, and the fact that the last time I ran here was right after Chris died, I wasn't exactly sure how this was going to happen, if at all.
Without burying the lead, this was 3rd worst finish time of 58 half marathons (and two of the three times I've run RnRCHI have been some of my worst finish times.) So there's that.
But. I finished. I did cross that finish line. Despite everything. The heat and humidity was worse two years ago, but still, we started at 70 degrees at 6:30 in the morning. But RnR was well prepared, extra water stations, a cold wet sponge station, multiple large water sprinklers to run under or through, a couple of cooling buses if folks needed them. And extra medical tents. Here's the good news (especially compared to two years ago), the staff at most of the medical tents looked almost bored. That's a good thing – it means they weren't tending to as many people as they could've been.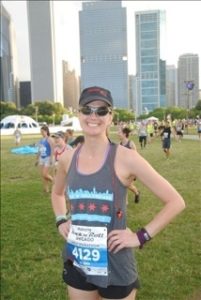 My system isn't on par given the last few weeks but I managed to eek this one out. I could've, yes, skipped it altogether, but after the first week of my mom's accident and then last week going full tilt each day to help get her set up for success at home, part of me needed to have this outlet. Even though, if I'm honest, part of me also just wanted to get it over with. I don't like that feeling, I much prefer being excited and looking forward to every moment leading up to the race, and being present enough to notice so much going on around me. Hell, I forgot a ton of stuff for a race weekend as I was packing and didn't even realize I did until far too late.
I don't recall much of the race, because I was in the mindset of wanting to simply get to the finish line. It felt like the longest miles ever recorded. I managed the first few miles runinng, and then I took walk breaks and nearly every mile, if not more frequently. I was not a strong runner for any of it,…….

Read the rest of this entry »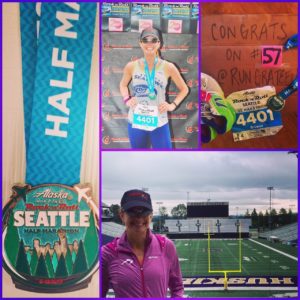 Finishing is Winning
Taken me a minute or two (or weeks) to write this about half #57. Not sure why. It wasn't the worst finish time or the best. But it's a significant race for me – aren't they all?
I guess it's significant because it's starting to feel like every race could be my last. I don't know how many more I can do – regardless of doing one or 10 in a year.
But to get back to #57 – in my hometown. That's always special to me. A year ago, the Seattle race couldn't have been better. An article I'd written for the Seattle Times had just come out two days after I landed in town, I ran my fastest Seattle time (by a lot), enjoyed the race, got some good quality time with my mom who was a rockstar and even got to celebrate over dinner with a good friend. It was pretty much the perfect race weekend for me.
This year – not so much. I was able to come up to town early, but not for fun reasons (other than extra time with mom), to see some doctors and figure out why I"ve had a cough for 2+ months. It was scary. The doctor appointment was somewhat inconclusive, which with autoimmune crap they usually are initially, and the chest x-ray – just the act of doing it – was scary. I went home after those appointments and slept for a couple hours. I was wiped out to say the least. And then felt paralyzed in the "I know something is wrong" fear, but also dismissing it and pretending everything is fine, to keep folks around me calm. But the next day the tears came and went. I rallied, in a daze, to do things and get prepared for the race. I once had a friend years ago when I was in the hospital say "oh it's just Gretchen, I'm sure it's just something weird" which didn't exactly make me feel supported and also makes me want to hide my health crap more than share it. Hell, I can't imagine having a guy stick around to be able to 'deal' with me or my health, since it hasn't happened yet, so it's easier to just stuff it. Fake it till you make it – the most common advice I've ever received.
Went to the expo the day before the race, and all I wanted to do was grab my number and be invisible. Absorb into the walls. Hide. Got my…….

Read the rest of this entry »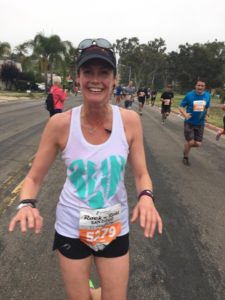 In celebration of Global Running Day, a little review of half #56…
Been a while. Needed this. Another starting line and eventually, another finished line crossed. Yup, #56 is done. And it was a celebration of RocknRoll's 20 years of running, starting in San Diego. It was a blast to be there, part of the celebration in SD, honoring all things running and RocknRoll.
Really wasn't sure I was going to cross that finish line, to be honest, and really really don't like the 6:15am start time. I actually felt good going into the race – if tired – and was hoping for this one to help me kick back into gear from earlier in the year. For it to be in San Diego – I first ran here in 2011 – and to be able to spend time with two of my dearest friends and their two amazing girls (including my goddaughter) made it all the much sweeter.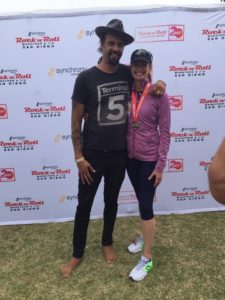 It's infamous June Gloom time in SoCal and that was certainly the case this weekend – I don't think the sun came out at all on Sunday. But it was also a bit muggy to start the race. For no sun or heat, I was sweating from the first few steps run. That did me and my muscles no favors going forward, which made me feel more sluggish than I would've liked. At this point, I run through the gamut of thoughts as always from I could PR to I could break 1:50 to I want to come in under 2 hours to maybe just make sure I run the whole thing to how about I just find a way to cross the finish line in one piece? I ran the first eight miles, not fast but decent even if I struggled a bit, and then the wheels fell off. I walked a few hills, ran into Anne and Jim Ryun who I look forward to seeing at any races – to run into them with big smiles all around on the course was the boost I needed at that time. And then mile 10. I don't know what happened or rather, why, but I threw up. More than once. And went super wobbly and walking in not-a-straight-line. I apologize to any runners who had to see me heaving. And I apologize to the disc golf course bushes I practically dove into. Took a while to get my feet…….

Read the rest of this entry »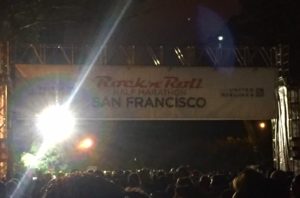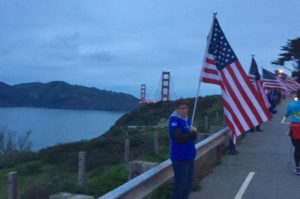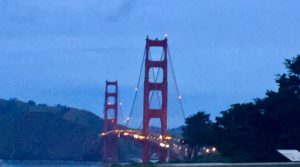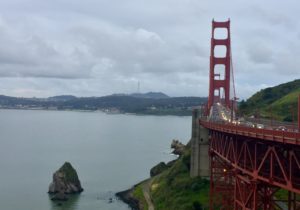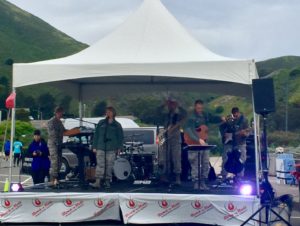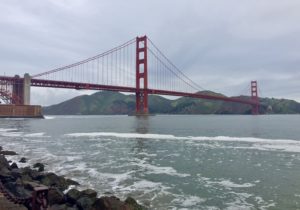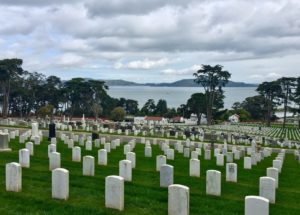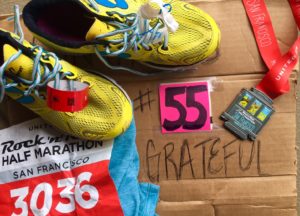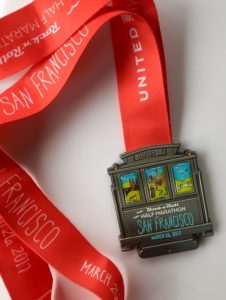 AKA This one was personal.
Be the runner that waves at kids in the windows as you run by. That's what I did this morning. And that made it for me.
I didn't share with anyone "hey I'm running my 55th in SF on Sunday!" because it was such an early race, the weather iffy and I just didn't think, unless you're running, people really get up super early on a Sunday to spectate. Definitely saw a *few* people on the course but with a 6:15am start, one of the quieter (noise ordinance) races I've run. (and in the future, if you're someone who really would've gotten up to be along the course or finish line, let me know, I won't keep it to myself next time)
Plus, honestly I'd given myself permission to do a DNF. As in, pull off the course if I need to. I'm no where near where I'd like to be or have been in the past (especially last year, which is disorienting) and frankly, the hills are intimidating whether it's your first time or many times running it.
And so I ran it, not knowing at all how I'd feel and just willing to get up and try. Get up again and try again, test my will and resiliency.
Not so fun when you get about two hours of sleep the night before. Went to bed early to be able to get up at 2:30am to make, from Sonoma, all the parking and shuttle cut off times. I'm not sure I've ever consumed so much coffee pre-race.
As we're running along 32nd Avenue, I look up to my right and see a big picture window with three or four kids in pajamas waving wildly at anyone who will look and wave at them. Brought a huge smile to my face, so glad I saw them. Bit of a boost.
And because I knew this was more a try-race and scenic at that, decided to run with my phone so I could get some photos. And I did. Well, starting in the dark (which is so discombobulating) it had to wait until it lifted to light. But I got…….

Read the rest of this entry »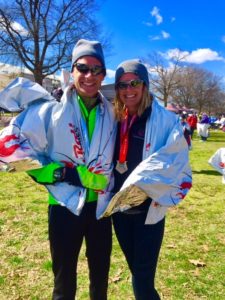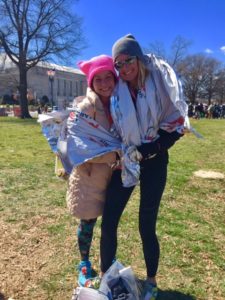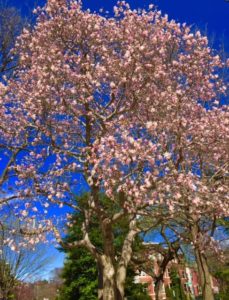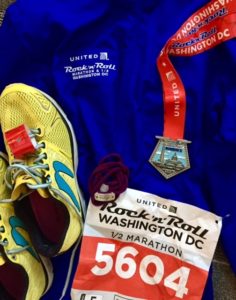 This was either sheer will and perseverance or stubborn stupidity. Or all of the above. I ran a super cold half #54 this weekend. Didn't exactly let too many people know, 'cept for my lovely local DC friends and a handful of others who just knew. T'was ugly.
See, I haven't run since 2016. It's mid-March. And I don't mean like some runners say they "haven't run" but still do 2-3 miles 3x/week, but it's "not really running." Truly not running or hiking or training or anything. Physically I lost endurance, strength, boldness, lung capacity, form, speed, and of course, inspiration. My gut, my joints, my lungs are out of whack and my pd numbers have climbed again. So as I write this on a plane back to Denver just hours after I crossed a finish line (which was in doubt for much of the race), I am marveling that I actually walked onto the damn plane. Let alone ran Saturday morning.
Seems I took one too many life gut punches last Fall and while for a bit I continued to feel physically strong and kept going (think I was attempting another fake-it-till-you-make-it which so does not work as a lifestyle), I ran out of gas, and then some. And can't seem to find the next filling station. Jan and Feb didn't exactly start the year off great either. It's been a rough few months to say the least. Hard to find much get up and go. Not running has had nothing to do with being lazy or needing a kick in the pants.
A few good things from the race did happen – including, yes, crossing the finish line. Well meaning folks had encouraged me to hey, pull a DNF if you need to, just take care of yourself. It's gonna be tough no matter what cause you haven't run AND out of control cold, right? Top 3 coldest races I've run.
Speaking of coldest races – third of three cold races where there was ice at the water stations. As in, spilled out of cups onto the ground, turned into ice that one had to step lightly around (or end up on your ass.) My friend Adam told me that at one water station, the volunteer pulled back the cup he almost handed him because *itwasice*. Yes, ice. The next cup he got was slushy water.
Speaking of Adam –…….

Read the rest of this entry »