Archive for the 'Inspiration + Motivation' Category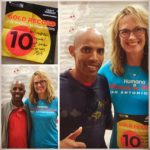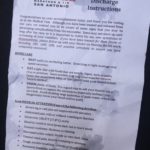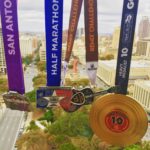 Ok, it's a week late. But not really late, cause I kind of just needed to savor my last race weekend of the year before writing about it.
First, this race was ALL about gratitude, thanking everyone I possibly could for whatever part they play to make these races come to life the way they do. It was also about celebrating all the good that is the Rock 'n' Roll event series, especially since 53 of my 63 halfs are on one of their courses!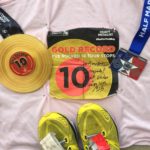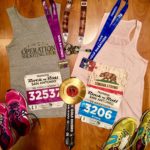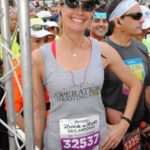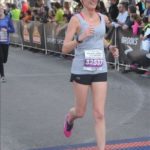 Is it possible to fall in love with running all over again? And in the weirdest, hardest way possible? To be sure, this year has been hell for me. Especially for running. That I still ran 10 half marathons is slightly beyond comprehension. But I really wanted to do San Antonio, and end the year on a high note.
Frankly it couldn't end much lower than last year. I needed this year to end on the upswing, something to build upon for next year and reenergize my confidence in running. Part of that included shifting a whole lot of habits and revisiting a few old and trusted methods. And, another part of that was to challenge myself and do a Remix Challenge weekend by running a 5k on Saturday and my half on Sunday. I was nervous but also know that often doing a shake out run the day before a race – provided you don't go out too hard or fast – can be incredibly helpful.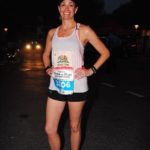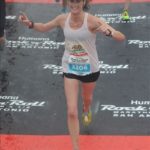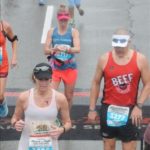 And so the good news is, despite the immediate post-finish line involuntary medical tent visit, it is in fact my PR for 2017. That's not saying much, considering it's slow for me for 2016, 2015, but it's as I wanted it – to feel that I'm heading in the right direction and I can use this as momentum to keep striving for more and learning different ways to (still) improve my running. I'm loving the fact that after this many races, I'm still curious, still learning, and able to apply lessons to shift both performance and experience. You can't step up to this many starting lines, keep running throughout, and cross this many finish lines without learning a thing or two about the human body and condition.
A few key highlights from the races (in addition to the previous post about All the amazing people I adore):
*did I mention I ran the fastest for this half race than all of my 2017 races? 🙂 Ok, okay, that is not the only reason to run. Here's a few of the others…
*It was my favorite expo, perhaps because it had the energy of the last one of the year and the transition of the merger shifting staff and next steps and feelings of who knows what it will all look like next year. In fact, I went two days in a row just to see all my favorite people: runners, vendors and staff. Oh yeah, and got to meet Meb's awesome brother Hawi and Meb signed my Gold Record bib again.
*bound and determined to make this race weekend not only count but be worthwhile and feel good. took really good care of myself inside and out to make sure I was prepped.
*Right before the 5k, I ran into Ann doing her thing and she reminded me "the people running hard and fast today are not running tomorrow!" after I mentioned I'd never done a remix weekend before and wanted to have the half go well too.
*wore my Operation Shooting Star tank top for the 5k, to honor Audrey and OSS and to stay connected to my WHY I do this at all.
*With Ann's words in my head, I made myself run a little slower, and came in happy with my time, certainly slower than my fastest 5k and still, probably could/should go a little slower. It was the perfect distance – I still had to get into it, but also knew it was almost over right when I was feeling my legs truly relax into the race itself.
*As I'm about to round the corner to the last .2 of the race, Meb comes around running upstream on my right, so I got a low five from him – he was on his way to run in with a crew and without a doubt it gave me energy to kick it up for the last bit of the race and cross the finish line with a big smile.
*Got some rest, took it easy, met up with a big group of awesome runners to celebrate briefly at the Black Sheep event (thank you Al, that was powerful) and then to bed to feel strong for the half. Couldn't help but laugh when my Garmin had told me the 5k I just ran needed a "47 hours recovery", so yeah, that wasn't going to happen.
*did everything I could possibly do to take care of my body and mind to start the half race morning off well – feel super good about that and knew it would make a difference, even if simply to ENJOY the race more than I had all year!
*It couldn't have been a better start to the morning, in terms of finding all where I needed to be, running into friends, feeling set and ready. The weather – okay, that was not awesome, a bit strange in it's humidity and lack of breeze. Ah well, I've run in weirder conditions. And yes, started the thank yous – there was a volunteer wearing one of those awkward "Ask Me" signs attached to her backpack – she looked askance at me, so I said it again "thank you for being out here and helping us all!" and she nodded. Made me think we could all say thank you a little more.
*I had a goal for this race, to actually meet Kathrine Switzer and say thank you for all she did. Given my post-race condition, that didn't happen. But, lo and behold, at around mile 1.5 I saw her and her crew running. So I ran around to the left and in front of them and turned around, clapped my hands together and said "Thank you, Kathrine, for everything you've done to elevate this sport!" And she smiled and said "you're welcome!" Little did I know I wouldn't get to see her again but damn, that was cool.
*Took a cue from my friend Joe to thank all the many police along the course. I didn't get them all but I got a lot of them. Some I got to shake their hands. I swear one of them started to reach for his holster he was so startled. Some of them got big grins on their faces, thanked me for thanking them. They're making a difference, keeping us safe in a myriad of ways, not simply standing there to look hardcore. They probably should all get thanked a lot more than they do for being on the course for us. Thank you Joe, for the inspiration for that (and for always being such a wonderful friend every time I see you, it's truly a joy to hang out with you.)
*Ok, here's a little reality – I don't remember all of this race or the course. Sure, that's not too unusual given what happened at the end of the course, and it's why I try to write down as many thoughts and memories as soon as I get back to my phone in my gear bag – but still, it feels kind of strange to only recall a few key points. But what beautiful key points they were.
*I love the San Antonio course, so many running teams from Mexico representing – I love seeing all the teammate shirts runners are wearing, really helps you grasp the scope of the sport.
*Here come the thank yous for volunteers – any and all volunteers, including the ones handing out gatorade and water and also all the folks helping pass out food at the end, those helping the general organization of the course to run as smooth as possible, and certainly, all of the medical volunteers (fascinating to learn how some of them are learning about the field and may become nurses, doctors, EMTs and many other professions – what a cool way to learn the ropes.)
*The Run to Remember mile. Wow. Somehow I timed it perfect, cause the weather had begun to shift and the humidity began to lift. Well, right as I'm running along all the pictures and then it turns into all the family members of fallen soldiers holding American flags on either side of the course, the skies absolutely and completely opened up and poured down on us. Somehow it seemed entirely right for that to happen, the downpour splashing on my face and mixing with my inevitable tears as I thanked over and over each of the family members – their beautiful faces clearly feeling the emotion of all the runners appreciating them and their sacrifice as they ran through it all. That mile is always incredibly powerful, this particular day even more so. Mother Nature played a little role in that, connecting with family members too. Thank you for this Run to Remember portion of so many of the courses – it never fails to make an impression or to make me feel a deep sense of appreciation.
*Can't quite recall which mile it was, maybe around 10 or so? But I passed a firehouse. Initially my brain said "oh, you already stopped in Savannah, you did what you wanted" and I kept running – at this point, I was pretty happy with my running time. I was feeling a bit off a few times but for the most part, I knew I was on pace to run my fastest 2017 time, just go for that one part of my brain urged. Just 15 steps past the fire house, I couldn't keep going. I had to stop and go say thank you again. I knew I would regret not doing it, not be oaky with not saying thank you. So I literally pulled up, did a 180 and ran upstream back to the firehouse (I'd already waved to them as I ran by, which just wasn't enough given everything in Sonoma) and ran up to about eight guys in uniform. I stopped, a bit breathless and admittedly through some choked up tears, and said, hey, I know Texas didn't technically send anyone to CA for the wildfires in October, but I want to say thank you for ALL that you ALL do to save lives, property, communities. And showed them my Sonoma Strong shirt I was running in. Every single one of them high fived me, said thank you – beaming – and said it meant a LOT to them that I took time out of my race to come say this to them. I could've stayed there talking with them longer, but they shooed me back to keep running. It was the best thank you I've been able to give to first responders. That memory I'm tucking in my heart forever, and so damn glad I doubled back to share my gratitude.
*Was that mile 12 or so? The dancers on the pedestrian overpass? I loved that. Seriously, they were AMAZING and so talented, it was delightful. I was actually feeling okay, and despite the hill to run up under them that I knew I could tackle at that point, I had to slow up for a walk, just to enjoy the Mexican folk dancing and the music. THAT is a first for a race, and unique to San Antonio. Brilliant.
*I lost count, in the best way possible, of how many thank yous I had the opportunity to shout out and share. It was amazing how it really lit me up every time, it actually made me run better and faster after each thank you. Seems appropriate.
*As per the previous post from last weekend, sure my immediate ending after the finish line wasn't what I expected and I still have some questions about the why. (I still say it's a barometric pressure incident) And sure, I missed a lot of my 'normal' routine post finish – no finish photo, no chocolate milk, no banana, no wandering happily and deliriously through crowds of equally happy and delirious runners. Instead I was running over ankles in a wheelchair. And, as noted, while the experience was super scary at the time, it was also incredible because I was able to experience – for the first time – the absolute remarkable medical help at a Rock 'n' Roll race. While the experience of it pretty much sucked for me physically, I was continually blown away by everyone I came in contact with.
*And finally, being able to hang out at the finish line and cheer marathon runners in was just simply the icing on the whole day. And yes, I cannot help it, I have to admit I cry – when you see someone's emotions of such an accomplishment, and THEN you see them connect with their loved ones who embrace them with such pride and happiness, and then they all start crying together… It's just so incredible. My friend Lisa, who was cheering people on despite being on crutches and unable to run herself, noted "oh you have a tender heart! and you're going to make me cry!" The tall young son, who crossed the finish line of his marathon and found his mama and his auntie on the side and collapsed into their arms with tears running down his face. Damn, I'm tearing up just thinking about it. THIS is why I run, why I love supporting other runners, why I keep going to race weekends.
And so, it was another race of firsts. And at 63 finish lines, that's pretty freakin cool. First time with that kind of finish being wheeled into the med tent, first time doing that many thank yous and really experiencing the lift of it, the first time for the Mexican folk dancers, first time with a down pour in the middle of the race with sudden puddles everywhere, first time doing a remix weekend with a 5k on Saturday, first time meeting Kathrine Switzer, first time for lots of things. And perhaps the end of one kind of era, in that Rock 'n' Roll is in the transition from the merger that happened, Ironman purchasing them. Things are bound to change, staff already has, and the look and feel will be different and I'm committed to going to practice approaching it all with an open mind and a willingness to offer feedback.
I'm forever grateful for this race weekend – somehow it restored my belief in my running and my why. It reinvigorated my goals and potential for what else I can do. It renewed my excitement about race weekends. I so wanted to end on a high note, believing that I can again improve my running, and that absolutely happened. OH YEAH – it IS in fact my PR for 2017!!!
Let's GO 2018!
It's amazing what running can give back to you. Sure, it takes a lot of commitment, and discipline and time too to make it a consistently good experience.
And.
Running, and race weekends, can help recalibrate when things aren't going so well. It would feel easier in certain situations to not run, to say no not this weekend, to let an opportunity go by. But time and time again I've found that even in the worst of circumstances, when crawling into bed and hiding seems the best option, that actually getting myself to follow through with a race weekend and see what's possible is the best thing I could do for myself.
Not to get tough subject-matter wise, but here's a list of how a race weekend in the face of some tough life events has actually been the very thing I needed. Most people would say to me "you're crazy to go run this race, to go do this weekend, you should take it easy." And, for me, I knew that not doing it would be far worse for me long term than taking the short cut out of the race. Sure, I've had perfectly fabulous reasons not to run, but I did it anyway. And there in lies the power.
And, this is all slightly different than running through pain or through a cold or feeling a flu coming or just feeling tired – things (aside from major injury) we are usually capable of pushing through.
Back in 2012 I had moved up to Seattle after some big life changes that were not my choice occurred and I was feeling down. To be honest, I was depressed. I didn't run for months. It seemed pointless and I was lifeless. But. I had signed up for Rock 'n' Roll Portland in May of that year and that motivated me to start walking in April. To be honest, I'd probably ran a total of 13 miles, with maybe about 20 miles of walking, before the race came along. But there was something in me that said, well, you signed up and you're not going to back out of it – you're true to your word, you paid for it, you might as well buck up and get up to some kind of ability to do it. And so I did. I was determined to run, walk, crawl, skip, jumprope, roll, and whatever to get across that finish line. And I did. And it did plant a seed of possibility back in me and a month later I ran Rock 'n' Roll in Seattle and shaved 13 minutes off my finish time. Worth it to get my butt in gear and run the half.
In July of 2015 my best friend died unexpectedly. I'd just moved back to the state he already lived in and we were excited to get to see each other frequently again and all the time. And then he was gone a month later. Well, I'd signed up for the Rock 'n' Roll Chicago race that year because I wanted to take his advice and do the river architecture tour. You see, it was a city he lived in an one that he considered one of his favorites. So I would be there to celebrate in a way. And then he was gone. A week later I was supposed to get on a plane to do this race. How in God's name was that going to happen? But I knew he of all people would be mad at me for NOT running because of him, and so I decided to go and try. I spent half the time in a daze for sure. And the race itself was reminders and signs of him everywhere. And it was hard and emotional. And. It was cathartic and the best way I could've honored him in that moment. It was worth it to push myself to go and run.
In November 2016 36 hours before I landed in Vegas for the Rock 'n' Roll half, the guy I was dating all year broke up with me out of the blue. I was beyond sad. I was crying in public for goodness sake. Couldn't help it. But again, I got on the plane in a mood not normal for heading to a race. And a few days later I pushed myself to run that race. And I felt good – it was good to run, I felt stronger with every mile and more 'me' every time I felt a surge of energy. I felt almost sad for him that he wasn't there to bear witness to my triumph (his loss, of course.) And when I crossed that finish line, despite the fact the I felt way faster than the finish time I registered, I felt empowered all over again, and free to be open to possibility. Holding that medal in my hand, again it was worth it to run through the tears.
In July of 2017 I had signed up again for Rock 'n' Roll Chicago – it's a city I love to run in and visit and explore and it had been a few years so I wanted to check it out again. And then Fourth of July my mama had a terrible fall and hit her head on cement hard and sustained a brain injury. It was horrible. And I was there, and I was all in in terms of taking care of her, supporting her and doing what I needed to in her care. And had this race weekend looming just 10 days later. Again, the thought came to me, how would I possibly be able to do this? How could I get on a plane? How could I wander among the crowds? How could I get my body to actually take steps in the form of running? But with my family's encouragement and okay, I did. I wasn't a super peppy self in the day leading up to the race, I took it easy and laid low for sure. And then I ran. It wasn't easy, sure, but I also thought about all the races my mom has been to – more than anyone. She's been incredibly supportive and enthusiastic in that support. So in a way, I felt compelled to do it for her, in her honor. Yes, it was worth it to push myself to go straight from looking after her to Chicago and doing something to buoy me and bolster my strength to keep going.
October 2017. Been a doozy, because it wasn't just a life event that jolted my body or derailed training or exhausted me emotionally. It was my home and my community and all of it. The North Bay wildfires happened and it was as if I suddenly understood the phrase 'all hell broke loose.' Not only did it hijack my body with being on edge and full of anxiety for weeks on end, but it made it impossible to train because of the smoke and toxic air. I was exhausted once I was no longer evacuated and could move back home, lucky enough to have my home still standing. But I couldn't run – both because of my lungs and just all the trauma around us. I ran a few times – more like a shuffle – but it was a slow slog with painful lungs. But, I had Rock 'n' Roll Savannah coming up. And I wanted to do it – it's a lovely city to run in and my mom had signed up to come join in and cheer me on. Well, given her accident earlier in the year, we decided it wasn't wise for her to go. So my biggest champion was missing and my whole operating system was very off – should I still go? I can't lie – right up until the flight itself to take off to Savannah I considered ixnaying the whole trip. I couldn't imagine being 'okay' enough to tackle it and do it to a way that I'd feel good. I was worried about a number of aspects of being able to do it at all. But I also knew I'd be bummed later if I hadn't crossed that finish line. And so, I looked to Savannah and the race to help recalibrate and reset. And you know what? It did – with every day and every mile ran in the half marathon, I felt more me, felt like pieces of myself were coming together in a way that would create the foundation to build again. Do I wish it had been a few more weeks removed from the fires? Of course, a little more time to recover would've been lovely. But I had to make do. And again, it was worth it to trudge through the many flights to the East Coast and to get the hugs from fellow runners as I wore my #SonomaStrong tank top.
Whether the race weekend is situated conveniently in my schedule for whatever happens, or just comes up when it comes up, it doesn't matter. Every time I've pushed myself to do a race when everyone and their mother would not only say 'hey, it's completely okay and understandable if you want to not go and not run" but actually would encourage me to not run, it has been far more pros than cons and the ultimate outcome has been positive – whether to reset, or help me realize my strength and resilience, or to help me move forward in some way. So, I run to heal these things that happen, that come up, that might initially stop me from running. And I run to have hope – hope for more, more life, more love.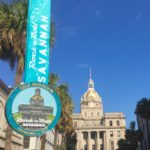 Have to laugh that as I'm about to post about Savannah, Facebook sent me a 'memory' of running in Savannah four years ago in 2013. It was race #27 I think, and rated it a very high race experience. That's a lot of races and life that's happened since. My affection for the city of Savannah has only grown.
2017: Feeling grateful for Savannah and the ability to still somewhat run. It's taken a few days to really digest the experience, and what it means to me.
It was a race I couldn't imagine doing, and I couldn't imagine not doing. I struggled mightily with whether or not to fly all the way to Savannah. Considered not doing the race right up until the end of the first of three flights (meaning, I nearly walked back to a ticketing desk to fly right back home.) I didn't want to leave Sonoma, my community, or the feeling of togetherness. And, I also knew that a few more days to be home and get rest and connect could be useful, and knew the race would be hard to do. I also knew that I would be having serious missing-out feelings during race weekend, in a city I've been wanting to go back to since I first visited to run four years ago. I also knew I would ultimately regret not running, not trying, not seeing what was possible. So I somehow packed (thankfully I have a race weekend pack list) and got myself to the airport – the driving of which I do not actually recall. Once in Savannah, it felt right, even if still daunting to try to run. In a way, it was good to be so far removed from everything and be so incredibly distracted by a city that begs you to be present and be fully there.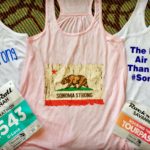 Thankfully before the race, I ran into friends like Joe and Yinka who immediately knew what a big deal it was for me to be there at all and who were glad I'd made the trip and was attempting to run. People asked about my #SonomaStrong shirt(s) and were impressed I'd made it out to run as well. Everyone seemed to agree in some way that the run could be healing, fun, a distraction, cathartic, inspiring. It felt good to start that way, even if I was still anxious about the actual running.
Experienced a few firsts in this course – the beginning started with the moon setting and then moving into the sun rising at the same time. I think it was either a full moon or close to it and it was a spectacular way to begin. It was a nice contract to the severe grimace I had on my face as I tried to take decent breaths with my run. It's rarely easy but this time I could feel the strain in a different way. And I had no idea if I would be able to continue, if I would feel this the whole run, or adjust as I have so many times before to a pace and breath that only I seem to be able to make happen for me. And the first music station, oh, bagpipers – there's something that gets my heartstrings every time upon hearing them, and it seemed fitting given the devastation to the area I live in, and also caused the first of many more tears to fall. Ok, I admit, I cried at the start line too, a mixture of fear, grief, and gratitude. That continued throughout.
Another first – one of the bands was covering Johnny Cash. My grimace turned into a grin, at least for a bit, as I'm a big JC fan and to hear someone pulling of a near flawless impression, well, that lifted us all. And along all this run – a lot of police presence, lots of protection for us all. Now, not all cops seem to enjoy this part of their job, whether looking bored or disinterested or hmmm, maybe even envious in some way. Every once in a while, whether buoyed by those who thank them or just plain enthusiasm, you will see them cheering runners. Well, I pass a female cop who's solo on her position and she's is clapping and hooting for everyone – it was truly awesome and so appreciated. Then another first – a medical tent completely engaged and cheering on all the runners enthusiastically – it was amazing. Usually they're quiet or attending to something or even slightly bored looking, and frankly, I think a bored medical tent is a good sign. That said, for these folks to use their time on the course to cheer on the runners in such fashion, well, I'll take it, it was pretty awesome.
My favorite first: well, I don't know if it really is a first. I would imagine out of 62 races I've had to have passed a fire station before. But I happened to really notice this one along Oglethorpe Avenue, given recent events and the fact that the front of my tank said #SonomaStrong and the back said "The Love In The Air Is Thicker Than The Smoke" and I felt proud to be wearing it even if most people on the East Coast weren't 100% aware of what it was about. And then I see the fire station right there. I took a few steps past it and then knew I couldn't keep going so I stopped, turned around and went in. There was a group of them out there all day cheering runners along. And I HAD to stop to say thank you – they were not in fact a fire station that was deployed to the wildfires in CA. I don't believe Georgia was one of the 17 states but I wasn't sure so I wanted to stop regardless. To stop and say thank you, appreciate them for who they are and what they do. That was not simply sweat that ran down my face while I stood there with them.
And this happy little silly event – I'm lucky to have some very dear friends who live in Colorado that I don't get to see often enough. But I know they all support my running. And there was a runner who I kept seeing along the course who had knee high socks on that had the famous Colorado 'C' along the top of them, right underneath the back of her knee. Now, I did not run this whole race at all. I walked a lot of it. I had no choice at times, and at other times, I made the choice to walk – to pause, to breathe, to look around and enjoy the moment. And throughout the race, I would continue to see this woman (I had no real pace, so how could this happen?) and her socks. Towards the end of the race, I began to think it was my Colorado friends saying hi, encouraging me to just keep running.
Speaking of just keep running, ever since I saw Finding Nemo (I think I was the last person on earth to see it), I've turned just keep swimming into just keep running. And right as I had rounded a corner in the last three miles and started up a small crest, I thought hmmm, how on earth will I do another three miles? And I look down and someone had written in chalk "just keep running" right where my feet were stepping and so I took yet another sign to enjoy this race, and, yes, just keep running.
I truly love Savannah and need another trip there soon to take more of it in. Never have I met so many people who live in an area strongly driven economically by tourism who really do love tourists and appreciate them and welcome them so warmly. All along the route, no matter the neighborhood, we were cheered along. And every store, bar, restaurant, tour and more I encountered the very definition of friendliness and kindness. And lots and lots of stories I could spend days listening to.
Thank you Savannah, for the reset and compass recalibration, and for the healing distraction, and for the realization I can get up – no matter what is going on – and just keep running. For a moment or two, I felt like myself again, even if painful or emotional at times. I found some strength and comfort in that. Thank you running, for giving me the motivation to try again.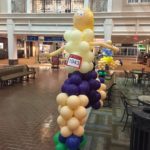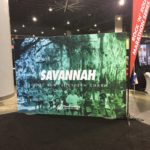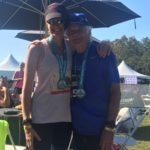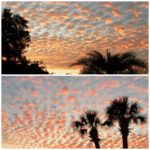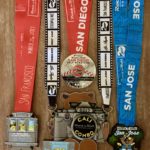 It's about time I record half marathon #61, when I ran the Rock 'n' Roll half in San Jose. October 8. Seems like a lifetime ago. There was a perspective to it that I wanted to share, that was important at the time, that's a bit lost to me now but I'm going to try my best.
In itself it was a tough race, it had been an incredibly long week. And by long I mean, on Monday I drove five hours to the middle of nowhere in California, worked an intense teaching day all day on Tuesday, then Wednesday drove another four hours to the San Jose airport, flew to Chicago to work another class on Thursday and that night I flew back to San Jose, crashed in an airport motel, worked Friday morning and headed to the Expo to grab my bib and everything, and then drove five hours home. Yes, five. Should've taken two. I think it was fleet week or something big going on, but it was endless traffic. By the time I got home, all I wanted to do was sleep for 24 hours straight.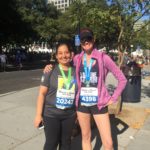 Got to back up to Friday, at the Expo. Divine intervention happened in a very cool way. I had parked in the convention center parking lot and was retracing my steps from how I entered the convention center so I wouldn't miss where my car was, and essentially was probably taking the long way to get back there. I'd been thinking about my friend Mankamal who'd I'd met two years previous at the morning of that year's San Jose race. I knew I needed to let her know I was for sure and last-minute doing this race. But it'd been an insane week of travel and work and I was barely keeping my nose above water. As I'm walking towards the stairs to get to the parking lot, I see someone walking up them – it's Mankamal. We exclaimed our delight and surprise to see each other – if she'd come up two minutes later or I'd left a minute or two earlier, we never would've run into each other. It was meant to be. And so we caught up for a few minutes, in the way that you do when you haven't connected for a while and there's just so many things to catch up on. She even invited me to stay are her place the night before so I'd have a shorter drive race morning, which was incredibly generous – I said thank you but I needed to get home and settle in for a night or two.
Really didn't know how the race would go, to be honest. A LOT of time on my feet and in heels shortly before the race, plus the exhaustion of travel and especially all that driving. Busiest week ahead of a race I've had in a while and I didn't know how my body and mind would connect with the race and how it would do. But I wanted to try. Plus I wanted to get my Cali Combo race in, and half #8 for the year! There was no turning back, just a bit of trepidation for how it might feel, how hard it might be and how long it might feel like it's taking.
Thankfully I woke up okay, even thought it was a bit earlier than I normally do, because I had to make time for driving down. And thankfully it was cooler weather so I knew at least I'd be able to run – the heat Sonoma has had sometimes in the afternoon has made it tough to run for me. Hot air doesn't exactly make lungs happy.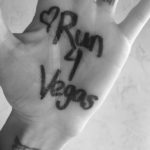 I decided I wanted to run this race "for Vegas" – the massacre tragedy has just occurred one week prior and it felt necessary and important to connect to that somehow, to run for those that no longer could, that I knew where it happened because it was the start line for the Rock 'n' Roll Vegas race last year. So I wrote on my left palm "Run 4 Vegas Strong" to remind me to do so, to run for them and to inspire me when I might feel down or lethargic to just keep running.
Not only did the cooler weather help, the missing mile markers did too – so you might see mile marker 4 and keep running waiting to see the "5" and you don't see it and then see "6" and get actually excited that more than a mile passed. It might've been a mistake, but I got to admit I liked it.
Another piece I liked – the old guys playing in a band in their driveway. Not only were they good, they also had an amazing sign: "Greatest Driveway Band Ever!" Agree, gentlemen, agreed.
And then I tested again the idea of walking a bit along with running and seeing if that might help me pick up my current dragging-ass style of running. I tried it in Seattle in June (or rather it was mandated by my family) and I actually came in under two hours when I wouldn't have thought that possible. And sure enough, despite my feet already sore and hurting, and my energy low and the rest of me feeling a bit off, I finished faster than I could've expected. Which was nice.
Finishing that race felt like a bit of a cleansing from the kind of week I'd had, something I needed and could prep me for the next week which included a big trip to Ottawa for my book (that didn't end up happening of course.) Then I ran to get my phone so I could connect with Mankamal at the finish and sure enough, we were able to meet up and give each other congratulatory hugs and get our picture together like we do. I will admit San Jose isn't necessarily my favorite course, but the perks of doing a local race which include seeing a friend like Mankamal make it 100% worth it.
Who knows, if I'd known how life would change so dramatically less than 24 hours later, maybe I would've done things different, I don't know. I do know I'm grateful I had that race, with a sunset hike that night, to buoy me up for what was to come. Yet again, running brings peace, calm, and strength to my life.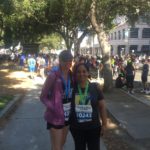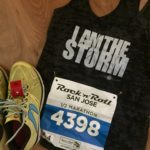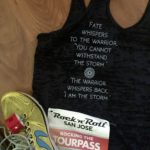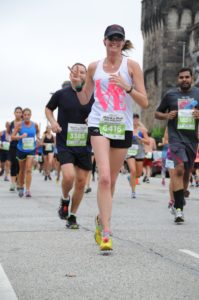 A week ago I ran my 60th half marathon. That is, frankly, very strange to write. My 50th Rock'n'Roll half marathon. Not sure it's really sunk in. None of that makes sense in my logical brain, but certainly my heart recognizes the journey it's been. Never did set out to run this many. Of course, people have asked "So, is running 100 on your list of next goals?" and honestly, my answer is no. When I was running the first few, if 50 or 60 had been in my brain, it would've felt too far away, it wouldn't be the motivator one would expect. Sure, once I was nearing #40, suddenly 50 was THE goal. And, actually, it kind of took me away from enjoying each race for whatever it was. Instead it was knocking another one down so I could get that much closer to the goal number. And so, no, 100 is not on my brain at this time. Perhaps when I've run my 88th or something I'll think about it. And even that sounds absurd. I have three more to enjoy the rest of the year around and that's what I'm focused on. That and my health and ability to do these at all, whether my joints and muscles are along with me or my lungs are cooperating. That's what matters. Maybe an ability to push myself during a race at some point, but not how many I"ve run. And supporting other runners. Their stories and reasons why and own moments of celebration are what I turn to more and more.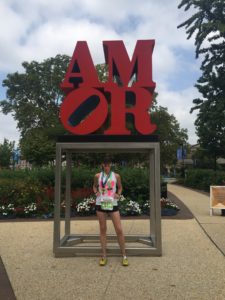 Now, as far as #60/#50? It's hard to express how much I enjoyed it, especially considering what a crap finish time it technically was for me. Yes, it was a big goal to run 50 halfs with Rock'n'Roll. And that my first Rock'n'Roll was in Philly and the 50th also in Philly. And that I was born in Philly and it actually truly is one of my favorite courses of all the cities I've run for RnR. But something clicked for this race and I'm enormously grateful for it. I will admit to feeling like I was getting through a lot of the races this year. The expos weren't inspiring me with energy like they normally do. I just wanted to get the runs over with. But this one, it was different. I walked into the expo and initially I thought "oh, here we go" with a down tone and I stopped and thought "what are you doing? You are actually totally looking forward to this – don't go default, this is a race you're excited about, let's go for it!" and my energy and approach totally shifted. I wasn't just trying to grab and go, I wanted to actually experience the expo.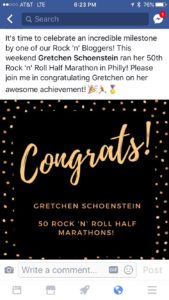 The race itself? Physically I was not up for it. I'd been at a conference in DC for a few days and took a train the day before to get ready for the race. My body was tired, I was not rested, and I woke up with a major headache and bilateral joint pain. I knew it would be more of a shuffle than a run. And I was okay with that. I actually wanted the race to last longer, so I could enjoy it all. Now, I've had races before where I think "oh, I don't care about the finish time" and yet while on the course I either try to push when I can't or get frustrated with myself because it's not going to go well, I can't find the extra gear to in fact pull off a good finish time. I never had that feeling come up on this race. Yes, I had to push myself to keep the run up, but the fact that I wasn't running fast, that it would without a doubt be a slower finish time, really truly did not bother me. I simply wanted to take it all in.
I was taken a bit aback by the looks I got when I pulled out my inhaler shortly before the race start – and realized I guess it's not something you see too often. And then, while prepping for the race, I wrote on my left calf "50th" and on my right "RnR Halfs" and sure enough, a couple people along the course said to me – as they were passing me – "way to go" or "congratulations" or "impressive!" and that felt awesome. And then the kicker – after crossing the finish line, had a guy come up to me and ask if it meant I'd run 50 Rock'n'Roll halfs. I replied yes. He said he kept seeing me on the course and was pacing to stay up with me, telling himself "if she can run 50 of these, I can run this one." We congratulated each other and I felt happy for that interaction. And someone else throwing out "you don't look old enough to have run that many!" Bless you!
Speaking of feeling happy – what are the odds you run into your childhood friend and neighbor right around mile 5? Now, I was hoping to see her every time I do a race here, but it hasn't worked out. Suddenly at mile 5 I hear a "Gretchen?" and she's suddenly on my left. SO FREAKING AWESOME to run into you Carol!!! I love how it happened. We ran for a few minutes, me breathless, cause, well, that's how I run. I wasn't running fast and encouraged her to get back to her own race. But it was so cool to, in the midst of how many thousands of runners, have her spot me and come say hello!
Mile 5 is heading along boat house row, one of the many best parts of this course. When you're then running along Sckuykill River for miles at a time, seeing crew teams on the river doing their thing, and getting into your groove while dodging acorns, it just all makes sense. Running. And then you want to see a bunch of adults get goofy giggling grins on their faces? Have a grade school cheerleading group and a 5 year old girl with a sign that says "hit this for more power" and she's holding it up against her torso. Basically, including myself, a bunch of people suddenly tip toe while running over to her (so as not to scare her) and lightly tap the sign, while she smiles broadly and a bit shyly. Literally heard a guy behind me "awww" and then giggle. Too cute.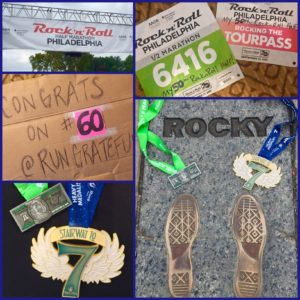 Heading back across the bridge to run the west side of the river, I wanted to stop and just enjoy the river view. Such a pretty view. Somehow I kept going and along the west side, while recalling that my dad had a snarky nickname for this river, I 'asked' him to join me, to hop on his bike and ride alongside me. This might seem weird to you, or too woo woo or whatever. But it worked for me. I fell into a rhythm of one foot in front of the other, and while often feel alone, for a few miles I did not. I have so much gratitude for my dad, for Philly and my start there, and all he instilled in me including pushing myself physically, real resilience, connecting with others.
It really is one of my favorite courses – sure it was a bit soupy (I do love that October race weather from 2015) and warm, but the iconic streets and buildings and history, including the state pen, and the river course with acorns every where – it's just a spectacular course with a slight push to finish (uphill) and finishing at the bottom of the the Rocky Steps. Even if I end up running only one race per year, I would do everything I can to make it this one.
And then my favorite signs for this race: "Doubt kills more dreams than failure ever will." and. "Own every mile, celebrate every moment."
Thank you Philly and Rock'n'Roll, for a brilliant experience.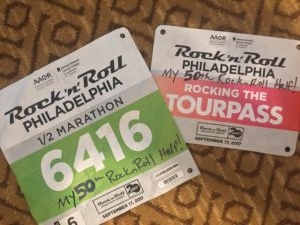 They said I couldn't. He said I shouldn't. He said "perhaps too many?" They said you can't. They said who cares. She said it's not worth it. She said I can't trust my gut. They said why bother. He said it doesn't matter. They said it won't make a difference. They said I can't. They said give up. They said this is the new normal. She's said it's not enough. He said not you. They said stay down. She said it's crazy. He said you need to do/be more. They said why not try something else? They said stop, slow down. He said what are you trying to prove? They said we don't know. They said we don't have an easy answer for you. They said they wish they could do more. He said we will figure it out. They said be in the moment. There's a lot more they all said.
Yeah, I heard you, still do. This wicked memory of mine is sometimes a curse. For too long, longer than I'd like to admit and sometimes still dip into, I believed and/agreed with it and at least questioned myself far too much.
Well, tomorrow I'm running my 60th #halfmarathon overall, my 50th Rock'n'Roll half marathon. No those are not typos. Been told I'm ridiculously loyal (to a fault in some areas) and there's NO way I could've run this many in just 7.5 years without Rock'n'Roll, the event series and the incredible people who produce these races. It may not be a big deal to anyone at this point, but it's a damn big deal to me, knowing I could play it safe and take it easy and lay back down, be careful. I may appear strong and able to do this, no big deal, but it's fucking hard to push myself by myself, never knowing how it's going to play out and whether it's a "go" but I do absolutely stay curious enough to learn something every time (so please don't say, if it's hard, you shouldn't do it.) It doesn't matter how much I prepare, I never know, really, how they will turn out or what the experience will be like.
It's always a practice of leaping in faith. They, the races, don't always feel great but it's always worth it no matter what state I'm in at the start line or how I cross over the finish line. That I can wake up on race day at all, that I can take a step at all, that I can take a breath at all – let alone run miles and (usually) enjoy it is something I do not and will not take for granted or stop feeling extraordinary and emotional gratitude for. Thank you to my body and my spirit who keep getting up and trying again no matter how many times I fall down. I know I may not always be able to, I know the time to try is now, I know I have to while I still can. Having a body that throws constant curves (to put it very mildly) at me, every frickin time I get to run means everything and more. No matter how much or how well I take care of myself, sometimes I cannot prevent my body or the debilitating inflammation racing around in it from attacking me, trying to literally take me out and at bare minimum significantly limit of my function and ability to live life actively.
My first Rock'n'Roll race was #RnRPhilly 2010 and it's not lost on me that my 50th Rock'n'Roll race comes full circle, also in #Philly, the place of my birth. I'll say it again, thank you, running, for all you've given to me and for all you've given back to me. And to Rock'n'Roll, I'm no elite or a division placer or hall of famer, but I'm incredibly grateful for ALL you do and have done to make this possible not only for me, but also for every level of runner that's run anything from one of your races to more than 100. What you provide in terms of opportunity and possibility is a tremendous and generous gift to all of us. A hearty Happy 20th Anniversary Rock'n'Roll. I may only have been running with y'all for 7 years but I hope it's for at least another 20.
#AIWarrior and then some
#wontstoprunning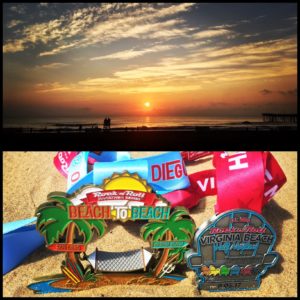 When it's 93% humidity and your hair is wet before you've even arrived at the starting line, when your head is still gushy and warm from yellow jacket venom, when you're not entirely sure how this one – #59 – will go since the last year of running (for various reasons) has been so tough and you're wondering what you're doing – NONE of it matters when you start the race with a sunrise like this over the Atlantic Ocean.
Yes, I had to adjust my running hat to accommodate my the part of my head that's still apparently a bit swollen from those a'hole yellow jackets, but it's SO much better and the doctor said while it may get exacerbated from the run meaning I'd feel it warm up (I did), I should be fine to go ahead and do it. So I got my butt on a ridiculously early flight to Virginia Beach on Friday and headed straight to the Expo – seems I actually had forgotten to sign up officially for this race. Given the Summer chaos, I'm not entirely surprised, I was surprised I didn't realize it until 36 hours before my flight. But since I had a flight and hotel booked, I checked to make sure it wasn't sold out and got myself to the East Coast. (and by the way, signing up last minute when you have the Global Tour Pass, meaning you can do any and all races for one price – meant I didn't have to pay the last minute entry fee, which was very nice.)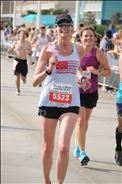 Slept most of Saturday because I didn't have the pressure of having to go to the Expo, which was lovely – and then met a fellow runner that has one of my favorite PR stories ever. Richard is an English teacher in San Antonio, running 10 RocknRolls himself this year. His wife runs, his sister is trying, and he's getting his kids into it too…Oh and as an English teacher, instead of listening to music when he runs, he listens to books on tape – brilliant! Anyway, a few years ago when his son was about 6 months old, he ran a half marathon (he just started running less than five years ago.) He decided to run this half with his son in a running stroller – which in and of itself, is a feat. His son is blessedly asleep for the first 7ish miles, which makes Richard's run pretty easy. Then the little guy wakes up and wants to be fed, so Richard bottle feeds him on a quick pit stop with one of the bottles he brought with him just in case this happened. But it happened earlier than he expected. Now, it's mile 8 and Richard realizes he has no change of diapers for his son in the stroller, just back at the car at the finish line. He's thinking, there's no way this kid doesn't blow through a diaper after just eating and I still have 5+ miles to go. So he kicks up his speed and essentially races with his son wide awake and giggling in the stroller, running the last five miles as fast as he can for the sole purpose of a potential diaper change. And yes, he crossed the finish line faster than he ever had (or has since.) If you're looking for new motivation, that's one tactic.
Couple other observations from RockRoll Virginia Beach – it felt good. For the first time in a very long time – and entirely regardless of my finish time – this one felt good. I felt fairly strong and grounded – I've made a couple big changes in the last month or six weeks and it seems to be paying off (more to come on that) in ways I am so far happy with. It's been a long time where the majority of the run didn't feel like a struggle – and while I had moments of "OH LORD!" on this course of course, the balance shifted, the majority of it felt good and joyful. So so grateful for that. Learned and learning a lot from that – including sometimes a dip in motivation can last longer than expected and still worth it to follow through with the commitment and eventually come out the other side.
In the first couple miles, a fellow runner taps me on the shoulder and asks me about the Tour Pass bib on my back, how much it is and is it worth it. I share the information, and of course I say yes, and am also struck by the fact that I can talk while running. This is a new thing – I mean, I am not entering a Gettysburg Address recitation contest while running, but the fact that I could talk a brief conversation and not get lightheaded for a while afterwards is pretty cool.
At one point along mile 4 I was feeling this surprising light and good feeling and looked to my right, as I was appreciating the feeling, and saw a mail box with angel wings on either side, as the postman flag. I love the divine timing of that. And right after that, a big group of Texas Longhorn fans and signs and something about giving them a quick Hook 'Em Horns greeting was uplifting to both sides.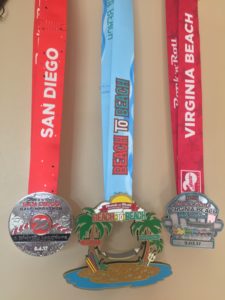 Now, mile 5? Why, sir, would you have a sign at mile 5 that says "you're almost there, the end is near!" and I thought "Dude not cool – it's mile 5, not mile 12!" and his partner next to him, she kept screaming at people "pick it up, pick it up!" So, here's the thing – maybe that works for some people but probably more so for if you're running alongside as a coach or something. Maybe something more encouraging like "you can do this, dig deep, you got this, keep going!" or something along those lines. It was jarring and not just for me – I heard a few people tell her to join them on the course and pick it up herself. Ha!
It's beyond cool to run and get support from the military, and to run near military housing – and then there's running through Camp Pendleton where the Virginia National Guard is cheering you on, followed by a couple female MPs. Felt like sacred ground we were running on (didn't hurt that the one house address happened to look at was 88!) It was awesome to run through CP.
Yes, it was some of the heaviest air I've run in, although a couple of very welcome strong breezes helped. Also yes, it was the best I've felt in a while and that's incredibly encouraging and motivating for the next big race. That feeling wasn't 100% expected – I am just excited I ran the whole race, aside from some water walk breaks. I haven't run a full course since maybe Philly of a year ago. No, I didn't get to jump into the Atlantic ocean post-race like I'd hoped to, but I did get a chance to connect with some really freakin amazing people and that, as you may know, is really the reason I keep doing these. Thank you, Virginia Beach and RocknRoll, for surprising me in a number of ways – I'm truly looking forward to my next run and next race.
Having made some kind of unconscious determination to be more honest about the struggle in running et al, I suddenly realized I want, no, need, to also record when a good nugget happens. (this is different than social media wise where majority pretty much record only the awesome parts of their lives, and don't share the vulnerability that allows people to not have to be perfect) Simply for me to remember, somewhere, that there are good moments, minutes in running. Plus this post allow me to use as many commas as I feel, you know, like, using. Seriously though, I went for a run yesterday morning. A little one. Walked for part of it. Coughed for part of it. But I ran too. For maybe a mile without stopping. And for most of it – holy crap – it felt…good. Decent. Strong-ish. Well, maybe not strong but stable. Not fast but consistent. I could make adjustments in the moment and not simply 'get through' it. Had a memory of how running usually makes me feel brave, capable, strong. Hell, I'll take a memory over nothing right now. Perhaps I can own the sensory memory of it, allow it to become real on the next run. The next run – as I write this, instead of feeling dread or fear I'm feeling anticipation and desire. That's a new one, or old one, or something. And allowing for it may pass, but feeling also grateful at this 5:15am writing that I'm feeling that at all, it's been a while and I'll take the seedling of it and while no promises or absolutes or treating it like a fragile egg, I will appreciate that something felt nice in yesterday's run, enough to make me want to try again. That's enough.
Frustration because I feel like I've been stronger, healthier, more badass before. I've struggled through challenges before, using running as a way to overcome and feel the strength I still have 'no matter what.' And to not feel that, no matter what I do, to not be able to dig deeper and come up with whatever I need to reconnect to running in a way that doesn't feel like a burden – because it never did before. To not feel that is frustrating and frankly a little scary too. I can't imagine that most other runners struggle with breath and joints the way I do, certainly not the way I do right now. Right now. Trying to believe it is all temporary and while I won't or may not reclaim the past feeling of invincibility, there's still possibility that I can claim a feeling of bravery, strength, peace again in my running. But it's certainly a weird feeling to not be pulled into running by the sense of inevitability no matter how I'm feeling – I always appreciated the crappy runs because they so make you appreciate the great, good, amazing runs – whether they're amazing for how they feel, what you experience, how you finish.
Oh and I've recently learned from my pulmonologist that someone who's had sarcoid typically develops a special form of asthma as the years go on. So there's that.
#thingsthatwouldvebeenhelpfultoknowyearsago
And so I have a new inhaler, a new regimen, a new medicine. Let's see how this goes (seriously, all this time I've probably been dealing with a sarcoid-induced asthma? GAH!) and try to re-embody my personal mantra of progress, not perfection.
Feeling like I've tried everything to get the running back, and it starts with the feelings of just simply being able to. I mean, I've used running as proof of ability to overcome pretty much anything and I've run through pretty much everything so the fact that I currently cannot – it's actually quite hard to put into words. And with still no fully fleshed out answers for what the f is going on, I will not try. I will just get up again each day and attempt some version of this current life. Yoda, I love ya buddy but right now 'try' is my 'do.'
Fear And Envy.
The fancy ways of saying what I'm experiencing when I'm approaching a run these days – I feel afraid it's going to hurt and/or generally suck and jealous of people who get to run without feeling much of the struggle.
I wish it was simply the "I hate running!" crap that I hear from so many runners. Frankly, I've never understood that, meaning I think hey, if you hate it why are you doing it? And there are hundreds of sites and memes and mantras dedicated to do it even though you hate it. Again, I don't understand that. Sure, I've definitely experienced runs I've struggled through for various reasons, but I don't loathe or hate or resent running and therefore get some weird high or satisfaction from still doing it. In fact, I avoid that realm of the running world as much as I can – yes, partially it feels negative for what benefit and also, I truly do not understand the 'why' behind the method and mentality. I'm beyond grateful when I can run, when I can take each step, when running remains a possibility for me.
Which is why I'm experiencing fear and envy these days. Fear not just around a half marathon – seriously, that's a whole different kind of fear. 13.1 miles is no joke, it's a significant amount of steps (approximately 25,000) to tackle or embrace. The fear around a half marathon is almost kind of a motivator – not in the "I hate it therefore I must do it" but the butterflies and nerves the morning of a race (or even while at the expo) that I feel and that push me to the start line. The fear I'm feeling around running right now has gotten to the point of not running – I'm scared I will feel pain in my lungs or legs, or that I will feel nauseous in a way that is debilitating and I have to walk. My runs – when I do them – consist mostly of walking. I can get a run in for about a (slow) mile and a half, and then the nausea starts and it becomes a bit of a battle. Or the pain in my lungs becomes too much and I just can't push it – there's a line to cross and then there is a line to not. Bending over at the waist to cough, dry heave, double over in pain – this does not make any run remotely enjoyable and it is scary. This is not what running is or should be.
What happens or what is happening is that I am starting to avoid running altogether – the fatigue is real, sure, and that's a factor but in hindsight right now it's feeling a bit chicken and egg. How much am I damaging progress and my baseline endurance ability (and lung capacity) by not running, is it making things worse or is whatever the fuck that's happening in my body just taking over, no matter what I may think I want to do. It's beyond frustrating. And yes, my joints and legs don't seem to be cooperating much either – but again, is that due to lack of running or is it due to whatever the fuck is going on physically? A question that frankly I can't really know the answer to.
So the fear of what a run will feel like has become a bigger and bigger barrier to me going for a run. What if this one hurts? What if this one feels overwhelmingly lethargic? What if this one takes me back further? This isn't a case of someone being out of shape so just tough love them military style and say get back out there soldier! It is not that.
And so envy. Bless you. I envy people who don't think about these things when they run. I envy people who have beautiful healthy lungs and don't even think about their breathing (I always have) when running. I envy people who can enjoy a two or 10 mile run, regardless of pace, without fear of their body turning on them suddenly. I envy people who can lace up some shoes and get out their front door and just go for a run because they want to.
I also envy the runner I've been. In the past. It does sometimes feel like something has shifted, and perhaps permanently. I don't know that I'll ever run like I did before. I used to run because I enjoyed it, it felt good, it was good to me, it relieved stress, released anxiety, it was fun to train, it was inspiring to see what I was capable of both in training runs as well as half marathons. Yes, I know as recently as late 2015 and early 2016 I was running like I was in 2011 – swift and health and happy. And given where some running experiences had played out in 2012, 2013 I don't think I could've, would've predicted that. Did I get cocky? Oh holy hell no, that's impossible with this body, but I did enjoy returning to form, or perhaps finding a new gear that agreed with me all over again.
The runners that take running for grated, I don't resent you, I envy you. While I have only occasionally really taken it for granted given my history (I've never not trained for a race, or if my training has waned for some reason, I dramatically shift how I approach the race), the idea that I wouldn't have to put so much thought into a run, a course, a race…I cannot imagine. It must be so fun to use that energy to push yourself, to explore gear, courses, new ways of running, have conversations while running, use your watch for pacing and heart rate and all sorts of other things. You, if I may, are able to trust your body in a way I've strived for but can't maintain for long.
And so that's where the fear and envy come in. I know that many other people struggle – I'm certainly not claiming dominance in that field by any stretch – with all sorts of things when it comes to running. And fear their own struggle at times. Hell, I even am starting to fear that I may be done running – and done racing. And there's no doubt everyone experiences version of envy or feeling jealous of how easy it seems to come for others or how fast someone runs or how much support someone has (I can only imagine what it'd be like to have my own coach!) This is a different kind of envy, because of course during a race when being passed by someone having a full conversation while seemingly breezing through their course, I feel that "hey, I want that!" feeling too. And it's why I stay post finish to cheer in other runners, because I know how huge it is for each person to cross their own finish line and experience that moment. Perhaps the rest of the races I have planned for this year will play out different, I'm letting go of expectations at this point, simply crossing the finish line needs to be enough.
This fear of running is a strange feeling, as it stands now, and the envy feels more like a longing than anything else. And so I wait for hopefully answers, the pull to give up to subside, the tide to shift with regards to physically feelings. To be continued…