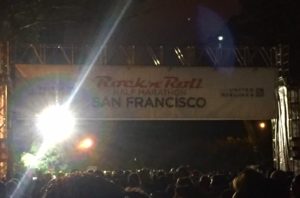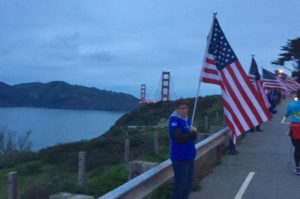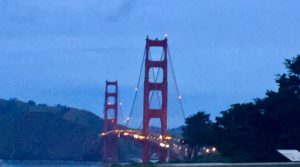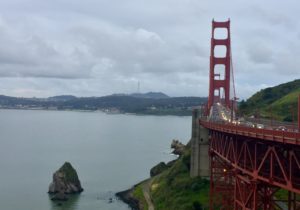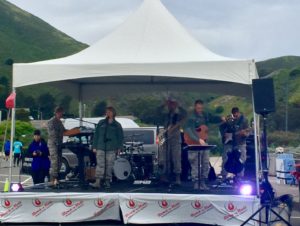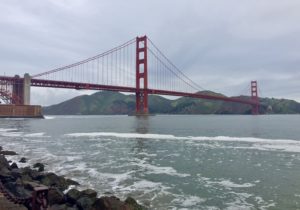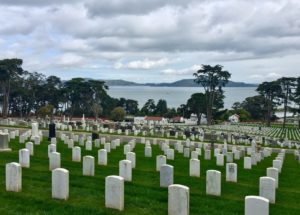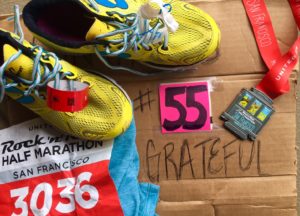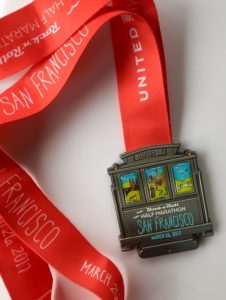 AKA This one was personal.
Be the runner that waves at kids in the windows as you run by. That's what I did this morning. And that made it for me.
I didn't share with anyone "hey I'm running my 55th in SF on Sunday!" because it was such an early race, the weather iffy and I just didn't think, unless you're running, people really get up super early on a Sunday to spectate. Definitely saw a *few* people on the course but with a 6:15am start, one of the quieter (noise ordinance) races I've run. (and in the future, if you're someone who really would've gotten up to be along the course or finish line, let me know, I won't keep it to myself next time)
Plus, honestly I'd given myself permission to do a DNF. As in, pull off the course if I need to. I'm no where near where I'd like to be or have been in the past (especially last year, which is disorienting) and frankly, the hills are intimidating whether it's your first time or many times running it.
And so I ran it, not knowing at all how I'd feel and just willing to get up and try. Get up again and try again, test my will and resiliency.
Not so fun when you get about two hours of sleep the night before. Went to bed early to be able to get up at 2:30am to make, from Sonoma, all the parking and shuttle cut off times. I'm not sure I've ever consumed so much coffee pre-race.
As we're running along 32nd Avenue, I look up to my right and see a big picture window with three or four kids in pajamas waving wildly at anyone who will look and wave at them. Brought a huge smile to my face, so glad I saw them. Bit of a boost.
And because I knew this was more a try-race and scenic at that, decided to run with my phone so I could get some photos. And I did. Well, starting in the dark (which is so discombobulating) it had to wait until it lifted to light. But I got…….

Read the rest of this entry »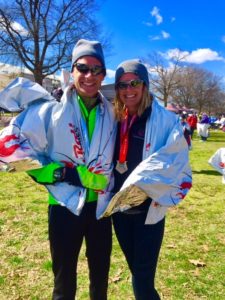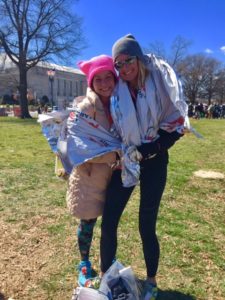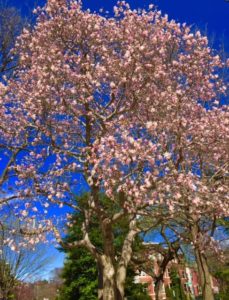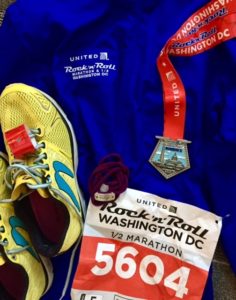 This was either sheer will and perseverance or stubborn stupidity. Or all of the above. I ran a super cold half #54 this weekend. Didn't exactly let too many people know, 'cept for my lovely local DC friends and a handful of others who just knew. T'was ugly.
See, I haven't run since 2016. It's mid-March. And I don't mean like some runners say they "haven't run" but still do 2-3 miles 3x/week, but it's "not really running." Truly not running or hiking or training or anything. Physically I lost endurance, strength, boldness, lung capacity, form, speed, and of course, inspiration. My gut, my joints, my lungs are out of whack and my pd numbers have climbed again. So as I write this on a plane back to Denver just hours after I crossed a finish line (which was in doubt for much of the race), I am marveling that I actually walked onto the damn plane. Let alone ran Saturday morning.
Seems I took one too many life gut punches last Fall and while for a bit I continued to feel physically strong and kept going (think I was attempting another fake-it-till-you-make-it which so does not work as a lifestyle), I ran out of gas, and then some. And can't seem to find the next filling station. Jan and Feb didn't exactly start the year off great either. It's been a rough few months to say the least. Hard to find much get up and go. Not running has had nothing to do with being lazy or needing a kick in the pants.
A few good things from the race did happen – including, yes, crossing the finish line. Well meaning folks had encouraged me to hey, pull a DNF if you need to, just take care of yourself. It's gonna be tough no matter what cause you haven't run AND out of control cold, right? Top 3 coldest races I've run.
Speaking of coldest races – third of three cold races where there was ice at the water stations. As in, spilled out of cups onto the ground, turned into ice that one had to step lightly around (or end up on your ass.) My friend Adam told me that at one water station, the volunteer pulled back the cup he almost handed him because *itwasice*. Yes, ice. The next cup he got was slushy water.
Speaking of Adam –…….

Read the rest of this entry »
"I can't stand marathons and my pet peeve is people who spends hundreds of hours "training" to run long distances. What if people spent those hundreds of hours doing something good for humanity (like volunteering, working on social justice issues, etc)?"
So went, verbatim, a post I saw recently on someone's Facebook page. An acquaintance had asked people what their unpopular opinion was on anything. Perhaps it was meant to be fun, in that some people said oh, I don't like Beyonce or pumpkin spice lattes. This entry took a whole other spin. And jumped out at me immediately.
There was exactly one response to it: "Some people train for marathons literally to live. I have a loved on with cystic fibrosis (an incurable lung condition.) He runs 50-100 miles per week as part of his treatment to prolong his life so that he can be healthy enough to volunteer for and donate to his charity in addition to the other contributions he makes to the community. I understand what you are saying, but please know that there are endurance athletes out there who put those hours in for a much larger purpose than vanity and self-righteousness."
This was a great response. A great start. Admittedly, I don't know if there were others or people simply glossed over this one reply and enjoyed the others and/or added their own bits. I will also admit, that first entry made my blood boil. My heart race. My stomach tighten. For a whole lot of reasons.
First, of course there's my own personal reasons.
Before that, can we talk about the use of quotes around the word training? That alone sent me pacing in my kitchen. Why use quotes around training? It felt demeaning, condescending or patronizing – which based on what this person wrote was probably the point. But still. Adding insult to injury I suppose.
And to say "I can't stand" and "my pet peeve" is. That's pretty strong in it's emotion. To take that kind of stand, in a broad sweeping statement kind of way. The vitriol she must feel and project when coming across someone training their heart out or a race in her town, goodness. And to make such a generalization about a very large, and growing, group of people who find solace – for whatever reason – in running. It's immediately an us versus them. And a one way is better than another way. What if there was room for both?
We aren't all cut from the same cloth or grow up with the same experiences. Thank God. And that…….

Read the rest of this entry »
Today I'm going a few easy miles with Gretchen Schoenstein,who was told 10 years ago that she'd never run again.
Fast forward to today, and she recently finished her 10th race of 13.1 miles of 2016, and the 53rd of her career.
Gretchen's First 13.1
Gretchen has had issues with auto-immune diseases for most of her life, and after a serious flare up she was told she really shouldn't think of running in her future.
At the time, Gretchen wasn't much of a runner so she didn't mind that diagnosis very much.
However, after 4 years of living in fear of another flare up she decided she didn't want to live life cautiously anymore.
Despite the objections of her doctors, Gretchen signed up for a half marathon.
She was only planning on running the one, but 53 races later and she's still going strong.
Living and Running with Auto-Immune Disease
In the 6+ years that Gretchen has been running, she has had to be hyper focused on taking care of her body to try to prevent a flare up.
While flare ups can never be prevented 100%, she has learned how to be proactive in her training and with her lifestyle to keep the flare ups in check.
Between monitoring her diet, prioritizing cross training, incorporating yoga, acupuncture, and a whole host of other preventative measures she's able to keep going one day at a time.
And while running was feared by her doctors 6 years ago, Gretchen thinks that running may have actually helped her body to be stronger and to limit the flare ups of her disorder.
Running at Night
Gretchen recently participated in a night race for the first time. And as it is with most runners, it was a different challenge for sure.
The Rock and Roll Las Vegas race, her 53rd race, was her first non-morning race.
Between the change in routine, being more tired later in the day, spending time on her feet throughout the day, and a whole host of other factors this wasn't Gretchen's greatest race.
I asked if she'd ever run a night race again, and she said she would but thinks she'd rather do it some place other than Vegas. Because, well, Vegas.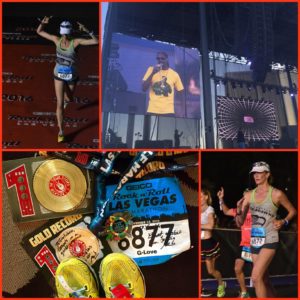 "It's crossing those finish lines when times are tough, when you don't even feel like trying, that's a measure of your commitment and courage." That's the words my friend Joanna wrote to me when I shared with her how tough this last race was for me to find motivation to run it at all. I almost sub titled this post "broken hearted run" or "running at night is bizarre" but had to go with the Snoop theme…
And it's helped ground how I will think about the 53rd half-marathon finish line I just crossed. The 10th of the year. How I was able to do that, I really can't say right now. I ran 11 in 2011 and then no more than 8 since, usually 6 or 7. Somehow I gutted out 5 just since September 18. Things to remember and recall how strong my resilience, persistence, get-back-up-and-keep-going is.
Ran Vegas with a heavy heart and apparently that makes me run slower I guess? It wasn't the finish time I hoped. Or even felt during the race I was going to end with. I mean, at one point I passed the 1:45 pacer so even though he was clearly struggling, I thought maybe? And in some ways, this being 5th in less than 2 months, I'm in the best shape of the year, and so I thought I'd finish with a strong time. But it was warm, and at night and had been in and out of casinos and lots of smoke for a couple days leading up. Plus I was wearing a Seahawks tank top so that should have made me run fast? Not so much.
Couple more things:
I'm a dork but I couldn't help but think at least this race had a good omen since 5+3 = 8, one of my lucky numbers.
I have a whole new respect and understanding for athletes who have games in the afternoon or at night. To get up at a fairly normal time (as opposed to 4am to eat) was nice and odd. But then to have a normal morning, still knowing you have to prep and get race-ready later in the day… I tried to do a similar routine to my morning races but it didn't work out quite the way I wanted. Felt suddenly frantic at the end and not well prepared. And mentally to stay with it through the day wasn't easy and frankly, wasn't into it. By the time mid day came around, I really didn't want to run. I train a…….

Read the rest of this entry »