Surreal. It is still so very surreal. That I just ran the 50th half of the last 6.5 years of this crazy journey. Me. I did this. I've crossed 50 fricking finish lines. And it feels, um, surreal? Admittedly I have hesitated to write this all up and post it. I don't know exactly why. Maybe I don't want it to be over. Want some time to take it in. What it means/doesn't mean. (thank you to those who tell me to keep celebrating and carry this with me) Maybe I'm afraid it's too long and/or I won't capture it all. But…here goes one part of it: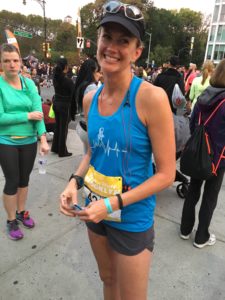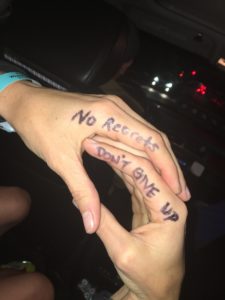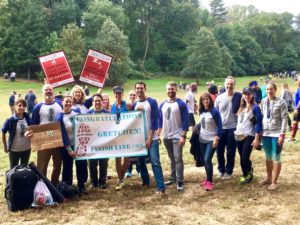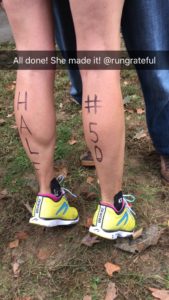 Absolutely blown away (in fact tearing up writing those words) by the love and support I was surrounded by for this millstone, this mile marker. The efforts made by so many to be part of this (and Dawn for recognizing the significance and being organizer extraordinaire), to make me feel like this was special, to help me to know I "got this." My word, how lucky and blessed am I to have these kinds of friends, humans in my life. Gobsmacked really. I keep pinching myself. And so many didn't know each other ahead of time but it felt, at least to me, seamless, and then to have so many make a point to say about the other "I love your friends!" is a testament to how fricking cool everyone is.
Even the bib was gold (50.) My shoes, the color of the bib too? What are the odds? Signs I love.
To be tweeted at by the band A Great Big World. Um. Wow. Pretty much turned me into a giddy school girl/fangirl. Means the world to me, kindred spirit in some way.
Trust your training. That might be one of my favorite signs along a course. There's an exhale the occurs in my system when I see that. Permission to let it all be okay. And that my body and I have a good enough relationship to be able to know when to pull back and when to push forward. I did take a moment at mile 12 to walk, to take this all in, and that's when a whole lotta tears came up.
50. There will never be another 50th race. It was beyond special and somewhat different than what I expected. Some of that is due to the course and the…….

Read the rest of this entry »
Another awesome article from Competitor.com and the lovely Don Norcross in advance of #50…
In this episode we welcome Gretchen Schoenstein to the podcast who will share her inspirational story. Also, John and Gretchen will discuss runn the (very humid) 2016 Rock 'n Roll Philadelphia Half Marathon
Just some of the things I've heard or been told, in no particular order:
"You're crazy"
"You'll hurt yourself"
"You think too much when running"
"You'll exhaust yourself"
"You can't"
"Perhaps too many?"
"You won't"
"You shouldn't"
My response, in order:
I'm quite sane, thank you and thanks to running
I'll strengthen my body
I let go when I run
I'll empower myself
I can
Watch me
I will
I am
Would love your support to help the AI community as a whole as I get ever closer to taking the first step over the start line on my way to crossing the 50th finish line – donate today!
https://www.crowdrise.com/50-x-50-for-finish-line-50/fundraiser/gretchenschoenstein