It's amazing what running can give back to you. Sure, it takes a lot of commitment, and discipline and time too to make it a consistently good experience.
And.
Running, and race weekends, can help recalibrate when things aren't going so well. It would feel easier in certain situations to not run, to say no not this weekend, to let an opportunity go by. But time and time again I've found that even in the worst of circumstances, when crawling into bed and hiding seems the best option, that actually getting myself to follow through with a race weekend and see what's possible is the best thing I could do for myself.
Not to get tough subject-matter wise, but here's a list of how a race weekend in the face of some tough life events has actually been the very thing I needed. Most people would say to me "you're crazy to go run this race, to go do this weekend, you should take it easy." And, for me, I knew that not doing it would be far worse for me long term than taking the short cut out of the race. Sure, I've had perfectly fabulous reasons not to run, but I did it anyway. And there in lies the power.
And, this is all slightly different than running through pain or through a cold or feeling a flu coming or just feeling tired – things (aside from major injury) we are usually capable of pushing through.
Back in 2012 I had moved up to Seattle after some big life changes that were not my choice occurred and I was feeling down. To be honest, I was depressed. I didn't run for months. It seemed pointless and I was lifeless. But. I had signed up for Rock 'n' Roll Portland in May of that year and that motivated me to start walking in April. To be honest, I'd probably ran a total of 13 miles, with maybe about 20 miles of walking, before the race came along. But there was something in me that said, well, you signed up and you're not going to back out of it – you're true to your word, you paid for it, you might as well buck up and get up to some kind of ability to do it. And so I did. I was determined to run, walk, crawl, skip, jumprope, roll, and whatever to get across that finish line. And I did. And it did plant a seed of possibility back in me and a month later I ran Rock 'n' Roll in Seattle…….

Read the rest of this entry »
Have to laugh that as I'm about to post about Savannah, Facebook sent me a 'memory' of running in Savannah four years ago in 2013. It was race #27 I think, and rated it a very high race experience. That's a lot of races and life that's happened since. My affection for the city of Savannah has only grown.
2017: Feeling grateful for Savannah and the ability to still somewhat run. It's taken a few days to really digest the experience, and what it means to me.
It was a race I couldn't imagine doing, and I couldn't imagine not doing. I struggled mightily with whether or not to fly all the way to Savannah. Considered not doing the race right up until the end of the first of three flights (meaning, I nearly walked back to a ticketing desk to fly right back home.) I didn't want to leave Sonoma, my community, or the feeling of togetherness. And, I also knew that a few more days to be home and get rest and connect could be useful, and knew the race would be hard to do. I also knew that I would be having serious missing-out feelings during race weekend, in a city I've been wanting to go back to since I first visited to run four years ago. I also knew I would ultimately regret not running, not trying, not seeing what was possible. So I somehow packed (thankfully I have a race weekend pack list) and got myself to the airport – the driving of which I do not actually recall. Once in Savannah, it felt right, even if still daunting to try to run. In a way, it was good to be so far removed from everything and be so incredibly distracted by a city that begs you to be present and be fully there.
Thankfully before the race, I ran into friends like Joe and Yinka who immediately knew what a big deal it was for me to be there at all and who were glad I'd made the trip and was attempting to run. People asked about my #SonomaStrong shirt(s) and were impressed I'd made it out to run as well. Everyone seemed to agree in some way that the run could be healing, fun, a distraction, cathartic, inspiring. It felt good to start that way, even if I was still anxious about the actual running.
Experienced a few firsts in this course – the beginning started with the moon setting and then moving into the sun rising at the same time. I think it was either…….

Read the rest of this entry »
It's about time I record half marathon #61, when I ran the Rock 'n' Roll half in San Jose. October 8. Seems like a lifetime ago. There was a perspective to it that I wanted to share, that was important at the time, that's a bit lost to me now but I'm going to try my best.
In itself it was a tough race, it had been an incredibly long week. And by long I mean, on Monday I drove five hours to the middle of nowhere in California, worked an intense teaching day all day on Tuesday, then Wednesday drove another four hours to the San Jose airport, flew to Chicago to work another class on Thursday and that night I flew back to San Jose, crashed in an airport motel, worked Friday morning and headed to the Expo to grab my bib and everything, and then drove five hours home. Yes, five. Should've taken two. I think it was fleet week or something big going on, but it was endless traffic. By the time I got home, all I wanted to do was sleep for 24 hours straight.
Got to back up to Friday, at the Expo. Divine intervention happened in a very cool way. I had parked in the convention center parking lot and was retracing my steps from how I entered the convention center so I wouldn't miss where my car was, and essentially was probably taking the long way to get back there. I'd been thinking about my friend Mankamal who'd I'd met two years previous at the morning of that year's San Jose race. I knew I needed to let her know I was for sure and last-minute doing this race. But it'd been an insane week of travel and work and I was barely keeping my nose above water. As I'm walking towards the stairs to get to the parking lot, I see someone walking up them – it's Mankamal. We exclaimed our delight and surprise to see each other – if she'd come up two minutes later or I'd left a minute or two earlier, we never would've run into each other. It was meant to be. And so we caught up for a few minutes, in the way that you do when you haven't connected for a while and there's just so many things to catch up on. She even invited me to stay are her place the night before so I'd have a shorter drive race morning, which was incredibly generous – I said thank you but I…….

Read the rest of this entry »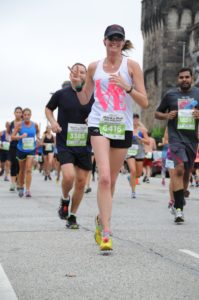 A week ago I ran my 60th half marathon. That is, frankly, very strange to write. My 50th Rock'n'Roll half marathon. Not sure it's really sunk in. None of that makes sense in my logical brain, but certainly my heart recognizes the journey it's been. Never did set out to run this many. Of course, people have asked "So, is running 100 on your list of next goals?" and honestly, my answer is no. When I was running the first few, if 50 or 60 had been in my brain, it would've felt too far away, it wouldn't be the motivator one would expect. Sure, once I was nearing #40, suddenly 50 was THE goal. And, actually, it kind of took me away from enjoying each race for whatever it was. Instead it was knocking another one down so I could get that much closer to the goal number. And so, no, 100 is not on my brain at this time. Perhaps when I've run my 88th or something I'll think about it. And even that sounds absurd. I have three more to enjoy the rest of the year around and that's what I'm focused on. That and my health and ability to do these at all, whether my joints and muscles are along with me or my lungs are cooperating. That's what matters. Maybe an ability to push myself during a race at some point, but not how many I"ve run. And supporting other runners. Their stories and reasons why and own moments of celebration are what I turn to more and more.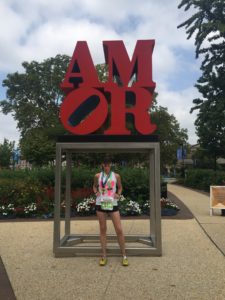 Now, as far as #60/#50? It's hard to express how much I enjoyed it, especially considering what a crap finish time it technically was for me. Yes, it was a big goal to run 50 halfs with Rock'n'Roll. And that my first Rock'n'Roll was in Philly and the 50th also in Philly. And that I was born in Philly and it actually truly is one of my favorite courses of all the cities I've run for RnR. But something clicked for this race and I'm enormously grateful for it. I will admit to feeling like I was getting through a lot of the races this year. The expos weren't inspiring me with energy like they normally do. I just wanted to get the runs over with. But this one, it was different. I walked into the expo and initially…….

Read the rest of this entry »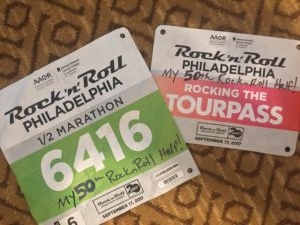 They said I couldn't. He said I shouldn't. He said "perhaps too many?" They said you can't. They said who cares. She said it's not worth it. She said I can't trust my gut. They said why bother. He said it doesn't matter. They said it won't make a difference. They said I can't. They said give up. They said this is the new normal. She's said it's not enough. He said not you. They said stay down. She said it's crazy. He said you need to do/be more. They said why not try something else? They said stop, slow down. He said what are you trying to prove? They said we don't know. They said we don't have an easy answer for you. They said they wish they could do more. He said we will figure it out. They said be in the moment. There's a lot more they all said.
Yeah, I heard you, still do. This wicked memory of mine is sometimes a curse. For too long, longer than I'd like to admit and sometimes still dip into, I believed and/agreed with it and at least questioned myself far too much.
Well, tomorrow I'm running my 60th #halfmarathon overall, my 50th Rock'n'Roll half marathon. No those are not typos. Been told I'm ridiculously loyal (to a fault in some areas) and there's NO way I could've run this many in just 7.5 years without Rock'n'Roll, the event series and the incredible people who produce these races. It may not be a big deal to anyone at this point, but it's a damn big deal to me, knowing I could play it safe and take it easy and lay back down, be careful. I may appear strong and able to do this, no big deal, but it's fucking hard to push myself by myself, never knowing how it's going to play out and whether it's a "go" but I do absolutely stay curious enough to learn something every time (so please don't say, if it's hard, you shouldn't do it.) It doesn't matter how much I prepare, I never know, really, how they will turn out or what the experience will be like.
It's always a practice of leaping in faith. They, the races, don't always feel great but it's always worth it no matter what state I'm in at the start line or how I cross over the finish line. That I can wake up on race day at all, that I can take a step at…….

Read the rest of this entry »