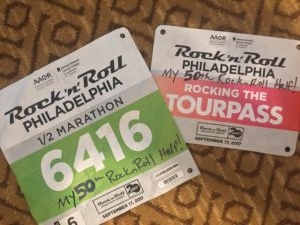 They said I couldn't. He said I shouldn't. He said "perhaps too many?" They said you can't. They said who cares. She said it's not worth it. She said I can't trust my gut. They said why bother. He said it doesn't matter. They said it won't make a difference. They said I can't. They said give up. They said this is the new normal. She's said it's not enough. He said not you. They said stay down. She said it's crazy. He said you need to do/be more. They said why not try something else? They said stop, slow down. He said what are you trying to prove? They said we don't know. They said we don't have an easy answer for you. They said they wish they could do more. He said we will figure it out. They said be in the moment. There's a lot more they all said.
Yeah, I heard you, still do. This wicked memory of mine is sometimes a curse. For too long, longer than I'd like to admit and sometimes still dip into, I believed and/agreed with it and at least questioned myself far too much.
Well, tomorrow I'm running my 60th #halfmarathon overall, my 50th Rock'n'Roll half marathon. No those are not typos. Been told I'm ridiculously loyal (to a fault in some areas) and there's NO way I could've run this many in just 7.5 years without Rock'n'Roll, the event series and the incredible people who produce these races. It may not be a big deal to anyone at this point, but it's a damn big deal to me, knowing I could play it safe and take it easy and lay back down, be careful. I may appear strong and able to do this, no big deal, but it's fucking hard to push myself by myself, never knowing how it's going to play out and whether it's a "go" but I do absolutely stay curious enough to learn something every time (so please don't say, if it's hard, you shouldn't do it.) It doesn't matter how much I prepare, I never know, really, how they will turn out or what the experience will be like.
It's always a practice of leaping in faith. They, the races, don't always feel great but it's always worth it no matter what state I'm in at the start line or how I cross over the finish line. That I can wake up on race day at all, that I can take a step at…….

Read the rest of this entry »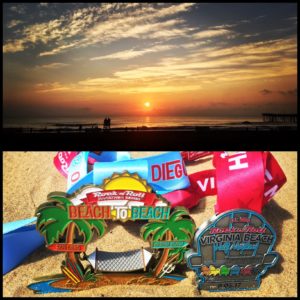 When it's 93% humidity and your hair is wet before you've even arrived at the starting line, when your head is still gushy and warm from yellow jacket venom, when you're not entirely sure how this one – #59 – will go since the last year of running (for various reasons) has been so tough and you're wondering what you're doing – NONE of it matters when you start the race with a sunrise like this over the Atlantic Ocean.
Yes, I had to adjust my running hat to accommodate my the part of my head that's still apparently a bit swollen from those a'hole yellow jackets, but it's SO much better and the doctor said while it may get exacerbated from the run meaning I'd feel it warm up (I did), I should be fine to go ahead and do it. So I got my butt on a ridiculously early flight to Virginia Beach on Friday and headed straight to the Expo – seems I actually had forgotten to sign up officially for this race. Given the Summer chaos, I'm not entirely surprised, I was surprised I didn't realize it until 36 hours before my flight. But since I had a flight and hotel booked, I checked to make sure it wasn't sold out and got myself to the East Coast. (and by the way, signing up last minute when you have the Global Tour Pass, meaning you can do any and all races for one price – meant I didn't have to pay the last minute entry fee, which was very nice.)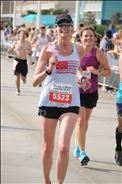 Slept most of Saturday because I didn't have the pressure of having to go to the Expo, which was lovely – and then met a fellow runner that has one of my favorite PR stories ever. Richard is an English teacher in San Antonio, running 10 RocknRolls himself this year. His wife runs, his sister is trying, and he's getting his kids into it too…Oh and as an English teacher, instead of listening to music when he runs, he listens to books on tape – brilliant! Anyway, a few years ago when his son was about 6 months old, he ran a half marathon (he just started running less than five years ago.) He decided to run this half with his son in a running stroller – which in and of itself, is a feat……..

Read the rest of this entry »
Having made some kind of unconscious determination to be more honest about the struggle in running et al, I suddenly realized I want, no, need, to also record when a good nugget happens. (this is different than social media wise where majority pretty much record only the awesome parts of their lives, and don't share the vulnerability that allows people to not have to be perfect) Simply for me to remember, somewhere, that there are good moments, minutes in running. Plus this post allow me to use as many commas as I feel, you know, like, using. Seriously though, I went for a run yesterday morning. A little one. Walked for part of it. Coughed for part of it. But I ran too. For maybe a mile without stopping. And for most of it – holy crap – it felt…good. Decent. Strong-ish. Well, maybe not strong but stable. Not fast but consistent. I could make adjustments in the moment and not simply 'get through' it. Had a memory of how running usually makes me feel brave, capable, strong. Hell, I'll take a memory over nothing right now. Perhaps I can own the sensory memory of it, allow it to become real on the next run. The next run – as I write this, instead of feeling dread or fear I'm feeling anticipation and desire. That's a new one, or old one, or something. And allowing for it may pass, but feeling also grateful at this 5:15am writing that I'm feeling that at all, it's been a while and I'll take the seedling of it and while no promises or absolutes or treating it like a fragile egg, I will appreciate that something felt nice in yesterday's run, enough to make me want to try again. That's enough.
Frustration because I feel like I've been stronger, healthier, more badass before. I've struggled through challenges before, using running as a way to overcome and feel the strength I still have 'no matter what.' And to not feel that, no matter what I do, to not be able to dig deeper and come up with whatever I need to reconnect to running in a way that doesn't feel like a burden – because it never did before. To not feel that is frustrating and frankly a little scary too. I can't imagine that most other runners struggle with breath and joints the way I do, certainly not the way I do right now. Right now. Trying to believe it is all temporary and while I won't or may not reclaim the past feeling of invincibility, there's still possibility that I can claim a feeling of bravery, strength, peace again in my running. But it's certainly a weird feeling to not be pulled into running by the sense of inevitability no matter how I'm feeling – I always appreciated the crappy runs because they so make you appreciate the great, good, amazing runs – whether they're amazing for how they feel, what you experience, how you finish.
Oh and I've recently learned from my pulmonologist that someone who's had sarcoid typically develops a special form of asthma as the years go on. So there's that.
#thingsthatwouldvebeenhelpfultoknowyearsago
And so I have a new inhaler, a new regimen, a new medicine. Let's see how this goes (seriously, all this time I've probably been dealing with a sarcoid-induced asthma? GAH!) and try to re-embody my personal mantra of progress, not perfection.
Feeling like I've tried everything to get the running back, and it starts with the feelings of just simply being able to. I mean, I've used running as proof of ability to overcome pretty much anything and I've run through pretty much everything so the fact that I currently cannot – it's actually quite hard to put into words. And with still no fully fleshed out answers for what the f is going on, I will not try. I will just get up again each day and attempt some version of this current life. Yoda, I love ya buddy but right now 'try' is my 'do.'
Fear And Envy.
The fancy ways of saying what I'm experiencing when I'm approaching a run these days – I feel afraid it's going to hurt and/or generally suck and jealous of people who get to run without feeling much of the struggle.
I wish it was simply the "I hate running!" crap that I hear from so many runners. Frankly, I've never understood that, meaning I think hey, if you hate it why are you doing it? And there are hundreds of sites and memes and mantras dedicated to do it even though you hate it. Again, I don't understand that. Sure, I've definitely experienced runs I've struggled through for various reasons, but I don't loathe or hate or resent running and therefore get some weird high or satisfaction from still doing it. In fact, I avoid that realm of the running world as much as I can – yes, partially it feels negative for what benefit and also, I truly do not understand the 'why' behind the method and mentality. I'm beyond grateful when I can run, when I can take each step, when running remains a possibility for me.
Which is why I'm experiencing fear and envy these days. Fear not just around a half marathon – seriously, that's a whole different kind of fear. 13.1 miles is no joke, it's a significant amount of steps (approximately 25,000) to tackle or embrace. The fear around a half marathon is almost kind of a motivator – not in the "I hate it therefore I must do it" but the butterflies and nerves the morning of a race (or even while at the expo) that I feel and that push me to the start line. The fear I'm feeling around running right now has gotten to the point of not running – I'm scared I will feel pain in my lungs or legs, or that I will feel nauseous in a way that is debilitating and I have to walk. My runs – when I do them – consist mostly of walking. I can get a run in for about a (slow) mile and a half, and then the nausea starts and it becomes a bit of a battle. Or the pain in my lungs becomes too much and I just can't push it – there's a line to cross and then there is a line to not. Bending over at the waist to cough, dry heave, double over in pain – this does not make any run remotely enjoyable and it is scary. This is not what running is or…….

Read the rest of this entry »