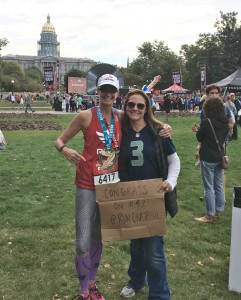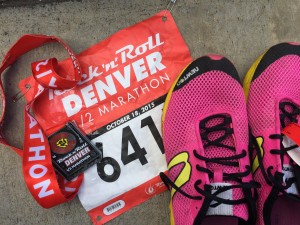 A week ago I ran half marathon #42 in Denver and a week from now I will run half marathon #43 in Philadelphia. All words I know, never thought I'd write them in that order in that sentence. Never crossed my mind.
Denver was such a graceful lesson in fears, letting go, expectations, self-compassion and being in the moment. Here's a snapshot:
*admittedly, my worries about running 13.1 miles at that altitude scared the @#% out of me. My lungs are compromised and capacity is an issue. So what would this be like? I wanted to run in Denver to spend time with my friends but the race itself caused some very real anxiety. I took the necessary advice, precautions, tips and adjusted expectations. And got some great rewards for just getting out there to run it at all. I didn't expect this to be a "mic-drop" kind of run but I did still want to have a really strong experience.
*my right calf was feeling a little bit better every day, and Saturday morning I woke with it feeling it's best since the Grand Canyon and two halfs. And here I was about to thrash it again. So I wore compression sleeves. And they worked. Never ran in them the whole 13.1 miles (trained with them twice for short distances) and was/am pleasantly surprised. Calf felt great during and after the race. And now, no need for sleeves!
*speaking of sleeves, they were lilac. My shoes pink, capris grey, tank red and white, turquoise sports bra, white/red hat. I looked in the mirror before leaving the house and laughed "it looks like a Care Bear just threw up on me!" Well, at least I was easy to spot!
*Got called a "hero" for the strangest reason. Pre-sunrise, standing in line at the runners porta potties and after about 15 minutes, I'm up next. Suddenly a gal rushes up and gets right in my face and says hurriedly "Oh My God, can I cut in front of you? I don't think I'm going to make it. Please?" And she is uber stressed. Throws herself on the ground and is clearly in distress. Of course I say "of course!" and all of us around her are immediately staring at the two units near us, willing the red on the lock handles to turn green. One does, she jumps up runs over and just as she's about to close the door, points directly at me and says "You! You're my hero! Thank you!" And I burst out laughing (not always easy to do pre-race mental time) and said "well, I guess a porta potty hero is a great way to start the day! Sure, I'll take it!" So there's that. Hero.
*Turns out this race I'm the one that got a little extra support at the start. Team RWB rocks. I was smooshed up outside the corral gate wondering how I might get in, and the local Team RWB team saw my tank and yelled "Team RWB in the HOUSE!" and pointed at me, and helped me over to take a place next to them, with them. Doing so many of these races, training and events solo, I don't often feel that sense of belonging. And I'm starting to think I might wear this Team RWB shirt all the time! The hoots, hollers and shout outs along the course are amazingly inspiring and supportive.
*Everything felt so much better than I expected, especially in the first few miles. Yes I've run at higher altitude in Tahoe. It's drier here in Denver. Feels different, tighter in breath. And it's a race, that I plan to run the whole of. And I feel buoyant and happy and open as I'm running. Wow. One mile down and this is going to be a great race. As I pass the mile 2 marker, I have an unexcited wave of emotion rise up and suddenly I've got tears running down my face and I choke out the words to myself "I can't believe I'm really doing this. Running #42. I never…I never thought THIS. Wow." and feel extraordinary gratitude for this journey that continues to amaze and inspire and motivate me. And for my body and lungs to feel this good, at this point, in this part of it all (especially having just done one a week ago) is pretty remarkable to me.
*A little secret: I say the Serenity Prayer at every start line, before I take off. Sets me up pretty well for trusting myself and letting go.
*Having my friend Dawn and Bill so present and so supportive pre-race and on race day, including physically there, was such an incredible boon to the whole experience. There's a system called runner tracker where she was able to put in my info and as my d-tag would crossed the various sensors set up at 5k and 10k and others points, she'd get a text saying where I was. I happily leapt over each of the road markers where the wires were, as there is something about knowing someone is there, paying attention, bearing witness to your progress that feels, well, amazing and lovely. And fun. And actually, motivating too. I know that if something went wrong, she'd see that and if I was making up time or had a great split, she'd cheer that too. I always push myself but this was a different kind that I really enjoyed.
*I was happily surprised at how not-tired my body felt through much of the race. Specifically around the fact that I've run SO much lately. And then, at mile 8 and again at mile 11, my legs – glutes, quads, hip flexors – seemed to rebel, as if to say "yo LADY, we just did this a week ago! What the heck?" And so I talked to my legs, thanked them for the awesome job they were doing and willed them to do a little bit more. Whatever you believe in, I promise it worked. Including making me laugh.
*A first – a few miles running through City Park and I'm on the lookout and avoidance of goose poop. A lot of goose poop to navigate. Definitely never had that before!
*At one point I pass a blind runner, tethered at the waist to a sighted runner right in front of them by about 5 feet. It's a beautiful site to behold, and I tuck in the back of my mind that I'd like to train as one of those guides someday.
*"Channel Your Inner Badass!" – a sign I see in the first few miles. I like it. Then, there they are at around mile 12.4 or so. And I'm compelled to run near them and point at the sign, and as they see me, this group of 10 people starts cheering "YEAAAAAAAH!" and I have the craziest surge and burst of energy, as I was feeling like yeah, I'm reaching inside and connecting to the inner badass, with their help. Holy moly did that lift me up off the ground and push me the last half mile.
*Speaking of the last bit of course – hello downhill. And hello my out-of-nowhere afterburners! I had only planned to finish the race, run the whole thing. There was no thought of finish time, just feeling good. But given that almost the whole race I felt strong and awake, I decided, what the hell, I'm going for it. Ran strong, long and fast that last 3/4 mile. God that felt good, and FUN! Best way to finish.
*I can now honestly say, there is *nothing* quite like hearing friends cheering as you're crossing, seeing them and seeing a big handwritten sign they made for YOU as you finish. Oh my goodness. Before I even got my medal, I headed over to see Dawn and Bill, overcome with emotion and gratitude (sorry for the drooling sweaty mess of a hug ;)), just so happy to see them. If you EVER get a chance to support a friend or friends at a race they're doing, go for it. The boost you give them is indescribable and beautiful and memorable. THANK YOU Dawn and Bill for creating a pre and post race environment of love and support and for the race course support and enthusiasm. This alone is worth the effort to travel and run. Plus, best I've felt post-race maybe ever – cannot begin to truly express how grateful I am for all of it.
*So I just crossed my 42nd finish line. Which means I pushed myself over my 42nd starting line. So deeply grateful for absolutely every aspect of this journey so far.
*Oh, as a little bonus, I got to go see THE Newton Running retail store in Boulder the next day. My shoe haven. Or heaven. I was such a gear geek gawking at the store while there, giddy with the mere aspect of being in hallowed Born-In-Boulder store. Super grateful to Caileigh and Nicole for their graciousness.
*Let's Go PHILADELPHIA, the town that if it didn't exist, I may not either! Going to run where I was born