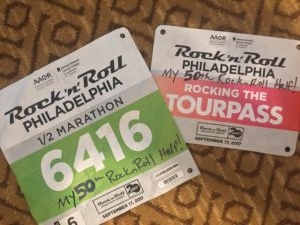 They said I couldn't. He said I shouldn't. He said "perhaps too many?" They said you can't. They said who cares. She said it's not worth it. She said I can't trust my gut. They said why bother. He said it doesn't matter. They said it won't make a difference. They said I can't. They said give up. They said this is the new normal. She's said it's not enough. He said not you. They said stay down. She said it's crazy. He said you need to do/be more. They said why not try something else? They said stop, slow down. He said what are you trying to prove? They said we don't know. They said we don't have an easy answer for you. They said they wish they could do more. He said we will figure it out. They said be in the moment. There's a lot more they all said.
Yeah, I heard you, still do. This wicked memory of mine is sometimes a curse. For too long, longer than I'd like to admit and sometimes still dip into, I believed and/agreed with it and at least questioned myself far too much.
Well, tomorrow I'm running my 60th #halfmarathon overall, my 50th Rock'n'Roll half marathon. No those are not typos. Been told I'm ridiculously loyal (to a fault in some areas) and there's NO way I could've run this many in just 7.5 years without Rock'n'Roll, the event series and the incredible people who produce these races. It may not be a big deal to anyone at this point, but it's a damn big deal to me, knowing I could play it safe and take it easy and lay back down, be careful. I may appear strong and able to do this, no big deal, but it's fucking hard to push myself by myself, never knowing how it's going to play out and whether it's a "go" but I do absolutely stay curious enough to learn something every time (so please don't say, if it's hard, you shouldn't do it.) It doesn't matter how much I prepare, I never know, really, how they will turn out or what the experience will be like.
It's always a practice of leaping in faith. They, the races, don't always feel great but it's always worth it no matter what state I'm in at the start line or how I cross over the finish line. That I can wake up on race day at all, that I can take a step at all, that I can take a breath at all – let alone run miles and (usually) enjoy it is something I do not and will not take for granted or stop feeling extraordinary and emotional gratitude for. Thank you to my body and my spirit who keep getting up and trying again no matter how many times I fall down. I know I may not always be able to, I know the time to try is now, I know I have to while I still can. Having a body that throws constant curves (to put it very mildly) at me, every frickin time I get to run means everything and more. No matter how much or how well I take care of myself, sometimes I cannot prevent my body or the debilitating inflammation racing around in it from attacking me, trying to literally take me out and at bare minimum significantly limit of my function and ability to live life actively.
My first Rock'n'Roll race was #RnRPhilly 2010 and it's not lost on me that my 50th Rock'n'Roll race comes full circle, also in #Philly, the place of my birth. I'll say it again, thank you, running, for all you've given to me and for all you've given back to me. And to Rock'n'Roll, I'm no elite or a division placer or hall of famer, but I'm incredibly grateful for ALL you do and have done to make this possible not only for me, but also for every level of runner that's run anything from one of your races to more than 100. What you provide in terms of opportunity and possibility is a tremendous and generous gift to all of us. A hearty Happy 20th Anniversary Rock'n'Roll. I may only have been running with y'all for 7 years but I hope it's for at least another 20.
#AIWarrior and then some
#wontstoprunning