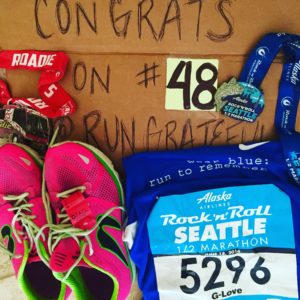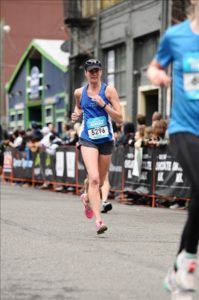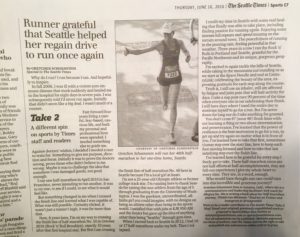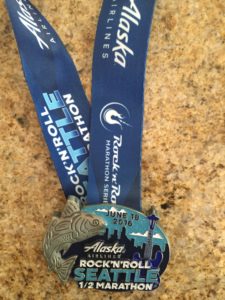 Better late than never – a week ago right now, I ran half marathon #48. And here's the fun part for me, and I cannot make this up: I ran it in 1…48. Yup. Didn't mean to do that. I do NOT do math while I'm running so that's a fun aspect to this race. Here's a few other race observations:
Really, this is the best I've felt throughout a race in a while. There's usually a breakdown or five here and there, but aside from a half mile stomach churning and a half mile where my right hip/glute/quad was tightening up, I'm really happy with how I felt, inside and out, throughout the race. So much so that I still had a smile on my face through the finish line – that's unusual, usually I'm gutting it out by then. So to feel that good, smile at the end and run in the fastest ever-Seattle time? I will take that and more.
Yes, that's the 6th time I've run a Seattle course. Fastest by nine minutes. Sure, the course was new, more downhills (still plenty of up, it's Seattle) then I've done, but still – I kind of feel like I had a LOT of wind aka friends at my back, pushing me along. Thank you.
Couple firsts – kid in a Buzz Lightyear costume, his momma holding a sign that said "to infinity and beyond." That was cuteness and beyond. Round mile 5 there was a pedestrian overpass with a full fledged Mariachi band playing over the top of us. They got a LOT of raise-the-roofs and cheers.
I wrote "Half" on my left calf and "#48" on my right calf, just cause. At the finish line, my momma is holding the well-traveled sign that notes "#48" in a post it note. There's a gal standing next to her who did the 8k that morning. She asks about the sign, my mom tells her what I'm doing and she yelps "oh my gosh, I saw her, she ran past me! That's so cool!" Made my mom smile pretty big from what I understand.
SO love the drummers the RocknRoll organization is able to get on nearly every course. They're always so talented and it's SO inspiring.
There's a split at Seward Park where the marathoners go right, half go left. Then somehow they reconnect and are pushed to go down the I90 bridge to get their miles in. Driving home hours later, on the 90, I see so very many runners fighting their guts out for their marathon finish. Incredibly inspiring to see their not-quit spirit.
I think about a lot of things when I'm running. A lot of metaphors and life perspective comes to me. We had a lot of tunnels to run through in this race. A couple were pretty dark and steep and some were dark and seemed to last for a long time. Like, am I ever going to get out of here? The sound would change, the temperature changed. It became something to observe and something to get through. Every time I saw a literal light at the end of the tunnel, and started to feel a breeze stir the air again, and feel near sense of freedom and begin-again, I couldn't help but think about how many times going through "stuff" in life feels a lot like that. And putting one step in front of the other does eventually lead to the light and new beginning.
Speaking of that, in the Competitor piece, I talked about how no one can take your finish line from you. It's yours. I also thought of this – for me, the finish line is in a way, unconditional love. Me towards it and it towards me. It doesn't care how I get to it – I could walk, run, jog, crawl, skip, limp, anything at all to move across it and as long as I try, it's all mine. There's no judgment, only celebration that I crossed it. And for me too – once I get across another finish line THAT'S what matters to me – not how fast I went or how great it felt (although those are fun aspects to the experiences) but that I did it at all. Simple as that.
Getting the irony of talking about that and now moving to this, I do get it, AND this is still fun numbers to run. This is the 10th time I've come in under 1:50 in 48 races. 3 of those have been in the last 8 months, the other 7 were way back in 2011. If anything, I'm just thinking I must be doing something well right now. And apparently, sadly because I love it so much, no sleep seems to be working.
My favorite Run to Remember group was lined up again through Seward Park. I chose to wear their blue tank with Wear Blue, Run to Remember on it. Being able to show solidarity with and support for them and the amazing work they do was incredibly emotional – I ugly cried a few times, cheered with all of them, waved, blew kisses, patted my heart all throughout seeing them. Even those volunteering at the water station after that section continued to yell "GO BLUE! THANK YOU!" Thank you, Run to Remember, for standing up for those who cannot.
Speaking of emotions, heard the National Anthem twice last Saturday. Once before the race and once after, the second by an active military serviceman. His voice was incredible. I've never seen a time where everyone seemed to stop and really respectfully listen to the Anthem. Maybe it was as Orlando just happened a week before or this election season, I don't know. But even more so at the second time, everyone was super social and stopped what they were doing, stood up, hats off. Being part of all that was pretty powerful and I found a few tears streaming down my face. Well done, humans.
This was a fun race, for SO many reasons, of course the articles were a big part of it – incredibly grateful to Don Shelton of the Seattle Times for allowing me to share and Don Norcross (Competitor) for writing such a kind piece, and paying tribute to a city I dearly love and feeling so incredibly supported and inspired by so many of you, my friends. #49 won't be for a few months, which leaves some good recovery time and some good training time. Just thinking about two more (oh no, I'm not done once I hit #50, oh HELL no) gets me a little choked up. Here we go, life, buckle up and let's go!