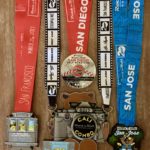 It's about time I record half marathon #61, when I ran the Rock 'n' Roll half in San Jose. October 8. Seems like a lifetime ago. There was a perspective to it that I wanted to share, that was important at the time, that's a bit lost to me now but I'm going to try my best.
In itself it was a tough race, it had been an incredibly long week. And by long I mean, on Monday I drove five hours to the middle of nowhere in California, worked an intense teaching day all day on Tuesday, then Wednesday drove another four hours to the San Jose airport, flew to Chicago to work another class on Thursday and that night I flew back to San Jose, crashed in an airport motel, worked Friday morning and headed to the Expo to grab my bib and everything, and then drove five hours home. Yes, five. Should've taken two. I think it was fleet week or something big going on, but it was endless traffic. By the time I got home, all I wanted to do was sleep for 24 hours straight.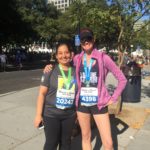 Got to back up to Friday, at the Expo. Divine intervention happened in a very cool way. I had parked in the convention center parking lot and was retracing my steps from how I entered the convention center so I wouldn't miss where my car was, and essentially was probably taking the long way to get back there. I'd been thinking about my friend Mankamal who'd I'd met two years previous at the morning of that year's San Jose race. I knew I needed to let her know I was for sure and last-minute doing this race. But it'd been an insane week of travel and work and I was barely keeping my nose above water. As I'm walking towards the stairs to get to the parking lot, I see someone walking up them – it's Mankamal. We exclaimed our delight and surprise to see each other – if she'd come up two minutes later or I'd left a minute or two earlier, we never would've run into each other. It was meant to be. And so we caught up for a few minutes, in the way that you do when you haven't connected for a while and there's just so many things to catch up on. She even invited me to stay are her place the night before so I'd have a shorter drive race morning, which was incredibly generous – I said thank you but I needed to get home and settle in for a night or two.
Really didn't know how the race would go, to be honest. A LOT of time on my feet and in heels shortly before the race, plus the exhaustion of travel and especially all that driving. Busiest week ahead of a race I've had in a while and I didn't know how my body and mind would connect with the race and how it would do. But I wanted to try. Plus I wanted to get my Cali Combo race in, and half #8 for the year! There was no turning back, just a bit of trepidation for how it might feel, how hard it might be and how long it might feel like it's taking.
Thankfully I woke up okay, even thought it was a bit earlier than I normally do, because I had to make time for driving down. And thankfully it was cooler weather so I knew at least I'd be able to run – the heat Sonoma has had sometimes in the afternoon has made it tough to run for me. Hot air doesn't exactly make lungs happy.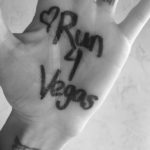 I decided I wanted to run this race "for Vegas" – the massacre tragedy has just occurred one week prior and it felt necessary and important to connect to that somehow, to run for those that no longer could, that I knew where it happened because it was the start line for the Rock 'n' Roll Vegas race last year. So I wrote on my left palm "Run 4 Vegas Strong" to remind me to do so, to run for them and to inspire me when I might feel down or lethargic to just keep running.
Not only did the cooler weather help, the missing mile markers did too – so you might see mile marker 4 and keep running waiting to see the "5" and you don't see it and then see "6" and get actually excited that more than a mile passed. It might've been a mistake, but I got to admit I liked it.
Another piece I liked – the old guys playing in a band in their driveway. Not only were they good, they also had an amazing sign: "Greatest Driveway Band Ever!" Agree, gentlemen, agreed.
And then I tested again the idea of walking a bit along with running and seeing if that might help me pick up my current dragging-ass style of running. I tried it in Seattle in June (or rather it was mandated by my family) and I actually came in under two hours when I wouldn't have thought that possible. And sure enough, despite my feet already sore and hurting, and my energy low and the rest of me feeling a bit off, I finished faster than I could've expected. Which was nice.
Finishing that race felt like a bit of a cleansing from the kind of week I'd had, something I needed and could prep me for the next week which included a big trip to Ottawa for my book (that didn't end up happening of course.) Then I ran to get my phone so I could connect with Mankamal at the finish and sure enough, we were able to meet up and give each other congratulatory hugs and get our picture together like we do. I will admit San Jose isn't necessarily my favorite course, but the perks of doing a local race which include seeing a friend like Mankamal make it 100% worth it.
Who knows, if I'd known how life would change so dramatically less than 24 hours later, maybe I would've done things different, I don't know. I do know I'm grateful I had that race, with a sunset hike that night, to buoy me up for what was to come. Yet again, running brings peace, calm, and strength to my life.