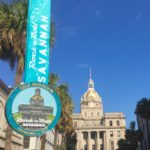 Have to laugh that as I'm about to post about Savannah, Facebook sent me a 'memory' of running in Savannah four years ago in 2013. It was race #27 I think, and rated it a very high race experience. That's a lot of races and life that's happened since. My affection for the city of Savannah has only grown.
2017: Feeling grateful for Savannah and the ability to still somewhat run. It's taken a few days to really digest the experience, and what it means to me.
It was a race I couldn't imagine doing, and I couldn't imagine not doing. I struggled mightily with whether or not to fly all the way to Savannah. Considered not doing the race right up until the end of the first of three flights (meaning, I nearly walked back to a ticketing desk to fly right back home.) I didn't want to leave Sonoma, my community, or the feeling of togetherness. And, I also knew that a few more days to be home and get rest and connect could be useful, and knew the race would be hard to do. I also knew that I would be having serious missing-out feelings during race weekend, in a city I've been wanting to go back to since I first visited to run four years ago. I also knew I would ultimately regret not running, not trying, not seeing what was possible. So I somehow packed (thankfully I have a race weekend pack list) and got myself to the airport – the driving of which I do not actually recall. Once in Savannah, it felt right, even if still daunting to try to run. In a way, it was good to be so far removed from everything and be so incredibly distracted by a city that begs you to be present and be fully there.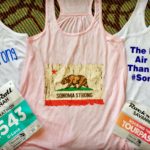 Thankfully before the race, I ran into friends like Joe and Yinka who immediately knew what a big deal it was for me to be there at all and who were glad I'd made the trip and was attempting to run. People asked about my #SonomaStrong shirt(s) and were impressed I'd made it out to run as well. Everyone seemed to agree in some way that the run could be healing, fun, a distraction, cathartic, inspiring. It felt good to start that way, even if I was still anxious about the actual running.
Experienced a few firsts in this course – the beginning started with the moon setting and then moving into the sun rising at the same time. I think it was either a full moon or close to it and it was a spectacular way to begin. It was a nice contract to the severe grimace I had on my face as I tried to take decent breaths with my run. It's rarely easy but this time I could feel the strain in a different way. And I had no idea if I would be able to continue, if I would feel this the whole run, or adjust as I have so many times before to a pace and breath that only I seem to be able to make happen for me. And the first music station, oh, bagpipers – there's something that gets my heartstrings every time upon hearing them, and it seemed fitting given the devastation to the area I live in, and also caused the first of many more tears to fall. Ok, I admit, I cried at the start line too, a mixture of fear, grief, and gratitude. That continued throughout.
Another first – one of the bands was covering Johnny Cash. My grimace turned into a grin, at least for a bit, as I'm a big JC fan and to hear someone pulling of a near flawless impression, well, that lifted us all. And along all this run – a lot of police presence, lots of protection for us all. Now, not all cops seem to enjoy this part of their job, whether looking bored or disinterested or hmmm, maybe even envious in some way. Every once in a while, whether buoyed by those who thank them or just plain enthusiasm, you will see them cheering runners. Well, I pass a female cop who's solo on her position and she's is clapping and hooting for everyone – it was truly awesome and so appreciated. Then another first – a medical tent completely engaged and cheering on all the runners enthusiastically – it was amazing. Usually they're quiet or attending to something or even slightly bored looking, and frankly, I think a bored medical tent is a good sign. That said, for these folks to use their time on the course to cheer on the runners in such fashion, well, I'll take it, it was pretty awesome.
My favorite first: well, I don't know if it really is a first. I would imagine out of 62 races I've had to have passed a fire station before. But I happened to really notice this one along Oglethorpe Avenue, given recent events and the fact that the front of my tank said #SonomaStrong and the back said "The Love In The Air Is Thicker Than The Smoke" and I felt proud to be wearing it even if most people on the East Coast weren't 100% aware of what it was about. And then I see the fire station right there. I took a few steps past it and then knew I couldn't keep going so I stopped, turned around and went in. There was a group of them out there all day cheering runners along. And I HAD to stop to say thank you – they were not in fact a fire station that was deployed to the wildfires in CA. I don't believe Georgia was one of the 17 states but I wasn't sure so I wanted to stop regardless. To stop and say thank you, appreciate them for who they are and what they do. That was not simply sweat that ran down my face while I stood there with them.
And this happy little silly event – I'm lucky to have some very dear friends who live in Colorado that I don't get to see often enough. But I know they all support my running. And there was a runner who I kept seeing along the course who had knee high socks on that had the famous Colorado 'C' along the top of them, right underneath the back of her knee. Now, I did not run this whole race at all. I walked a lot of it. I had no choice at times, and at other times, I made the choice to walk – to pause, to breathe, to look around and enjoy the moment. And throughout the race, I would continue to see this woman (I had no real pace, so how could this happen?) and her socks. Towards the end of the race, I began to think it was my Colorado friends saying hi, encouraging me to just keep running.
Speaking of just keep running, ever since I saw Finding Nemo (I think I was the last person on earth to see it), I've turned just keep swimming into just keep running. And right as I had rounded a corner in the last three miles and started up a small crest, I thought hmmm, how on earth will I do another three miles? And I look down and someone had written in chalk "just keep running" right where my feet were stepping and so I took yet another sign to enjoy this race, and, yes, just keep running.
I truly love Savannah and need another trip there soon to take more of it in. Never have I met so many people who live in an area strongly driven economically by tourism who really do love tourists and appreciate them and welcome them so warmly. All along the route, no matter the neighborhood, we were cheered along. And every store, bar, restaurant, tour and more I encountered the very definition of friendliness and kindness. And lots and lots of stories I could spend days listening to.
Thank you Savannah, for the reset and compass recalibration, and for the healing distraction, and for the realization I can get up – no matter what is going on – and just keep running. For a moment or two, I felt like myself again, even if painful or emotional at times. I found some strength and comfort in that. Thank you running, for giving me the motivation to try again.