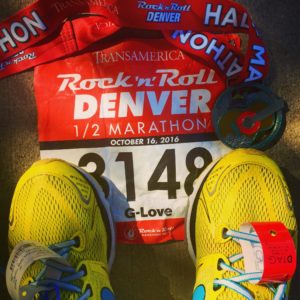 Did you think I would stop running? 🙂
Must admit – this was one of the hardest races I've run. Ugliest in multiple ways. Both the parts I ran and the parts I walked. I mean, I definitely wondered about what my motivation would be now that the 50th is just barely in the rearview mirror. Fearful that it was gone, what is my reason, where do I find new purpose. Was happy to find it still relatively easy to get up early and get into my routine and eventually get excited. And then nerves set in. A lot of them. My stomach was wrecked, my heart pounding and my limbs shaking. I wasn't cold, but everything was trembling.
The race started and I looked forward to shaking it out and settling into the run. Surprised at not being overly sore from Brooklyn just one week prior and enjoying being out on the course. I will say, aside from the altitude, Rock n Roll Denver is one of the prettiest courses in the series. A well planned course for runners.
But then the wheels really fell off. In fact, I don't remember much of the race. I began wheezing around mile 5 and it turned into a desperate gasp for air (the first of four or five attacks), thank you to the girls at the water station who gently patted my back as I held onto my knees and leaned over trying to not let it turn into an anxiety attack. I got back into running and immediately felt the weakness in my legs, that I rarely if ever feel. Like the muscles and blood pumping through them leaked out and disappeared somewhere. As I came around the corner and looked up the hill, I opted to walk. It wasn't an option really. It was necessary. I normally love hills because I power past a lot of people when running, but something told me to pull up and not push.
Don't recall much between that and the next few miles, other than starting to allow myself to take it one mile at a time, not think of the whole race cause this was going to be slow and slogging. And at the beginning of every mile, I walked. And started to notice something that scared me. I was becoming the wobbly runner that bobs and weaves along the side that I see at nearly every race. The one who is steps away from falling down. The disoriented person without a clue of where they are. I felt incredibly weak and on the verge and yet every time I passed a medical tent, I was feeling moderate, and every time I would've stumbled into one, they weren't around. It was a weird juxtaposition.
Throughout all this, I wasn't tracking much, I was merely concentrating on looking straight ahead and one foot in front of the other.
And so I made a deliberate choice – walk as much as I needed to or keep running and be scraped off the street on a stretcher. Now, I know some people see that as "leaving it all out on the course" but I don't. When I think about having no regrets, it's not that. I would regret the damage I would do to both my body and heart if I pushed it to that extent. I would not regret being thoughtful about taking care of myself. Yes I can dig deeper when I think I can't, and find out what I'm capable of – and I did by doing it this way.
In the walking, I met up with the kind of runners I think/hope I've been before – the one who slows up beside and says some encouraging words or gives an encouraging smile or thumbs up. Again, I don't remember much, they're a blur of humans and miles and trees. One I recall vividly and wish with everything I could've gotten his name. A much older gentleman who when I started to walk at mile 10, ran slowly beside me and said "you got this, you're almost there my dear, you can do it." And I smiled weakly and nodded and began to run a minute later. When I hit mile 11 and had already been walking up a hill and decided to use the mile marker as a 'start running' cue, guess who I found beside me again? There he was, telling me we were at mile 11 and a quarter. So close. Keep going my dear. We are almost there. I know he said some other beautiful words but I don't remember them. I would like to tell you that I waited for him at the finish line to shake his hand and thank him, but I did not. Because my body shut down once I crossed the finish line, the finish line I tunnel visioned across.
My head exploded in pain and I couldn't track anything or anyone. I did somehow get my medal and waters to drink. And then I stood there. Staring at the ground. Unable to move. Organizers yelling into megaphones for runners to keep moving to keep the area clear. I stayed put, rooted to the ground. And scared of how my body was reacting. Eventually I blinked and walked forward, drinking water and wanting to get away from people and crowds. And then I saw my crew, family and friends and tearily fell into their arms. I don't remember how I got to the grass but they all worked together to get a blanket down, me on the ground on my back and then I tried not to pass out or worse. Had they not been there taking my pulse, calming my body down, I would've found my way into a medical tent, like I did in Maui 2011 where I passed out to awaken to an IV of help. I knew they would take good care of me and eventually I stopped being on the verge of whatever weakness was threatening to take me down and was able to begin to sort of track activity around me.
We got some sustenance in me and eventually I could rise and walk again. But I was definitely shaken (still am a bit, if I'm honest) and not able to take a lot of care in, where someone's best intentions of helping to stabilize you aren't as well received as when you're not acutely unstable. And I understand cause I was still a wobbly walker at that point. Thank you thank you thank you, all of you, for your encouragement, care, and support – I can't imagine that race without you.
Here's what I know from this run – first, a really crappy victory lap for the achievement of #50. Ha! Seriously, maybe the major activity before during and after Brooklyn was still taking it's toll. Maybe it was the altitude, even through I have a routine to deal with this kind of elevation and the toll it takes on my body. Maybe I won't know and don't need to know and just need to see it this way: I crossed another finish line of a beautiful course. With slow but determined perseverance. Every step counted, even the wobbly ones. I'm also proud that I took in the information my body was giving me on this one (getting better at this and trusting it all) and paid attention enough to not end up with far more serious problems or injuries. That I get to try again and do this again soon. I mean, I have had a few bad races, with tough finishes that weren't intentional (sometimes a slower race is very on purpose) and this is top three for sure. And in the scope of 51 (so far) starts and courses and finish lines, if three or four are brutal and inspire some reassessment or new curiosity – I think that's pretty damn good. No matter the experience, I'm always appreciative for the opportunity to be able to do this at all.
And one of the lessons from this – it may not go how I want it to or how I imagined, and it may take a little longer, but one step in front of the other (no matter how clumsy) and I will still get to the goal. Perfectly imperfect.
So, I am fine now, recovering, still in the post-race few days of recalibrating my brain and body back to baseline strength. And grateful for the care I received from people who love me, that I didn't have to go through all that alone, and for the community I am continuing to expand in this little world I run in. #wontstoprunning