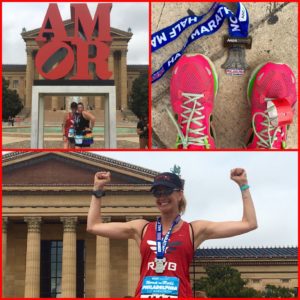 So it happened, somehow, someway, I ran #49. And thanks to a little faith and a lot of love and support from friends and family, I ran better than I expected I would. Maybe it's the listening of "Gonna Fly Now" on the way to the start line. Maybe it's just being in Rocky's hometown. Maybe it's letting go of expectations and allowing the enjoyment of the experience to take center stage.
Found a heads-up penny in the airport shortly after I landed so I went with the omen of good luck no matter what. That and I looked fear in the face and said "care to dance?" #eyeofthetiger
It was humid and soupy and weird weather from the get go. When the weather says 70 degrees at 5am and 85% humidity, you know it's definitely not the same as the cool, almost too cold, fast course of last year, when #RnRPhilly was on Halloween. Gonna sound weird but: I'm more grateful to the Pope even now for coming to town last September and forcing the date move. 😉
Also grateful to KT tape and getting both ankles taped up the day before. Too many ankle rolls and wanted to be preventative. It worked. They felt strong and supported while maintaining flexibility. Until…
Mile .25. As in we just started. A runner in front of me purposefully and knowingly tossed a small water bottle. Turned around and looked at it. Then in slow motion as I looked to see what he was looking at, stepped my left ankle right on it and felt it completely roll to the left. Saw stars. I swear. I am a stubborn little s@#* so I decided to try to run it off. And if I could catch the guy, I would…nah, I wouldn't. (seriously, runners, remember there are other runners and their limbs behind you. you too selfie stick folks. I saw more than one person nearly get clocked with one.) And, I'm lucky cause I could run it off. AND I really think already having the KT tape on already helped. YAY!
Did I mention it was humid? Quite. As in already dripping in sweat before the race started. Which makes for a, um, whiffy race with everyone in close quarters. Those wicking shirts we all wear? Doesn't translate for this weather. Also known as humidity + wicking material = whiffy.
Saw a sign saying "you can't drown in sweat." Well, today, Mr. Sign, I bet a few would beg to differ. I think my eyes came close.
Oh, that might be because I cried. A lot. On the walk down JFK to the start line. In the coral waiting to start. During the race when watching acts of humankindness and personal victories happen. At mile 12 because the last mile seemed redonkulously long. (pretty sure I said that last year. iwantomeasurethecourseagain) And right at the finish line. And again with the medal. And a couple solo moments afterwards. That I could do this, and that it's been this kind of journey for six years, and that I'm thisclose to 50. That I get to be a part of any of this. Super grateful.
The last mile I ran for Greg Kenny Jr, the 18 year old who suffered a traumatic brain injury right at mile 12 of the RocknRoll Virginia half marathon in 2015. He'd been running with his dad Gregg and doctors don't know what happened. His dad ran the Virginia half again this year, and Olympic Silver Medalist Jim Ryun (who I met in June in San Diego and couldn't be more gracious, with his wife Anne) pushed Greg in a wheelchair in the 5k and Greg stood up to walk a few steps across the finish line. Praying this amazing kid keeps improving.
The humidity (are you getting it was humid?) – thank you to the RocknRoll organization for having many extra medical teams along the course and paramedics on bikes. For the amount of people I saw getting carted off in various states of distress throughout the course and at the finish, clearly you were needed and in the right place at the right time. You guys rock. (IF I had a goal besides crossing the finish line, it would be to not get carted off today.)
Also noticed extra police presence. No metal detectors but definitely a watchful eye in many places. Necessary given the last couple days.
I'm satisfied with my finish time (1:51:38) as sometimes you have a little left in the gas tank when you cross the finish line. Not this time. Tank was empty and on fumes.
Why do I always feel like playing Monopoly when I'm in Philadelphia? ;D
Speaking of Philly. I do love this city. And I love being able to claim being born here. Gave me a little cred a couple times last few days.
Really understanding the poison of comparison. Even though this is technically a 'competition' in that it is a race. Found myself knocking myself and my achievements down when seeing someone wearing a jersey or bib indicating they'd run 100 halfs or this was their 16 race of the year (it's only September…) And then remembered my mom recently reminding me to a) knock it off (she said it much nicer) and b) cause look at what I have accomplished, and how, and in the face of. Everyone has their own journey, their own why, their own steps to take. Someone else's grand accomplishments do not diminish mine.
Admittedly, didn't feel great right after the race, a bit spacey too. And already quite sore too in a number of places. Took me a minute to get my bearings which doesn't always happen. That and hours later, my lungs hurt like they're in a vice grip. A molten vice grip. Hopefully chalking it up to efforting more than I expected and…wait for it…the humidity. (seriously, I squeezed water out of my ponytail post race. a lot.) Still: #showingmyautoimmunediseaseswhoisboss
To be able to stick around and track and then cheer my friend Judy in, running not only her 3rd half marathon but also running a PR – was incredible, inspiring and emotional. Found her right after she got her medal and over the railing, we collapsed into a happy, sweaty, sobbing hug. So so proud of you Judy. So grateful to share this experience with you. So excited you're coming to Brooklyn!
Again, Judy, you are a #Badass! Celebrate this, own it, rock it! xo
Captured a number of runner stories, including a 70 year old who combats his heart disease by running. LOVE talking to other runners and hearing THEIR story (without sharing any of my details.)
And just in case I didn't mention how emotional I am already – we did something I don't know I've ever done. I've spent time cheering on a lot of runners over the last few years. But not sure I've ever cheered in the last runner. As in the last five and the actual last finisher. This stuff gets to me. Someone is out there, still getting after it, giving it everything they got to cross THEIR finish line, get their medal, complete their journey. It chokes me up. Ask Judy – I literally had tears streaming unchecked down my face clapping them in. So so appreciate all aspects of this running world.
So, gulp, less than 3 WEEKS to go until Brooklyn. #nosleeptillBrooklyn And numero 50. Some crazy cool experiences on the horizon, and so very excited to celebrate with a crew that I'm blown away at the effort being made to be a part of it all. Much more to come – #GonnaFlyNow