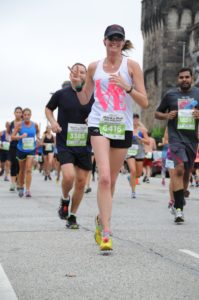 A week ago I ran my 60th half marathon. That is, frankly, very strange to write. My 50th Rock'n'Roll half marathon. Not sure it's really sunk in. None of that makes sense in my logical brain, but certainly my heart recognizes the journey it's been. Never did set out to run this many. Of course, people have asked "So, is running 100 on your list of next goals?" and honestly, my answer is no. When I was running the first few, if 50 or 60 had been in my brain, it would've felt too far away, it wouldn't be the motivator one would expect. Sure, once I was nearing #40, suddenly 50 was THE goal. And, actually, it kind of took me away from enjoying each race for whatever it was. Instead it was knocking another one down so I could get that much closer to the goal number. And so, no, 100 is not on my brain at this time. Perhaps when I've run my 88th or something I'll think about it. And even that sounds absurd. I have three more to enjoy the rest of the year around and that's what I'm focused on. That and my health and ability to do these at all, whether my joints and muscles are along with me or my lungs are cooperating. That's what matters. Maybe an ability to push myself during a race at some point, but not how many I"ve run. And supporting other runners. Their stories and reasons why and own moments of celebration are what I turn to more and more.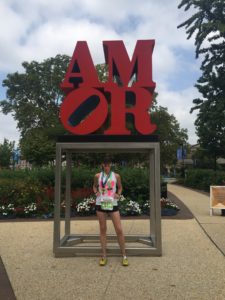 Now, as far as #60/#50? It's hard to express how much I enjoyed it, especially considering what a crap finish time it technically was for me. Yes, it was a big goal to run 50 halfs with Rock'n'Roll. And that my first Rock'n'Roll was in Philly and the 50th also in Philly. And that I was born in Philly and it actually truly is one of my favorite courses of all the cities I've run for RnR. But something clicked for this race and I'm enormously grateful for it. I will admit to feeling like I was getting through a lot of the races this year. The expos weren't inspiring me with energy like they normally do. I just wanted to get the runs over with. But this one, it was different. I walked into the expo and initially I thought "oh, here we go" with a down tone and I stopped and thought "what are you doing? You are actually totally looking forward to this – don't go default, this is a race you're excited about, let's go for it!" and my energy and approach totally shifted. I wasn't just trying to grab and go, I wanted to actually experience the expo.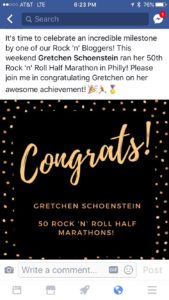 The race itself? Physically I was not up for it. I'd been at a conference in DC for a few days and took a train the day before to get ready for the race. My body was tired, I was not rested, and I woke up with a major headache and bilateral joint pain. I knew it would be more of a shuffle than a run. And I was okay with that. I actually wanted the race to last longer, so I could enjoy it all. Now, I've had races before where I think "oh, I don't care about the finish time" and yet while on the course I either try to push when I can't or get frustrated with myself because it's not going to go well, I can't find the extra gear to in fact pull off a good finish time. I never had that feeling come up on this race. Yes, I had to push myself to keep the run up, but the fact that I wasn't running fast, that it would without a doubt be a slower finish time, really truly did not bother me. I simply wanted to take it all in.
I was taken a bit aback by the looks I got when I pulled out my inhaler shortly before the race start – and realized I guess it's not something you see too often. And then, while prepping for the race, I wrote on my left calf "50th" and on my right "RnR Halfs" and sure enough, a couple people along the course said to me – as they were passing me – "way to go" or "congratulations" or "impressive!" and that felt awesome. And then the kicker – after crossing the finish line, had a guy come up to me and ask if it meant I'd run 50 Rock'n'Roll halfs. I replied yes. He said he kept seeing me on the course and was pacing to stay up with me, telling himself "if she can run 50 of these, I can run this one." We congratulated each other and I felt happy for that interaction. And someone else throwing out "you don't look old enough to have run that many!" Bless you!
Speaking of feeling happy – what are the odds you run into your childhood friend and neighbor right around mile 5? Now, I was hoping to see her every time I do a race here, but it hasn't worked out. Suddenly at mile 5 I hear a "Gretchen?" and she's suddenly on my left. SO FREAKING AWESOME to run into you Carol!!! I love how it happened. We ran for a few minutes, me breathless, cause, well, that's how I run. I wasn't running fast and encouraged her to get back to her own race. But it was so cool to, in the midst of how many thousands of runners, have her spot me and come say hello!
Mile 5 is heading along boat house row, one of the many best parts of this course. When you're then running along Sckuykill River for miles at a time, seeing crew teams on the river doing their thing, and getting into your groove while dodging acorns, it just all makes sense. Running. And then you want to see a bunch of adults get goofy giggling grins on their faces? Have a grade school cheerleading group and a 5 year old girl with a sign that says "hit this for more power" and she's holding it up against her torso. Basically, including myself, a bunch of people suddenly tip toe while running over to her (so as not to scare her) and lightly tap the sign, while she smiles broadly and a bit shyly. Literally heard a guy behind me "awww" and then giggle. Too cute.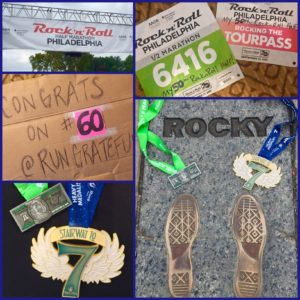 Heading back across the bridge to run the west side of the river, I wanted to stop and just enjoy the river view. Such a pretty view. Somehow I kept going and along the west side, while recalling that my dad had a snarky nickname for this river, I 'asked' him to join me, to hop on his bike and ride alongside me. This might seem weird to you, or too woo woo or whatever. But it worked for me. I fell into a rhythm of one foot in front of the other, and while often feel alone, for a few miles I did not. I have so much gratitude for my dad, for Philly and my start there, and all he instilled in me including pushing myself physically, real resilience, connecting with others.
It really is one of my favorite courses – sure it was a bit soupy (I do love that October race weather from 2015) and warm, but the iconic streets and buildings and history, including the state pen, and the river course with acorns every where – it's just a spectacular course with a slight push to finish (uphill) and finishing at the bottom of the the Rocky Steps. Even if I end up running only one race per year, I would do everything I can to make it this one.
And then my favorite signs for this race: "Doubt kills more dreams than failure ever will." and. "Own every mile, celebrate every moment."
Thank you Philly and Rock'n'Roll, for a brilliant experience.