Surreal. It is still so very surreal. That I just ran the 50th half of the last 6.5 years of this crazy journey. Me. I did this. I've crossed 50 fricking finish lines. And it feels, um, surreal? Admittedly I have hesitated to write this all up and post it. I don't know exactly why. Maybe I don't want it to be over. Want some time to take it in. What it means/doesn't mean. (thank you to those who tell me to keep celebrating and carry this with me) Maybe I'm afraid it's too long and/or I won't capture it all. But…here goes one part of it: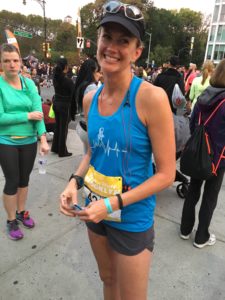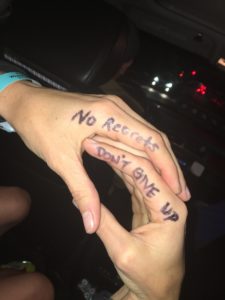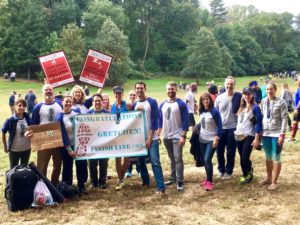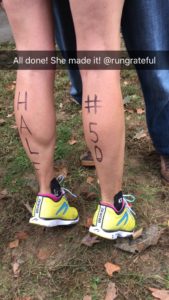 Absolutely blown away (in fact tearing up writing those words) by the love and support I was surrounded by for this millstone, this mile marker. The efforts made by so many to be part of this (and Dawn for recognizing the significance and being organizer extraordinaire), to make me feel like this was special, to help me to know I "got this." My word, how lucky and blessed am I to have these kinds of friends, humans in my life. Gobsmacked really. I keep pinching myself. And so many didn't know each other ahead of time but it felt, at least to me, seamless, and then to have so many make a point to say about the other "I love your friends!" is a testament to how fricking cool everyone is.
Even the bib was gold (50.) My shoes, the color of the bib too? What are the odds? Signs I love.
To be tweeted at by the band A Great Big World. Um. Wow. Pretty much turned me into a giddy school girl/fangirl. Means the world to me, kindred spirit in some way.
Trust your training. That might be one of my favorite signs along a course. There's an exhale the occurs in my system when I see that. Permission to let it all be okay. And that my body and I have a good enough relationship to be able to know when to pull back and when to push forward. I did take a moment at mile 12 to walk, to take this all in, and that's when a whole lotta tears came up.
50. There will never be another 50th race. It was beyond special and somewhat different than what I expected. Some of that is due to the course and the narrow, closed off finish. For the last year or so on probably 80% of the runs I've taken, I've imagined or pictured various scenarios of the finish line. The finish line moment. Now granted, it's New York and lots of security so it's a far more restricted access for spectators. And still, I missed leaping into the arms of my friends. And. It also felt appropriate to see them right before the chute where I crossed the finish line and then had quiet (well aside from being surrounded by hundreds of fellow runners) time for me in the finishers chute, getting water and medal and chocolate milk, wandering slightly wobbly on my own.
When I saw this crew at mile 11, it lifted me beyond what I could've predicted. For me? These people are here for me? How special!!! It was loud, and boisterous and happy. And then again at nearly the finish. It was an instant boost that leapt me through the finish line FAR stronger than I had felt for much of the race. (side note – bad NY air quality plus humid start make for a struggly kind of race)
The t shirts – of course that made it easy to spot the crew from just about anywhere. And. They were awesome shirts. Still smiling at those.
Saying the serenity prayer at the beginning of the race, and also explaining it helps. Letting go of things I can't control (security lines, humidity/weather, past training) and things I can (how fast/slow to run, how to hydrate, when to push) and wisdom to know the difference. Still working on the last part… 😉
Wrote a couple things on my hands for this race – "No regrets" on my left index finger and "Don't give up" on my right. Places I could easily spot and be reminded while running. Been reading a bit about sports psychology and wanted to allow the possibility that it might work, despite so much experience. And it did – it made me a much more thoughtful runner and in the moment as well as helped me push when I wanted to.
Question I get asked a lot: Why? One of the reasons: Because one of the most powerful motivating forces I've found is realizing I can, despite evidence to the contrary. Therefore I. Must. Keep. Going.
When you live with a ghost, or ghost(s) there is something about the doing this now that feels important. To be honest, I sometimes feel like I'm living on borrowed time or at least my body is. I wonder sometimes how long I can feel strong and/or bounce back from another setback. That maybe the next time will be more devastating or debilitating. Or that it could take me out. Or that it could be something I don't actually know how to get through, heal from, be stronger because of. And so, I want to do this now. Before it's too late. And maybe it never will be, maybe I will always have a chance to come through any health adversity. But it's not a chance I'm willing to take – therefore, it's time to take the steps now.
What now? Is it over? Hardly. Right? I don't want it to be over. Not by a long shot. I will keep running. I get to. I want to. It's my pleasure. In fact, even in the run up (no pun intended) to Saturday morning, as I occasionally felt overwhelmed by my emotions or the activity around me, I would blurt out to someone, anyone, "all I want to really do is be on the course on Saturday morning, I want to go for my run, I want to feel what it is that got me started doing any of this in the first place."
I ran with my hospital ID bracelet on my left shoe, timing chip on my right. Trippy to look down occasionally and see it there, reminding me of how very far I've come, and what this journey means and what I still can be challenged by. 10 years TO THE WEEK ITSELF I was in the hospital, I'm running #50. Holy Shit. It also did not escape me that the date on my hospital id bracelet from UCSF was October 5 2006 (via the ER to start an 8 day stint) which, unplanned, was the same day I flew from CA to NY for this 50th. 10 years apart. One was entering the hospital, one was flying out to a new next step.
Every time I felt anxiety or nerves before the race on Saturday, someone would say "you've done this 49 times before, you know how to do this!" And it would help me exhale.
My favorite number 8…the house number on the VRBO we rented in Brooklyn was 44. Added together is 8. So there's that.
The lead singer at the post-race finish blurting out as we're all standing there that really, it's not half of anything. It's a whole frickin distance, a whole race. It's like he was reading my mind.
So much emotion that came through the lead up. Including joy, massive gratitude, sadness. And cried myself a bit to sleep the night before, tears streaming out the sides of my eyes and pooling in my ears. But it's ok. I wanted to release that. And. The emotions of Saturday morning were nearly all pure joy, happiness, delight. I cried far less than I thought I would and stayed in the moment appreciating it all as much as I possibly could.
Had Dawn write HALF and #50 on my left and right calves – then when I had decided to walk for a bit, to take it in, slow it down, enjoy it, a runner passed by, gently clapped me on the left shoulder and said "you got this, almost there, go 50!"
Can't lie – one of the smelliest race courses ever. And I don't mean sweat. My fellow runners Sara and Jimmy mentioned it, unprompted, too. Also known as it smelled like poo for 70% of the race. If that doesn't make you run faster, to get away from it, I don't know what will.
Forgot to play "Gonna Fly Now" on the way in, distracted by so many awesome things. And somehow it worked, cause sitting in an Uber SUV with 6 of your friends and playing it in the car for all post-race made better sense.
Gonna say something that might make you roll your eyes or flip me off. I still don't think of myself as a runner. That might sound crazy but it's part of this journey that I bring with me. Sure, I've crossed 50 finish lines and I get the absurdity of that statement. And here's what I was reminded of recently – comparison is the thief of joy. The reason I don't think of myself as a runner is because I compare myself to the accomplishments of others. And then I feel like an imposter runner. She's running 15 in one year. He's run 47 in four years. She's running fulls and halfs and ultras. He's older and faster than me. They've run 100 marathons. And so much more that I've beat myself up about and allowed to diminish what I have done, how I have done it. But by sharing, and maybe normalizing it a bit, perhaps it releases.
I thought about Chris a lot, knowing that without a doubt, he too would've made the effort to be in NY for this milestone, to support and celebrate. And so when I saw more Penske trucks and vans than I've seen along a course, I knew he was there in his way. And my dad too – no doubt he was there with me, he is a big part of why I do what I do in the first place, having battled decades of his own autoimmunity.
Couldn't help but laugh at the timing of my playlist – and a song that's new to the queue. I'd toughed it out through about 8-9 miles and at the next water station I decided to pull up and walk through it while grabbing some water. As the song I was listening to wound down, right as I'm debating how much more to walk, "Won't Stop Running" starts it's very obvious-to-me beginning and I laugh out loud and thing "well, okay, guess it's time to start running again right now!"
Lastly, I got to raise a good amount of money for Operation Shooting Star. Maybe it will make a real difference. And not only did I get to raise money, but connected with dynamic, strong, funny, fighter girl, ai warrior, badass Audrey. Who no doubt will be in my life going forward – I not only raised money but gained a friend and collaborator. Watch out world, this team is making a impact.
There's more write up to come – I've been tracking all the life that happened and miles run and cities experienced in the 6.5 years, oh yeah, and am writing a book. And I'll be answering a popular question – would I do this all again knowing what I know? And in case you were wondering – no, I won't stop running.