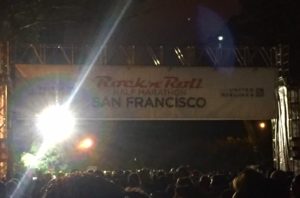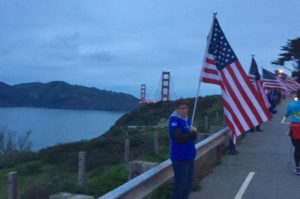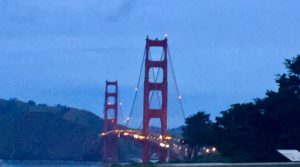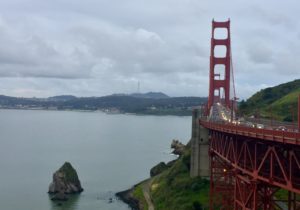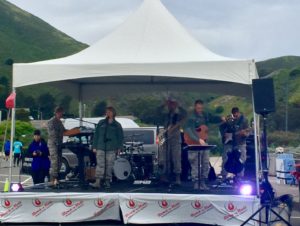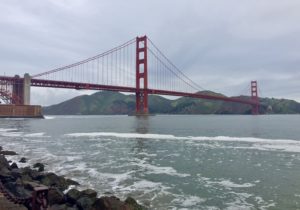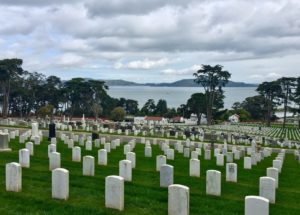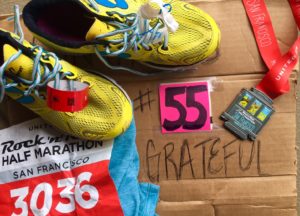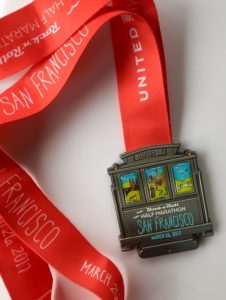 AKA This one was personal.
Be the runner that waves at kids in the windows as you run by. That's what I did this morning. And that made it for me.
I didn't share with anyone "hey I'm running my 55th in SF on Sunday!" because it was such an early race, the weather iffy and I just didn't think, unless you're running, people really get up super early on a Sunday to spectate. Definitely saw a *few* people on the course but with a 6:15am start, one of the quieter (noise ordinance) races I've run. (and in the future, if you're someone who really would've gotten up to be along the course or finish line, let me know, I won't keep it to myself next time)
Plus, honestly I'd given myself permission to do a DNF. As in, pull off the course if I need to. I'm no where near where I'd like to be or have been in the past (especially last year, which is disorienting) and frankly, the hills are intimidating whether it's your first time or many times running it.
And so I ran it, not knowing at all how I'd feel and just willing to get up and try. Get up again and try again, test my will and resiliency.
Not so fun when you get about two hours of sleep the night before. Went to bed early to be able to get up at 2:30am to make, from Sonoma, all the parking and shuttle cut off times. I'm not sure I've ever consumed so much coffee pre-race.
As we're running along 32nd Avenue, I look up to my right and see a big picture window with three or four kids in pajamas waving wildly at anyone who will look and wave at them. Brought a huge smile to my face, so glad I saw them. Bit of a boost.
And because I knew this was more a try-race and scenic at that, decided to run with my phone so I could get some photos. And I did. Well, starting in the dark (which is so discombobulating) it had to wait until it lifted to light. But I got a few goods ones, including along memorial mile where the Wear Blue To Remember folks stand with their American flags, honoring the soldiers we've lost. It is one of my favorite, if emotional and reverent, part of the RocknRoll race courses. This one majestic as you came up the hill and began to spot the Golden Gate Bridge.
Speaking of the bridge – as I was running across it I suddenly realized, hey, the first half nearly seven years ago was in San Francisco too. And we ran across the Golden Gate Bridge (yep, quite a few photo opps) then too. It felt apropos to have number 1 – the one that opened up this whole new world to me – and number 55 connected this way. 55. Yep, 55 starting lines so far.
As we're running along the bridge, the bridge workers are high fiving people if you wanted. At one point, I'm cresting (efforting) up a hill and must've had a determined look on my face cause one of them called out to me and I looked up and smiled and waved and he says "there you go, there's a beautiful smile." Hee.
Seriously one of the quietest races I've run. And I kind of like that. It felt personal in a way. And I was realizing along the course that two years ago I ran it, and ran it with someone I was a bit intimidated to be running with even though I had a lot of races under my belt. And I say 'ran with' lightly because I think I let him take off at the first half a mile – as in not even a full mile together. Man that took the wind out of my sails. And I was pushing so hard that race, trying so hard, was in better shape and wanting to prove I too was good. And the race sucked for me, I didn't enjoy it and it didn't feel good. This race, I had my head on a swivel, taking it all in, all the beauty of the city, the happenings around me, the military band at the northern bridge turnaround, and I just settled into making it an enjoyable race, by mile five figuring yeah, I should be able to finish this (still giving myself an out just in case cause…the hills.) What a difference a couple years made in terms of this course. I'm not the runner I've been, certainly not recently compared to pretty much all 2016, and still finding something to dig up and take another step. It was interesting to reflect between the two race experiences. One example – two years ago when I would stop to walk, it was bad, I wasn't pushing hard enough, wasn't enough effort, doing it wrong, not proving I was strong – this time, when I walked, not only was I taking care of myself and listening to my body, it made the running more enjoyable and free and felt better.
As we come off the bridge and head into the Presidio, the Khalifa/Puth song "See You Again" that came out right after Chris died comes into my ears. It startled me as it's an emotional song because of how I connect it to Chris. What are the odds it starts right as I head towards where we first became roommates? Sigh.
Heading along Marina Boulevard past Chrissy Field and I am looking up at the beautiful homes to my right. I spot a big brother and his baby sister watching everyone run by, but no one else sees them. He sees me see them and shoots his hand up to wave wildly, his other hand grabbing one of hers and making her arm wave – I give them a huge smile and wave excitedly back. Happy heart.
Spot a car as it suddenly pulls up along us, curious as to what he's doing. He hops out to get the cup of coffee that was on top of his car, while he was driving. I yell out 'nice save!' and he laughs and gives me a thumbs up.
And then you run up Bay to Polk. That's an effort in itself. But then up Polk. Holy Lord. As I'm taking a right I hear audible groans from people as they realize the last less than two miles just are tough. Like rolling hills but no downhill, just crest and go up again. Up the first one I hear this woman grunting, no, more like shouting to herself, willing herself up the hill. It. Was. Awesome. It was as if she willed all those around her. I'd already given myself permission to walk as much as I wanted up the hill(s) but her commitment and awesome determination inspired me and then some. Her energy was on fire. The hills after that was off/on for most, and eventually you do get a lot of downhill. My legs are tight, my body is wanting to seize up but I'm also wanting to finish strong since I enjoyed stopping multiple times to take photos. The finish felt pretty good and I find myself wondering where she is, how she did. I get my medal and a bottle of water to down and look up to see her with a giant grin on her face. I walk over to her and tell her "you are amazing. congratulations on your finish. loved how you were getting yourself – all of us – up the polk street hills. congratulations!" and we fell into a sweaty runner hug typical of the camaraderie one finds on race day, especially at the finish line (oh the emotions.) She's SO ecstatic with her finish, she keeps walking in circles, yelling with personal pride. She thanked me and told me her name is Rosaria, it was her second half marathon, she laughed about how she got herself going uphill. I want someone like her at every race.
Then I met Walter post-finish line, a guy who was thrilled with his race. Cause he swam a couple miles on Friday. Biked 46 miles yesterday. And then ran a hilly half this morning and beat his time by a lot and still felt good on tired legs. Cause he's training for an Ironman. Walter is 60+. And his enthusiasm should be bottled.
And so, another finish line is in the books. #55. I couldn't have predicted it, including, oh yeah, I somehow was only a minute slower than the SF course two years ago. So there's that.
Then I took myself to go visit my Daddy in the Presidio National Cemetery, this race being in the backyard of where he was born and where he is buried, and thank him for whatever he passed on to me that allows me physically and emotionally to do this. I swear I felt a hand on my shoulder as I was knelt down in front of his marble gravestone. It was a quiet moment and the perfect way to reflect and close another race day.