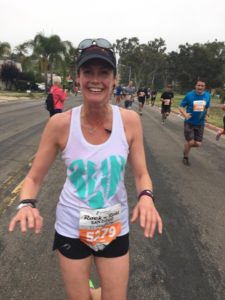 In celebration of Global Running Day, a little review of half #56…
Been a while. Needed this. Another starting line and eventually, another finished line crossed. Yup, #56 is done. And it was a celebration of RocknRoll's 20 years of running, starting in San Diego. It was a blast to be there, part of the celebration in SD, honoring all things running and RocknRoll.
Really wasn't sure I was going to cross that finish line, to be honest, and really really don't like the 6:15am start time. I actually felt good going into the race – if tired – and was hoping for this one to help me kick back into gear from earlier in the year. For it to be in San Diego – I first ran here in 2011 – and to be able to spend time with two of my dearest friends and their two amazing girls (including my goddaughter) made it all the much sweeter.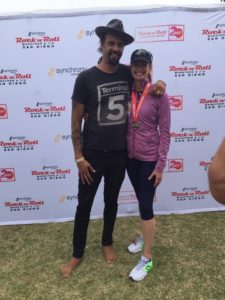 It's infamous June Gloom time in SoCal and that was certainly the case this weekend – I don't think the sun came out at all on Sunday. But it was also a bit muggy to start the race. For no sun or heat, I was sweating from the first few steps run. That did me and my muscles no favors going forward, which made me feel more sluggish than I would've liked. At this point, I run through the gamut of thoughts as always from I could PR to I could break 1:50 to I want to come in under 2 hours to maybe just make sure I run the whole thing to how about I just find a way to cross the finish line in one piece? I ran the first eight miles, not fast but decent even if I struggled a bit, and then the wheels fell off. I walked a few hills, ran into Anne and Jim Ryun who I look forward to seeing at any races – to run into them with big smiles all around on the course was the boost I needed at that time. And then mile 10. I don't know what happened or rather, why, but I threw up. More than once. And went super wobbly and walking in not-a-straight-line. I apologize to any runners who had to see me heaving. And I apologize to the disc golf course bushes I practically dove into. Took a while to get my feet back – and I was willing to walk the rest of the way – but somehow I found the strength to attempt to run (more like shuffle) and I did eventually keep going, and yes, I did cross the finish line. And under two hours (mystery to me as to how and don't totally remember the last couple miles.) It took me a few hours of sitting in a tent to get my real strength back – I was weak and mentally vanquished. But eventually I did and boy did it pay off to be able to chill out for a couple hours and then re-engage with the celebration in front of me.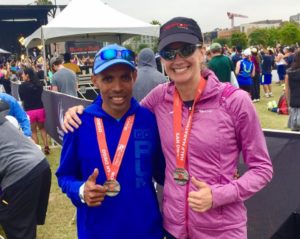 Before I get to all the fun people I got to meet which turned my race day experience completely around, a couple more observations from the course itself. First, I got to pass right by St. Joseph's Cathedral on my long walk to the starting village – I took it as a sign that my dad was with me – that being his middle name and how I've always connected it to him and his faith. Second, I saw not one but two firefighters in full gear running the course. Say what? Yes and it's the first time in 56 races I've seen that. Incredibly impressive for sure. Third, it's truly the most alcohol I've ever seen along a route – at mile 4.5 there was a whole bar set up. And I lost count of beers, tequila, vodka, champagne and whiskey people were offering up to runners. I couldn't and wouldn't and didn't see too many takers but clearly enough for folks to want to offer it up? Fourth, a couple good signs again, you clever current event sign makers: "Run like covfefe?!?" and "Run like United Airlines wants your seat!" Lastly, I got to see my friend John at the start. Literally at the start – they move people in front of each corral to stall the wave start and I was on the far right and right at the front of pack when I looked up and saw John who works at Competitor as one of the line holders – to be able to get a hug and high ten and a "good luck on your 56th!" from a friend literally right as you're about to take off is an awesome way to start.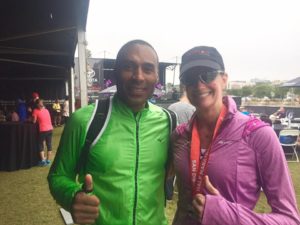 Over the last couple of months, as I've fought some health battles and some other things, I've considered and even offered to "give up race weekends" and even more "give up running" in order to appease something. And people I've shared that with, who really know me, have each time unequivocally stated "oh HELL no! It's who you are, it's one of the best parts of you and how you commit and enjoy and inspire is so important. Keep doing them, don't give them up!" And after this last weekend – finding myself in my happy place of a running race weekend and being quite comfortable in my skin no matter how the race goes, and just generally feeling relaxed and happy in it all, no way. It IS a part, a big part, of who I am and whatever adjustments I need to make to keep this alive and well I will do. It's too important. This is me, this is who I am, this is what I love to do.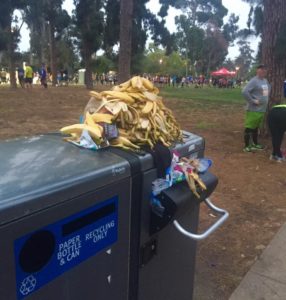 And, finding my way to finish the race up and take time to take care of myself then allowed me to meet: Roger Craig (sorry my fellow Seahawks fans, I had to, for Tracy) who really changed his whole physical and mental self to go from an NFL physique to a running one; got a congratulations from Meb again – so incredibly gracious with his time and energy before and after races, looking forward to seeing him at a race again soon; Joe, an incredibly inspirational runner who was the first person to run 100 RocknRoll events – again, I look forward to seeing Joe again at a race soon (I think Philly for my 50th RocknRoll event?); and finally THE Michael Franti – wow. Just wow. Again, so very gracious with his time and energy – first, his concert was amazing and he's so giving to his fans, really engages in a way I don't think I've ever seen a musician do and then to be able to spend a minute with him, and receive his warmth and kindness, his enthusiasm for life is infectious. He took yoga from my sister in SF and remembered her – and he has a son who has a rare auto immune disease and is an AI warrior himself.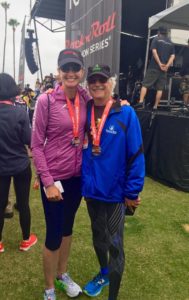 Thank you, RocknRoll and whatever divine guidance occurred to make this 56th half marathon go from some pretty big lows to rising above even the best of expectations. Awesome sauce. Anything is possible and every damn step counts.