Archive for the 'Training' Category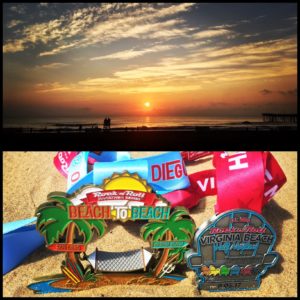 When it's 93% humidity and your hair is wet before you've even arrived at the starting line, when your head is still gushy and warm from yellow jacket venom, when you're not entirely sure how this one – #59 – will go since the last year of running (for various reasons) has been so tough and you're wondering what you're doing – NONE of it matters when you start the race with a sunrise like this over the Atlantic Ocean.
Yes, I had to adjust my running hat to accommodate my the part of my head that's still apparently a bit swollen from those a'hole yellow jackets, but it's SO much better and the doctor said while it may get exacerbated from the run meaning I'd feel it warm up (I did), I should be fine to go ahead and do it. So I got my butt on a ridiculously early flight to Virginia Beach on Friday and headed straight to the Expo – seems I actually had forgotten to sign up officially for this race. Given the Summer chaos, I'm not entirely surprised, I was surprised I didn't realize it until 36 hours before my flight. But since I had a flight and hotel booked, I checked to make sure it wasn't sold out and got myself to the East Coast. (and by the way, signing up last minute when you have the Global Tour Pass, meaning you can do any and all races for one price – meant I didn't have to pay the last minute entry fee, which was very nice.)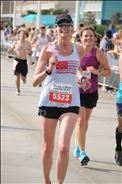 Slept most of Saturday because I didn't have the pressure of having to go to the Expo, which was lovely – and then met a fellow runner that has one of my favorite PR stories ever. Richard is an English teacher in San Antonio, running 10 RocknRolls himself this year. His wife runs, his sister is trying, and he's getting his kids into it too…Oh and as an English teacher, instead of listening to music when he runs, he listens to books on tape – brilliant! Anyway, a few years ago when his son was about 6 months old, he ran a half marathon (he just started running less than five years ago.) He decided to run this half with his son in a running stroller – which in and of itself, is a feat. His son is blessedly asleep for the first 7ish miles, which makes Richard's run pretty easy. Then the little guy wakes up and wants to be fed, so Richard bottle feeds him on a quick pit stop with one of the bottles he brought with him just in case this happened. But it happened earlier than he expected. Now, it's mile 8 and Richard realizes he has no change of diapers for his son in the stroller, just back at the car at the finish line. He's thinking, there's no way this kid doesn't blow through a diaper after just eating and I still have 5+ miles to go. So he kicks up his speed and essentially races with his son wide awake and giggling in the stroller, running the last five miles as fast as he can for the sole purpose of a potential diaper change. And yes, he crossed the finish line faster than he ever had (or has since.) If you're looking for new motivation, that's one tactic.
Couple other observations from RockRoll Virginia Beach – it felt good. For the first time in a very long time – and entirely regardless of my finish time – this one felt good. I felt fairly strong and grounded – I've made a couple big changes in the last month or six weeks and it seems to be paying off (more to come on that) in ways I am so far happy with. It's been a long time where the majority of the run didn't feel like a struggle – and while I had moments of "OH LORD!" on this course of course, the balance shifted, the majority of it felt good and joyful. So so grateful for that. Learned and learning a lot from that – including sometimes a dip in motivation can last longer than expected and still worth it to follow through with the commitment and eventually come out the other side.
In the first couple miles, a fellow runner taps me on the shoulder and asks me about the Tour Pass bib on my back, how much it is and is it worth it. I share the information, and of course I say yes, and am also struck by the fact that I can talk while running. This is a new thing – I mean, I am not entering a Gettysburg Address recitation contest while running, but the fact that I could talk a brief conversation and not get lightheaded for a while afterwards is pretty cool.
At one point along mile 4 I was feeling this surprising light and good feeling and looked to my right, as I was appreciating the feeling, and saw a mail box with angel wings on either side, as the postman flag. I love the divine timing of that. And right after that, a big group of Texas Longhorn fans and signs and something about giving them a quick Hook 'Em Horns greeting was uplifting to both sides.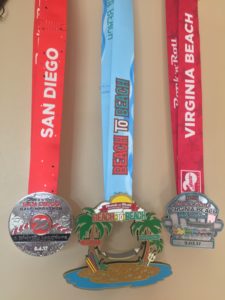 Now, mile 5? Why, sir, would you have a sign at mile 5 that says "you're almost there, the end is near!" and I thought "Dude not cool – it's mile 5, not mile 12!" and his partner next to him, she kept screaming at people "pick it up, pick it up!" So, here's the thing – maybe that works for some people but probably more so for if you're running alongside as a coach or something. Maybe something more encouraging like "you can do this, dig deep, you got this, keep going!" or something along those lines. It was jarring and not just for me – I heard a few people tell her to join them on the course and pick it up herself. Ha!
It's beyond cool to run and get support from the military, and to run near military housing – and then there's running through Camp Pendleton where the Virginia National Guard is cheering you on, followed by a couple female MPs. Felt like sacred ground we were running on (didn't hurt that the one house address happened to look at was 88!) It was awesome to run through CP.
Yes, it was some of the heaviest air I've run in, although a couple of very welcome strong breezes helped. Also yes, it was the best I've felt in a while and that's incredibly encouraging and motivating for the next big race. That feeling wasn't 100% expected – I am just excited I ran the whole race, aside from some water walk breaks. I haven't run a full course since maybe Philly of a year ago. No, I didn't get to jump into the Atlantic ocean post-race like I'd hoped to, but I did get a chance to connect with some really freakin amazing people and that, as you may know, is really the reason I keep doing these. Thank you, Virginia Beach and RocknRoll, for surprising me in a number of ways – I'm truly looking forward to my next run and next race.
Having made some kind of unconscious determination to be more honest about the struggle in running et al, I suddenly realized I want, no, need, to also record when a good nugget happens. (this is different than social media wise where majority pretty much record only the awesome parts of their lives, and don't share the vulnerability that allows people to not have to be perfect) Simply for me to remember, somewhere, that there are good moments, minutes in running. Plus this post allow me to use as many commas as I feel, you know, like, using. Seriously though, I went for a run yesterday morning. A little one. Walked for part of it. Coughed for part of it. But I ran too. For maybe a mile without stopping. And for most of it – holy crap – it felt…good. Decent. Strong-ish. Well, maybe not strong but stable. Not fast but consistent. I could make adjustments in the moment and not simply 'get through' it. Had a memory of how running usually makes me feel brave, capable, strong. Hell, I'll take a memory over nothing right now. Perhaps I can own the sensory memory of it, allow it to become real on the next run. The next run – as I write this, instead of feeling dread or fear I'm feeling anticipation and desire. That's a new one, or old one, or something. And allowing for it may pass, but feeling also grateful at this 5:15am writing that I'm feeling that at all, it's been a while and I'll take the seedling of it and while no promises or absolutes or treating it like a fragile egg, I will appreciate that something felt nice in yesterday's run, enough to make me want to try again. That's enough.
Surreal. It is still so very surreal. That I just ran the 50th half of the last 6.5 years of this crazy journey. Me. I did this. I've crossed 50 fricking finish lines. And it feels, um, surreal? Admittedly I have hesitated to write this all up and post it. I don't know exactly why. Maybe I don't want it to be over. Want some time to take it in. What it means/doesn't mean. (thank you to those who tell me to keep celebrating and carry this with me) Maybe I'm afraid it's too long and/or I won't capture it all. But…here goes one part of it: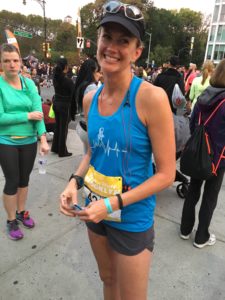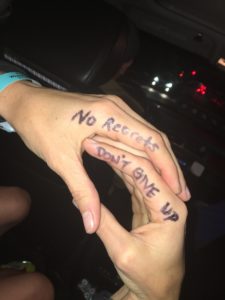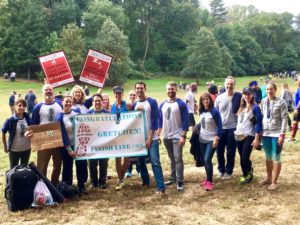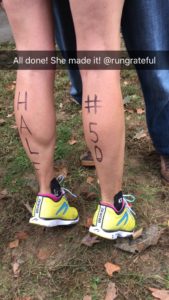 Absolutely blown away (in fact tearing up writing those words) by the love and support I was surrounded by for this millstone, this mile marker. The efforts made by so many to be part of this (and Dawn for recognizing the significance and being organizer extraordinaire), to make me feel like this was special, to help me to know I "got this." My word, how lucky and blessed am I to have these kinds of friends, humans in my life. Gobsmacked really. I keep pinching myself. And so many didn't know each other ahead of time but it felt, at least to me, seamless, and then to have so many make a point to say about the other "I love your friends!" is a testament to how fricking cool everyone is.
Even the bib was gold (50.) My shoes, the color of the bib too? What are the odds? Signs I love.
To be tweeted at by the band A Great Big World. Um. Wow. Pretty much turned me into a giddy school girl/fangirl. Means the world to me, kindred spirit in some way.
Trust your training. That might be one of my favorite signs along a course. There's an exhale the occurs in my system when I see that. Permission to let it all be okay. And that my body and I have a good enough relationship to be able to know when to pull back and when to push forward. I did take a moment at mile 12 to walk, to take this all in, and that's when a whole lotta tears came up.
50. There will never be another 50th race. It was beyond special and somewhat different than what I expected. Some of that is due to the course and the narrow, closed off finish. For the last year or so on probably 80% of the runs I've taken, I've imagined or pictured various scenarios of the finish line. The finish line moment. Now granted, it's New York and lots of security so it's a far more restricted access for spectators. And still, I missed leaping into the arms of my friends. And. It also felt appropriate to see them right before the chute where I crossed the finish line and then had quiet (well aside from being surrounded by hundreds of fellow runners) time for me in the finishers chute, getting water and medal and chocolate milk, wandering slightly wobbly on my own.
When I saw this crew at mile 11, it lifted me beyond what I could've predicted. For me? These people are here for me? How special!!! It was loud, and boisterous and happy. And then again at nearly the finish. It was an instant boost that leapt me through the finish line FAR stronger than I had felt for much of the race. (side note – bad NY air quality plus humid start make for a struggly kind of race)
The t shirts – of course that made it easy to spot the crew from just about anywhere. And. They were awesome shirts. Still smiling at those.
Saying the serenity prayer at the beginning of the race, and also explaining it helps. Letting go of things I can't control (security lines, humidity/weather, past training) and things I can (how fast/slow to run, how to hydrate, when to push) and wisdom to know the difference. Still working on the last part… 😉
Wrote a couple things on my hands for this race – "No regrets" on my left index finger and "Don't give up" on my right. Places I could easily spot and be reminded while running. Been reading a bit about sports psychology and wanted to allow the possibility that it might work, despite so much experience. And it did – it made me a much more thoughtful runner and in the moment as well as helped me push when I wanted to.
Question I get asked a lot: Why? One of the reasons: Because one of the most powerful motivating forces I've found is realizing I can, despite evidence to the contrary. Therefore I. Must. Keep. Going.
When you live with a ghost, or ghost(s) there is something about the doing this now that feels important. To be honest, I sometimes feel like I'm living on borrowed time or at least my body is. I wonder sometimes how long I can feel strong and/or bounce back from another setback. That maybe the next time will be more devastating or debilitating. Or that it could take me out. Or that it could be something I don't actually know how to get through, heal from, be stronger because of. And so, I want to do this now. Before it's too late. And maybe it never will be, maybe I will always have a chance to come through any health adversity. But it's not a chance I'm willing to take – therefore, it's time to take the steps now.
What now? Is it over? Hardly. Right? I don't want it to be over. Not by a long shot. I will keep running. I get to. I want to. It's my pleasure. In fact, even in the run up (no pun intended) to Saturday morning, as I occasionally felt overwhelmed by my emotions or the activity around me, I would blurt out to someone, anyone, "all I want to really do is be on the course on Saturday morning, I want to go for my run, I want to feel what it is that got me started doing any of this in the first place."
I ran with my hospital ID bracelet on my left shoe, timing chip on my right. Trippy to look down occasionally and see it there, reminding me of how very far I've come, and what this journey means and what I still can be challenged by. 10 years TO THE WEEK ITSELF I was in the hospital, I'm running #50. Holy Shit. It also did not escape me that the date on my hospital id bracelet from UCSF was October 5 2006 (via the ER to start an 8 day stint) which, unplanned, was the same day I flew from CA to NY for this 50th. 10 years apart. One was entering the hospital, one was flying out to a new next step.
Every time I felt anxiety or nerves before the race on Saturday, someone would say "you've done this 49 times before, you know how to do this!" And it would help me exhale.
My favorite number 8…the house number on the VRBO we rented in Brooklyn was 44. Added together is 8. So there's that.
The lead singer at the post-race finish blurting out as we're all standing there that really, it's not half of anything. It's a whole frickin distance, a whole race. It's like he was reading my mind.
So much emotion that came through the lead up. Including joy, massive gratitude, sadness. And cried myself a bit to sleep the night before, tears streaming out the sides of my eyes and pooling in my ears. But it's ok. I wanted to release that. And. The emotions of Saturday morning were nearly all pure joy, happiness, delight. I cried far less than I thought I would and stayed in the moment appreciating it all as much as I possibly could.
Had Dawn write HALF and #50 on my left and right calves – then when I had decided to walk for a bit, to take it in, slow it down, enjoy it, a runner passed by, gently clapped me on the left shoulder and said "you got this, almost there, go 50!"
Can't lie – one of the smelliest race courses ever. And I don't mean sweat. My fellow runners Sara and Jimmy mentioned it, unprompted, too. Also known as it smelled like poo for 70% of the race. If that doesn't make you run faster, to get away from it, I don't know what will.
Forgot to play "Gonna Fly Now" on the way in, distracted by so many awesome things. And somehow it worked, cause sitting in an Uber SUV with 6 of your friends and playing it in the car for all post-race made better sense.
Gonna say something that might make you roll your eyes or flip me off. I still don't think of myself as a runner. That might sound crazy but it's part of this journey that I bring with me. Sure, I've crossed 50 finish lines and I get the absurdity of that statement. And here's what I was reminded of recently – comparison is the thief of joy. The reason I don't think of myself as a runner is because I compare myself to the accomplishments of others. And then I feel like an imposter runner. She's running 15 in one year. He's run 47 in four years. She's running fulls and halfs and ultras. He's older and faster than me. They've run 100 marathons. And so much more that I've beat myself up about and allowed to diminish what I have done, how I have done it. But by sharing, and maybe normalizing it a bit, perhaps it releases.
I thought about Chris a lot, knowing that without a doubt, he too would've made the effort to be in NY for this milestone, to support and celebrate. And so when I saw more Penske trucks and vans than I've seen along a course, I knew he was there in his way. And my dad too – no doubt he was there with me, he is a big part of why I do what I do in the first place, having battled decades of his own autoimmunity.
Couldn't help but laugh at the timing of my playlist – and a song that's new to the queue. I'd toughed it out through about 8-9 miles and at the next water station I decided to pull up and walk through it while grabbing some water. As the song I was listening to wound down, right as I'm debating how much more to walk, "Won't Stop Running" starts it's very obvious-to-me beginning and I laugh out loud and thing "well, okay, guess it's time to start running again right now!"
Lastly, I got to raise a good amount of money for Operation Shooting Star. Maybe it will make a real difference. And not only did I get to raise money, but connected with dynamic, strong, funny, fighter girl, ai warrior, badass Audrey. Who no doubt will be in my life going forward – I not only raised money but gained a friend and collaborator. Watch out world, this team is making a impact.
There's more write up to come – I've been tracking all the life that happened and miles run and cities experienced in the 6.5 years, oh yeah, and am writing a book. And I'll be answering a popular question – would I do this all again knowing what I know? And in case you were wondering – no, I won't stop running.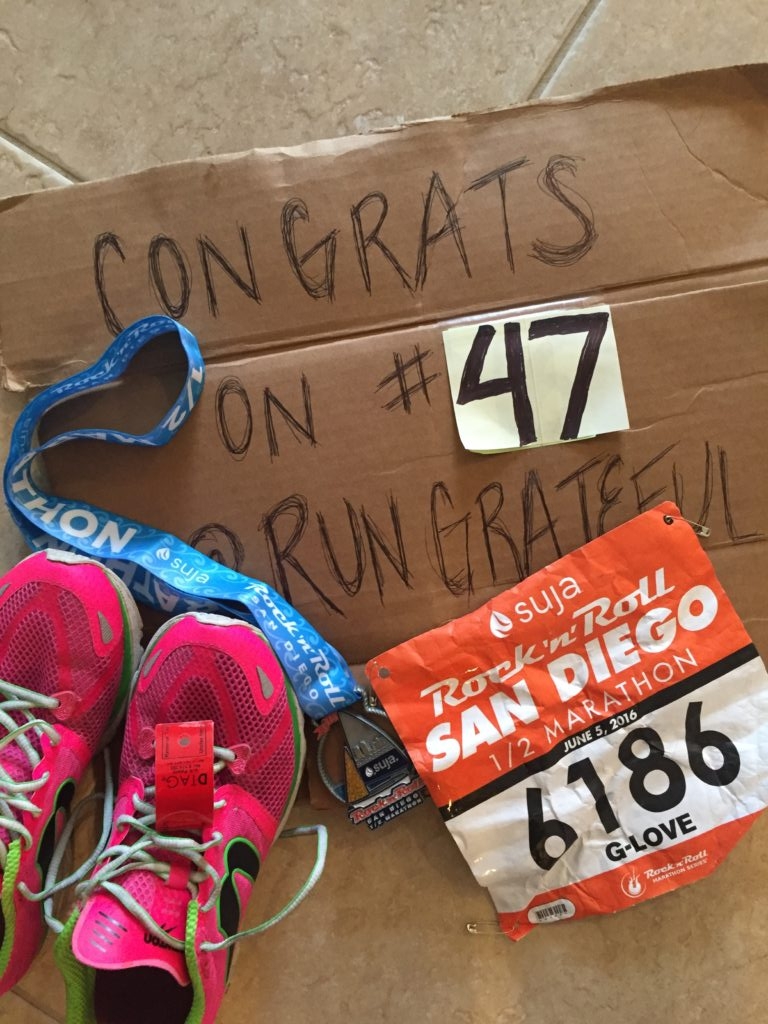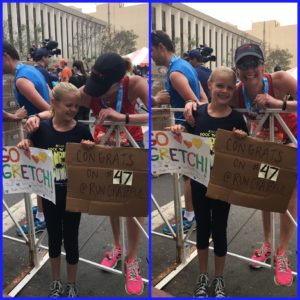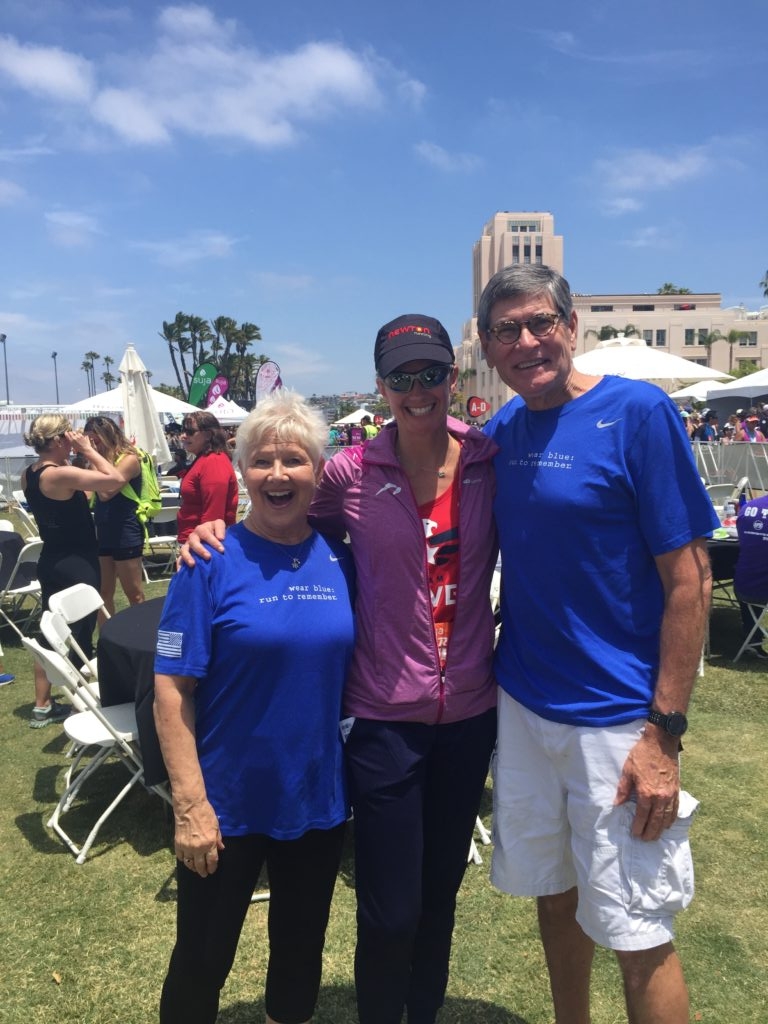 Race recap for #47.
That almost sounds absurd. 47 finish lines I've crossed? I know for some who run 100 marathons or half marathons, it's not that much overall but considering I never thought I could run let alone never planned to hit a goal of 50 of these, it's still shocking in a fun way. And also in an emotional way – truth be told, I get choked up before every race. Sometimes it's during the last training run I do at home, coming around the corner and slowing down to walk, finish up and I realize why I'm about to board a plane and I look up, tears blinding my eyes. Thanking the powers that be for the ability to do this. Sometimes it's the morning of, as I'm up at some ungodly hour trying to eat something so I have time to digest and I have my moment to pause, get ready and they come then. Sometimes it's the night before as I'm laying all my gear et al out, getting organized for the morning so I can sleep through the night without worrying. Sometimes it's right in the corral, as they're announcing various things, just minutes away from crossing the start line again, and my heart squeezes and the tears slide down the sides of my face, and I'm grateful I have wrap around sunglasses on. There's always a moment that gets me, specific to "can't believe I'm really doing this" – there's many more times where I see victory, love and/or encouragement in other runners and spectators that gets me every time, emotional welling up, but I know there's this specific one coming, to let me know I am far far far from taking any of this for granted. Ever.
For the runners/athletes and/or those that follow the Olympics, so this happened: long after I finished, I'm standing watching the headliner performer sing, and suddenly next to me facing the opposite direction is Meb. As in Meb Keflezighi the Olympic runner and incredible supporter of runners through Rock n Roll races. He looks up at me and sees my medal and reaches out his hand to shake mine, "Congratulations!" he says. I'm dumbstruck. I'm having a moment with him. I quickly thank him, and as he begins to step forward with his beautiful family, touch his shoulder and wish him luck in Rio. He could've walked right past me, but he didn't, he pointedly stopped to make a connection. That was amazing. And no, I didn't ask for a selfie, (and yes, it still happened), in that moment it wasn't right. Thank you Meb!
I also met Jim Ryun, who won the silver medal in the 1500 meter in the 1968 Olympics. His lovely wife Anne I met in DC and she's become a friend. Jim was also the first high school miler to break the four minute mark. I've now shook hands with two Olympic medal-winning runners! Woot!
Alright, the leg. Currently it is pretty ugly, looks slashed and angry where the 1st degree burns are and the 2nd degree burn wounds are, well, oozy (sorry TMI!) But, I tried to take good care. I made myself get in the ocean the day before – it stung but the consensus was it probably was good to clean it all out. Morning of the skin felt tight, which had been my concern, so a healthy dose of coconut oil loosened everything and made it so I could run. Didn't feel the affects too badly while running, thankfully it wasn't located in a way that got contact. But it was scare, and I'm also glad I didn't let it derail me. It's quite ugly at the moment, and I'm lucky as it could've been much worse.
There is NOTHING quite like getting the at-home support of friends for a race weekend. Holy moly. Thank you, dear Tracy, and Brady and Sage and Skye. Being there, instead of a hotel where yes, I can put my head down and focus but also feel quite alone, was divine. Tracy even graciously got up at 4:45am to drive me to the race start and kept up with me during the course so she and Skye could find me. When they missed me at mile 9 (by half a block!), they made the effort to find me at mile 12.5 which was an AWESOME surprise and then raced down to see me at the finish line. Who does that? That was amazing and I'm incredibly grateful for that and ALL the efforts made. And it all made this one of the most special races for me yet. To have Skye, my goddaughter, make a sign for me (the glitter!), wear the race t-shirt and be so enthusiastic and excited to cheer me on, even just writing that right now, brings happy tears to my eyes. Love you all.
And, to Dawn and Bill who "follow" me online as I'm running – do you know how cool that is to know you are? It makes me not only feel supported but also inspires me to step it up sometimes, cause I know you're there!
Alright, so Italy. Yep, an international trip 2.5 weeks before a race, landing home 8 days before and attempting to recover jet lag – the most brutal I've had (jumping 9 time zones plus 28+ hours of flying time and 7+ hours of solo driving navigation in a foreign country will do that) plus (thankfully) being fully in the moment while in Tuscany, eating and drinking and laughing and spending brilliant time with dear friends, is not on anyone's training plan. That and I attempted to mitigate it a bit by doing three two-a-days in the days leading to this race which would normally be a taper week. Had a friend try to tell me the trip was my taper but, um, not so much. Sure, I ran couple times while there (thank you Alanna, so glad we explored together!), but again, not what I would normally do. And here's the thing – NOT ONE OUNCE of it would I trade. I made a conscious decision months ago in the booking of everything, knowing full well. And I enjoyed every minute I was in Italy (including feeling like a bit of a badass driving around by myself on the autostrada!) Thank you Phil and Alanna. Endless gratitude. It was a deliberate trade off. And yup, I felt every bottle of wine, every plate of food, every four hour meal in each mile I ran. And oh my goodness was it worth it, I actually used the race to review and enjoy the trip all over again. I'd plan it exactly this way again, because it's not often you get the chance for the kind of trip I was lucky enough to enjoy and still follow through with my goal and journey. Every sip, bite and conversation was bellisimo. (that and wine is kind of like water over there, in it's ubiquitousness, so really I was hydrating with fruit?)
(it's time we recognize the honest exhaustions that come from travel, and perhaps not eating 100% healthy as well as running – I attempt to pretend that travel for a race doesn't affect my running and that the race doesn't need time afterwards, physically AND mentally to recover. Not true. I'm owning that.)
First few miles I actually felt pretty good, better than some other starts. Legs, feet, body overall. Then I remembered I used the pre-race porta potty nearly 30 minutes before I started running. And I realized I needed to find another one. Too much water I guess. I negotiated with myself as to if I could run without stopping (I can and have before) but then remembered I want to enjoy these races, my finish time is, yes, a goal and also not the only thing that's important. So I passed the line of porta potties at mile 1. And another at mile 2, attempting to see how far I could push. Then I decided I should use the next set of them I see, cause no one seems to be standing in line with how many are out here. So at mile 3 I pull up as I see one. One. Not 8. One. And there's a line. Again, a deliberate tradeoff, I decided to give up a super fast time (cause honestly, I was feeling positive about it, aside from a full bladder) and wait. And wait some more. And more. Three people in front of me. Probably ended up using nearly 2 or more minutes for the whole thing. So there's that. Note to self – go earlier and make sure there's more than one. In the end it was worth it, as I ran much happier.
Mile 5. Oh my, if you don't feel some sort of emotion running the Wear Blue to Remember section, something's off. They're the group that has photos of all the military members fallen. Or in their words: wear blue: run to remember exists of the fallen, for the fighting and for the families. First you run through photos of men and women who sacrificed their lives, one after another, right and left. No way to capture it all. And then their families members on either side, each one holding an American flag. It's incredibly powerful and I swear I saw more than ever, both in photos and family members, than any race where I've seen them before. Sure enough, I teared up, pretty much the ugly cry face and tears streaming down out my glasses. That wasn't sweat. I'm glad they're out there, it's beautiful and powerful and good to remember. See you all in Seattle along Seward Park.
And right after that? A house with shots of tequila being served on a silver tray. And about half a block down from him? A guy in a kilt serving shots of whiskey. I didn't see too many people grabbing drinks, nor did I, but I got a kick out of it and gave me a good smile – and curiosity about who does in fact grab a shot during a race?
One of these days I'm going to bring my phone on a course and just snap pictures of some of the hilarious signs I see. Some clever, some silly, some shocking – all awesome.
New post race pastime – I laid on the grass after I got my gear bag. For an hour. Chilling out. That was nice.
Ended up walking about five or so times (bathroom wait not included) and given the kind of funky cloudy humidity it was a good thing for me to do, not being fully ready/prepared for the race. And the cool reality of it is – had I not walked when I did, for the 5-10 seconds I did here and there, I would've missed Tracy and Skye when I saw them. And that, that is 1000% worth it.
So here's the deal – I'm feeling fairly ready for Seattle. I've got some work to do between now and June 18 to take good care of myself. And I'm recommitting myself to my race weekend routines and set up, even if there's something fun to do or see – I'm still curious about potential. I'm super happy with the time I finished in, and when I calculate the walks and the bathroom break out, I would've run it super fast which given all the travel and lack of training, is fascinating to me. Or maybe Seattle will be a playful race and #49 (I don't know where that is yet) will be head-down-focus kind of race. I don't know yet, we'll see how recovery goes and what the hills (I love you hills!) are like in Seattle. Either way, I'm overflowing with gratitude for San Diego, the Davis family, the ability to run, an amazing trip to Italy and all that I continue to learn and embrace along this incredible and generative journey that unfolds in such cool ways.
That's what I'm thinking now as I get ready to go for a run. First one in a week. First one since a bout of bronchitis/flu. My lungs are feeling seared just sitting here writing this. But. I have to run. I need to run. I want to run. I don't want to lose momentum. It's imperative I remain connected to myself through running, through this journey.
And yet, of course, I wonder if thinking about the fact that "it will hurt" adds to the pain or if I'm just being realistic. I have scads of experience with mind over matter. So this may be a slow run. It will be an experiential run. Unfortunately, for the DC race coming up, I already felt like I was slowing down and overwhelmed by other life stuff to get myself refocused on the running would be…this week. And last. The days I am sick are the days I planned to jump right back in. And then work calls and next week I'll be gone for two days instead of a full week at home to build up strength.
This is what most everyone faces when training. Very few have the opportunity to train only or create a schedule of work around their training. Paradoxically if one isn't stressed out/strung out from work and an unrelenting travel schedule, one probably doesn't succumb to getting bronchitis or the flu. So this is a little bit of a double whammy.
Not one to feel sorry for, but one to surmount and overcome. To lean back and trust my foundation, trust that in two days I could feel incredible or a week I could, and March 12 is still a little ways off, and the foundation is still strong, there's still so much I can do in the meantime. And to try. Find that sweet spot of trying even when I can't and creating awareness around when a pause might be necessary.
And so, this might hurt a little. I'm not saying that to set myself up for failure or for pain. I'm recognizing that the lungs are struggling right now and I'm still going to get out there. It's a "yes, and" in this case. It's a both. While I long for what Arizona felt like or how strong I felt at the beginning of November, I am learning to accept where I am at now, and it's enough, and it will support me so long as I show up and show up in love.
I love you lungs. Let's go for a run, shall we?
It could be used an excuse, all the travel I do right now. Oh, I can't get my regular routes in, my training is "off", I am tired, I don't have access to my routine.
I say BS, bring on the travel! And here's why: because I'm a strong believer in cross training, traveling practically enforces that I, in fact, cross train.
When I travel, I seek out new routes to run – whether a new hill or a quick short burst somewhere. As well, if I'm in a hotel, I have sudden access to all sorts of machines and training ability I don't at home. So I'll do a hard 30 minutes on an elliptical or go for my old treadmill routine, kicking up the speed and incline. And, I'll do weight and strength training workouts with bigger weights or hop on or use equipment I don't have at home. Hanging abs, Bosu ball burpees, squats/lunges/deadlifts oh my! with bigger weights, bicep/shoulder/triceps work with bigger weights and a bench with which to support me well. These are all things I can do at a gym that I can't do at home. So, traveling? That works for me.
And sure, there are some hotel gyms that have FAR less equipment for me to play with. In that case, like a recent trip to Vermont that had me in an airport hotel for a night and had a broken elliptical and no weights to utilize. I hopped on the treadmill for a bit, tried a stair master which I don't normally attempt, and did enough to shake off the plane rides and feel refreshed and ready to go for my day.
As well, sometimes travel is a way to take a break. During said trip to Vermont, I had two days of work where I didn't do any specific workout. I walked a lot, and when I got to play a little, it was walking around, taking in the sights. And that was enough for me. Knowing we sometimes need to take breaks from our training and routines, I let myself have this without being obsessive about "must get a a run in!" That's not how I want to live nor how I want to move through the world, especially if it takes time away from quality time with a dear friend who I haven't seen in a while – I don't want to spend my time in a gym and not creating memories with a friend and in a place I've never been.
Another beautiful aspect to all this travel is when I'm home. I get motivated by two different things. One, if I've come back from a trip where perhaps I chose not to do hard workouts or a lot of workouts (even skipping my You Can At Least routine), I will feel super compelled to get a run in and get right back on the training routine. The last few trips I've had, I returned back home in early afternoon – enough time to get a 3 mile hilly hike behind my house in. And when done, while dark, I have multiple routines I can do in my house. It's like hitting a reset button for being back home and shaking off the travel. And, I "get" to look forward to my home routines.
And, when I have a trip coming up, and perhaps a three day or five day spell where I'm home, I'm super motivated to get a certain number of workouts in each day and know what I want to accomplish for the days I'm in town. This could mean hiking each day when the weather is good, it could mean oh, three days in town? Okay, I'll run three days in a row! And it could mean making sure I do one of each: my jumprope/medicine ball routine I created, the pilates mat routine, weighted arms, all around plyometric workout and the intense glute workout. And how many abs am I able to get in with equipment I may not have access to for a few days or week? (aka my medicine ball and stability ball) I find I sort of enjoy squishing a number of workouts I know work for me into a few days – and plus, if I'm able to do that, I don't get stressed or mind if I miss a few days while traveling.
It really sets the schedule for me for the days I'm in town and leading up to a trip – I stay on course to get the workouts in on the off chance I don't get to do as much while traveling AND I'm keeping up my training. I like the structure it gives to my days while home, building my schedule around the workouts.
This may sound too scheduled or structured to some people, but really it's quite reasonable. I'm not trying to hit a gym at 5am every morning, and have the flexibility to get my run and hiking in around sunset time (which is earlier at this time of year.) And it's FAR from obsessive – the times I'm able to release and let go and be okay not getting a workout in is frequent. Some weeks have a lot of running, some don't, and they're all okay. Because I trust the foundation to bounce back from low workout weeks and to support for when I can kick it up a notch.
So if you use traveling as an excuse to not train or train at a lower level, stop. Try embracing the travel as a way to break up the routines you do at home, as well as push yourself to get a certain number of workouts done before you take off and to gain access while traveling to equipment and workouts you wouldn't normally get to do as a way to enhance your training. And when you get home from a trip, leave the travel at the door, let go of what you did/didn't do while traveling and get those shoes back on and go for a run to get your "you" back.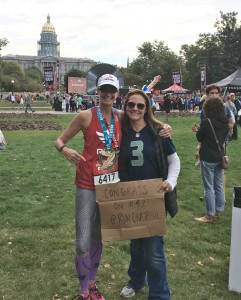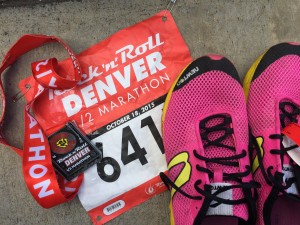 A week ago I ran half marathon #42 in Denver and a week from now I will run half marathon #43 in Philadelphia. All words I know, never thought I'd write them in that order in that sentence. Never crossed my mind.
Denver was such a graceful lesson in fears, letting go, expectations, self-compassion and being in the moment. Here's a snapshot:
*admittedly, my worries about running 13.1 miles at that altitude scared the @#% out of me. My lungs are compromised and capacity is an issue. So what would this be like? I wanted to run in Denver to spend time with my friends but the race itself caused some very real anxiety. I took the necessary advice, precautions, tips and adjusted expectations. And got some great rewards for just getting out there to run it at all. I didn't expect this to be a "mic-drop" kind of run but I did still want to have a really strong experience.
*my right calf was feeling a little bit better every day, and Saturday morning I woke with it feeling it's best since the Grand Canyon and two halfs. And here I was about to thrash it again. So I wore compression sleeves. And they worked. Never ran in them the whole 13.1 miles (trained with them twice for short distances) and was/am pleasantly surprised. Calf felt great during and after the race. And now, no need for sleeves!
*speaking of sleeves, they were lilac. My shoes pink, capris grey, tank red and white, turquoise sports bra, white/red hat. I looked in the mirror before leaving the house and laughed "it looks like a Care Bear just threw up on me!" Well, at least I was easy to spot!
*Got called a "hero" for the strangest reason. Pre-sunrise, standing in line at the runners porta potties and after about 15 minutes, I'm up next. Suddenly a gal rushes up and gets right in my face and says hurriedly "Oh My God, can I cut in front of you? I don't think I'm going to make it. Please?" And she is uber stressed. Throws herself on the ground and is clearly in distress. Of course I say "of course!" and all of us around her are immediately staring at the two units near us, willing the red on the lock handles to turn green. One does, she jumps up runs over and just as she's about to close the door, points directly at me and says "You! You're my hero! Thank you!" And I burst out laughing (not always easy to do pre-race mental time) and said "well, I guess a porta potty hero is a great way to start the day! Sure, I'll take it!" So there's that. Hero.
*Turns out this race I'm the one that got a little extra support at the start. Team RWB rocks. I was smooshed up outside the corral gate wondering how I might get in, and the local Team RWB team saw my tank and yelled "Team RWB in the HOUSE!" and pointed at me, and helped me over to take a place next to them, with them. Doing so many of these races, training and events solo, I don't often feel that sense of belonging. And I'm starting to think I might wear this Team RWB shirt all the time! The hoots, hollers and shout outs along the course are amazingly inspiring and supportive.
*Everything felt so much better than I expected, especially in the first few miles. Yes I've run at higher altitude in Tahoe. It's drier here in Denver. Feels different, tighter in breath. And it's a race, that I plan to run the whole of. And I feel buoyant and happy and open as I'm running. Wow. One mile down and this is going to be a great race. As I pass the mile 2 marker, I have an unexcited wave of emotion rise up and suddenly I've got tears running down my face and I choke out the words to myself "I can't believe I'm really doing this. Running #42. I never…I never thought THIS. Wow." and feel extraordinary gratitude for this journey that continues to amaze and inspire and motivate me. And for my body and lungs to feel this good, at this point, in this part of it all (especially having just done one a week ago) is pretty remarkable to me.
*A little secret: I say the Serenity Prayer at every start line, before I take off. Sets me up pretty well for trusting myself and letting go.
*Having my friend Dawn and Bill so present and so supportive pre-race and on race day, including physically there, was such an incredible boon to the whole experience. There's a system called runner tracker where she was able to put in my info and as my d-tag would crossed the various sensors set up at 5k and 10k and others points, she'd get a text saying where I was. I happily leapt over each of the road markers where the wires were, as there is something about knowing someone is there, paying attention, bearing witness to your progress that feels, well, amazing and lovely. And fun. And actually, motivating too. I know that if something went wrong, she'd see that and if I was making up time or had a great split, she'd cheer that too. I always push myself but this was a different kind that I really enjoyed.
*I was happily surprised at how not-tired my body felt through much of the race. Specifically around the fact that I've run SO much lately. And then, at mile 8 and again at mile 11, my legs – glutes, quads, hip flexors – seemed to rebel, as if to say "yo LADY, we just did this a week ago! What the heck?" And so I talked to my legs, thanked them for the awesome job they were doing and willed them to do a little bit more. Whatever you believe in, I promise it worked. Including making me laugh.
*A first – a few miles running through City Park and I'm on the lookout and avoidance of goose poop. A lot of goose poop to navigate. Definitely never had that before!
*At one point I pass a blind runner, tethered at the waist to a sighted runner right in front of them by about 5 feet. It's a beautiful site to behold, and I tuck in the back of my mind that I'd like to train as one of those guides someday.
*"Channel Your Inner Badass!" – a sign I see in the first few miles. I like it. Then, there they are at around mile 12.4 or so. And I'm compelled to run near them and point at the sign, and as they see me, this group of 10 people starts cheering "YEAAAAAAAH!" and I have the craziest surge and burst of energy, as I was feeling like yeah, I'm reaching inside and connecting to the inner badass, with their help. Holy moly did that lift me up off the ground and push me the last half mile.
*Speaking of the last bit of course – hello downhill. And hello my out-of-nowhere afterburners! I had only planned to finish the race, run the whole thing. There was no thought of finish time, just feeling good. But given that almost the whole race I felt strong and awake, I decided, what the hell, I'm going for it. Ran strong, long and fast that last 3/4 mile. God that felt good, and FUN! Best way to finish.
*I can now honestly say, there is *nothing* quite like hearing friends cheering as you're crossing, seeing them and seeing a big handwritten sign they made for YOU as you finish. Oh my goodness. Before I even got my medal, I headed over to see Dawn and Bill, overcome with emotion and gratitude (sorry for the drooling sweaty mess of a hug ;)), just so happy to see them. If you EVER get a chance to support a friend or friends at a race they're doing, go for it. The boost you give them is indescribable and beautiful and memorable. THANK YOU Dawn and Bill for creating a pre and post race environment of love and support and for the race course support and enthusiasm. This alone is worth the effort to travel and run. Plus, best I've felt post-race maybe ever – cannot begin to truly express how grateful I am for all of it.
*So I just crossed my 42nd finish line. Which means I pushed myself over my 42nd starting line. So deeply grateful for absolutely every aspect of this journey so far.
*Oh, as a little bonus, I got to go see THE Newton Running retail store in Boulder the next day. My shoe haven. Or heaven. I was such a gear geek gawking at the store while there, giddy with the mere aspect of being in hallowed Born-In-Boulder store. Super grateful to Caileigh and Nicole for their graciousness.
*Let's Go PHILADELPHIA, the town that if it didn't exist, I may not either! Going to run where I was born
A week from today, I will be running in my 30th half marathon. What? How is that even possible? What the what?
Wow.
What is it that I know I need to do today?  I need to do some core work, some strength work. And I need to get one last endurance run in. But I've decided to have a quiet morning before my once-in-a-blue-moon trip to Unity. There's a guest speaker I'm curious about and so, let's go. Always willing to hear someone new. And. I do sometimes wonder, is it good to be this curious? Meaning, curiosity is, to me, critical for a life well=lived. Not exploring, not expanding, not staying curious means not evolving and I certainly am not fully evolved and don't really trust a lack of attempt to evolve. And, I sometimes feeling like I keep searching, like THIS one will give the answer, THIS one be THE one that illuminates THE turning thought for me etc.
That said, I want to see what he has to say. It definitely is key to "stay in the study" of this work. Really, if you go to a gym and work on your biceps, after a month do you go "ok, I'm good, they'll look and feel like this forever now!" Ha, sounds absurd, doesn't it? Same thing on personal development and self-growth – it's not a one and done, it's a continual study and advancing exploration.
Anyway, I know that I have the ability to have a day out, fully showered and made up and dressed up, and come home to do a run and/or a good workout. And, to be sure, it's also much easier to ixnay it, delay or dismiss all together when all put together because the effort, OH GOD, the effort (tongue in cheek) of shifting gears mentally and clothing-ly is such a pain! 😉
So, I trust that I will get the run in, the last endurance run before the big race. Placing a time limit on how long to be out, the latest I will be home is 3:30. Well, things shift and decisions made and I'm actually home before 2pm. Even time to get a wee nap in (been doing that again a lot lately) before truly committing to the run.
And I do, I time it right and plan it right and even though it does take a little oomph on my part to get me moving, I get out the door. I just want to be out there for a while. And, I've planned it to be able to take the dog on a nice long brisk walk afterwards, keep my heart rate up and legs moving. Almost like doing the elliptical after an intense treadmill session to mimic the amount of time my body is working in a half marathon.
And it all happens. The eight-mile run. The three plus mile brisk walk following and some core work. I don't feel amazing, I know I'm dragging a bit, BUT again, I did it, cleared my head and got 'er done.
The dog provides awesome motivation to get out now that the weather seems to be a little less aggressive. The very act of getting ready for a run these last few days has fantastically coincided with the sun breaking through. I'm happy with the last four days of taking care of myself and prepping for this half. The nerves for being in SF haven't helped the fueling of my body, but I can point to the effort made and achieved in keeping the momentum going and feeling decent about this upcoming race!
Saturday's training! It was a well-intentioned day, for sure. And, a rainy day. Of course. That's the pattern the Northwest is in right now. Did you know March 2014 is THE rainiest March on record around here? Yikes. At least I'm not crazy for being so frustrated about it. But, I did get a lot more done that day. It started out not great, as some work I'd contracted out, thinking I'd get highly professional work returned was way way off and pissed me off beyond belief.
Was I overreacting? Was my reaction justified? Well, I sent it out to a number of people I trust and respect and they all had the same remarks – amateur and no, you cannot put your name to it. At least my judgment was on target. My standards aren't too high, the work was sub par. As I got stirred up as the day went along, I found myself burning through hours of time, getting further away from getting a quick run in (the endurance run Thursday, and hill repeats Friday, I need just a short run and some core work today!) Sure, I do an hour of yard work, which does a fair bit of work on my whole body, what with everything being heavier from a week of rain.
I suck it up and get through a couple hours of work. At this point, as an entrepreneur, you work weekends. You own it. It's 24/7 really. I can't take a weekend off and not get some things done, check email or move projects forward. Doesn't work that way. It's almost funny to me, I spent so many years creating, crafting and enforcing boundaries of work and life balance in my schedule and it's really gone out the window. Sure, technology and the ability and subsequent expectation that you can be reached any time and should respond at all times shifted that. And, solopreneuring means always "on."
Including sometimes connecting with work projects not just on the interwebs but also in phone calls. Asking to talk, I agree and get on the phone to get a "brief" rundown of the issues with the project. Brief turns into an hour. Suddenly, I realize if I'm holding true to my goals, and myself I've got to get a run in. I excuse myself, confess knowing I'll get full support that I need to get a run in, and get ready for one in about five minutes.
As I'm getting ready, the sun starts to peak through some parting clouds, beckoning me to get thee out there.
Just the act of doing so, my mood lifts considerably. And sun forces open more clouds, the ground still soaked from another day's rainstorm. I'm a little discombobulated from my day and from not great sleep, but…I'm out here. I'm getting it done. I'm making it happen. And following through on my internal goal.
It's not the prettiest run, nor the fastest. But I know it's an "every little bit counts" kind of day. And a race in a week, there's a motivation that's pretty strong. The exhaustion I feel from a long week and adjusting body doesn't compare to the exhilaration from finally being out here today.
Feet feel not so great. Tight in my shoes. I don't get it but it's a short run I'm getting in, just three or so miles. Still. They don't feel good. New shoes, I think. But. I've run in them twice already, they didn't feel like this before? As I start my return on this out and back loop, I think, hmmm, did I through the insoles into these and didn't need to? I do recall taking them out of another pair and putting them in here, but I could've sworn I'd done that before and/or noticed that I'd taken the manufacturer's insoles out already.
About a quarter back on the back half, I stop. I'm just gonna check. See if I'm doing a run with double inserts. I burst out laughing, my left foot resting on a mail box, nice bonus quad stretch occurring as I stick my hand down by my arch to feel, yup, two inserts. "Dummy" I whisper to myself. No, I take that back. But "silly" yes.
I stand like a flamingo on my right leg as I wrestle the top insert out of the left shoe and shove it in my jacket pocket. I grasp the mail box as I slip my left foot in again and switch over, left foot balancing as I slide out the right shoes insert, socked right foot resting on my inside left thigh, pseudo tree pose.
Suddenly there's SO much room in my shoes it almost feels funnily vacant. I lace up and tighten again so take off for a last bit of the run, heading home feeling pretty good about the effort made to get this little run in. It would've been SO easy to let it go, slough it off, postpone it and find another way to distress from the project. BUT I did not, I followed my own advice and used the run itself to distress, clear my mind and rebalance.
Oh, running. What you do for me.
So there is Friday. A day after I pleasantly surprised myself running my endurance run and enjoying it for the most part. Still not up to par with the way I'd like to be eating. (see upcoming post Sabotage) But. In the busy-ness of Friday and frankly, feeling pretty much awful all day. (see upcoming post The Factor) Really. Awful. And extremely tired. In fact, I cancelled all my afternoon calls as I pretty much was hardly able to put together a coherent thought much less spoken sentence.
All the while, knowing full well I needed to get a run in. Rather, a hill repeat run in. Running in SF is no walk in the park, and the hills are no joke. The neighborhood I'm currently in does have hills but not like I recall in SF. So, I've spotted some super duper steep puppies nearby. I could do a warm up run to it and then down and up and repeat a few times. Or, with it continuing to downpour, I could drive.
Works out great, since I have a few errands to do in the stores nearby. As I'm driving back up to park at the bottom of said steep hill, I pass a woman, slightly bigger, who's walking towards the stores as I drive away. I don't know particularly why I notice her, I just do. She seems like she's got good energy about her but other than that, nothing specifically catches my eye.
I easily find a space to park and gear myself up for this run. I mean, this is steep. And, new. Which I'm finding right now seems to really help the training and workouts, throwing a new set or routine or route in seems to keep me a little more engaged. And right now, I'm happy that I'm doing two days in a row like I committed.
Starting out, I immediately stomp my foot into a sloshy wet muddy puddle. Awesome. Wet left foot. Good thing I made a point to put some beat up old running shoes on. With it raining as bad as it has been, some extreme down pours and it still sprinkling, it was a good call.
Ok, this is not easy. Lungs are searing and body is almost rejecting the idea. But I remember the mind gives up before the body does, so I keep going. Wow. This is no joke. It's steep. The incline is impressive. And my hamstrings are engaging in a way more intense than normal and my calves are already screaming. Fine. I stop about two thirds up, maybe a little further. I'd already made a deal with myself that if I did just one of the three planned sequences, I'd be fine. So stopping on this one ain't so bad. Plus I have no idea what to expect so it's a smart move.
I walk from one mailbox to another and start to run again, to the stop sign. Wow, lungs on fire. The downhill should be interesting. I take off and find that just cause it's downhill doesn't mean it's super easy. It's long, you need some control, and it's slippery.
But then, something awesome happens. The rain stops. Completely. And even starts to try to clear the sky a bit. Ok, that's cool. And that's two days in a row of the weather clearing after I've made the decision and taken the action to run. Instead of me waiting for the weather to clear to go, I go and the weather clears. Not bad.
At the near bottom, I pass a guy and his dog, noting the very slow pace they're enjoying. A part of me is almost envious but I am starting to get into this and am technically already a third done!
Rounding back up the street where I started and taking a short quick walk break, I give myself credit for getting out here. It's after 6pm, I could've easily found an excuse to stay in, stay dry, not run. But. I  know so full well the benefit mentally and spiritually for me to follow through with this, and was curious that I could do it so I did and now I'm here, out here making it happen.
I gear up for the second one and unsurprisingly, it's actually harder. I don't make it two thirds up this time, more like half. What? But, shorter walk break and I pick up the running at a steep point to get moving again. Ok. That's interesting. Sure, part of me is thinking OH now I have no choice but to make the last one the full run up, but ok. But this one, this was tough. Started getting a little light headed so time to reign it in.
Coming up on the dude with the dog, I definitely have to keep it going. Staying with my pace, I hit the stop sign and turn right around, giving him a wave and heading down hill. Enjoying the respite in the rain and the growing control as I sprint downhill. Then I pass at the near bottom the lady I'd seen in my car as I started this little workout. Yes, it's taking that long – this up hill is pretty long. A solid five plus minutes. May not sound long, but a five plus minute steep hill repeat is a solid workout. My guts are a little tense from the effort (I think) but for the most part, pushing my body in this way is going fairly well.
I do my turnaround in the side street again and mentally prepare myself for my last attempt at the hill. Feeling strong at this point, happy with the effort to get out here, looking forward to being done soon. I take off and really believe this could be the one. This time I see the dog dude on the left side of the street, silently thanking  him for not being an obstacle for me to jump in the main street to go around again. I get to the two thirds mark as I push myself up the hill, and as I'm starting to get a little wiggy again, I see the lady in her khaki shorts slowly making her way up the hills. Ugh, I feel stymied all of a sudden. She's taken up the whole sidewalk with her gait and I'm not in enough control because of exertion to jump down the high curb and up again at this particular roll of the hill.
Take the sign to walk a bit I tell myself. I was almost there! Ok. I do. I walk fast, my gait still nearly a run. I'm frustrated at myself for the not fighting harder to keep the run going. But I also take the sign as something to pay attention to. For whatever reason, I was not supposed to keep running. Right before I come up on her from behind, I decide to run again. I was just far enough away that I could step down, start to run, and keep the momentum to step up again (you have no idea how steep this hill is until you run it, not just drive it.)
I pass her, run another 200-250 yards, hit the stop sign and turnaround. Feeling good, despite not one of the three attempts a full uninterrupted run. I start to pick up speed and as I'm coming up on her, to pass her and begin smiling as I do, she starts clapping, smiling and yelling "way to go!"
It jars me out of my delirious revelry of muscle confusion, exhausted exertion and mental fatigue. What? How COOL! What a beautiful smile she has, what genuine encouragement, what excited energy she has to share. With me! Wow. And just minutes before, I was "frustrated" with her for seemingly stopping my momentum. And here she is, from her perspective, having seen me coming down from one effort, be passed on this last one and now turned around and passing her as I go down my last hill.
First word that came to mind was "angel." She was. Just when I needed it, and neither of us knowing I 'needed' it, she cheered me on. She was an outside reflection of the real me, supporting this effort no matter how messy or inglorious it was. For that brief few seconds, she was my champion. I nearly choked from gratitude.
And then I had a whole new burst of energy. I fuh-lew down that hill. I actually sprinted and held control too. Careful not to pitch too forward but also not dig my heels in, I let some of the uber control go and just enjoyed the almost little-kid feeling of being one with the hill instead of adversaries. My legs and lungs opened up and I flew. And it felt great.
I ended the whole episode very strong and wasting no time, got right in my car to head home and get warm. Wouldn't you know, the rain just began to fall again as I walked toward my parked car. As I raced up the hill I just had my fun with, I looked for her everywhere. My hung was swiveling right to left, looking for her. Especially to my right, since that was the side of the street she was on, but also to the streets to the left. I wasn't too far behind her but I couldn't see her anywhere. She couldn't have gotten that far. Really.
Perhaps she really was an angel. Perhaps she was a figment of my imagination, even from the moment I first saw her, something I drew in to cheer me on at the exact moment she did. I don't know. It sounds weird, but I'll take it, I'll take the light energy she shared, wherever she came from.
Two days in a row. I'm on a roll? Well, perhaps. All I know is the commitment I made to myself is a conscious one and I'm grateful for following through again today. Hill repeats and all.