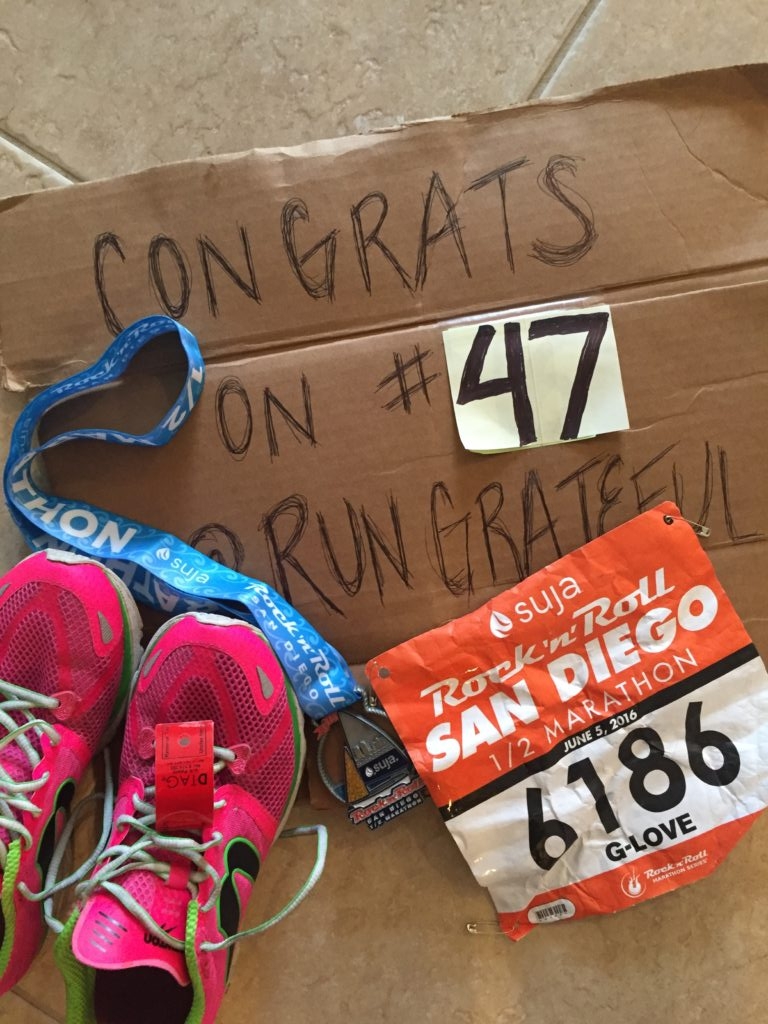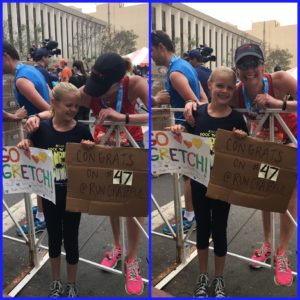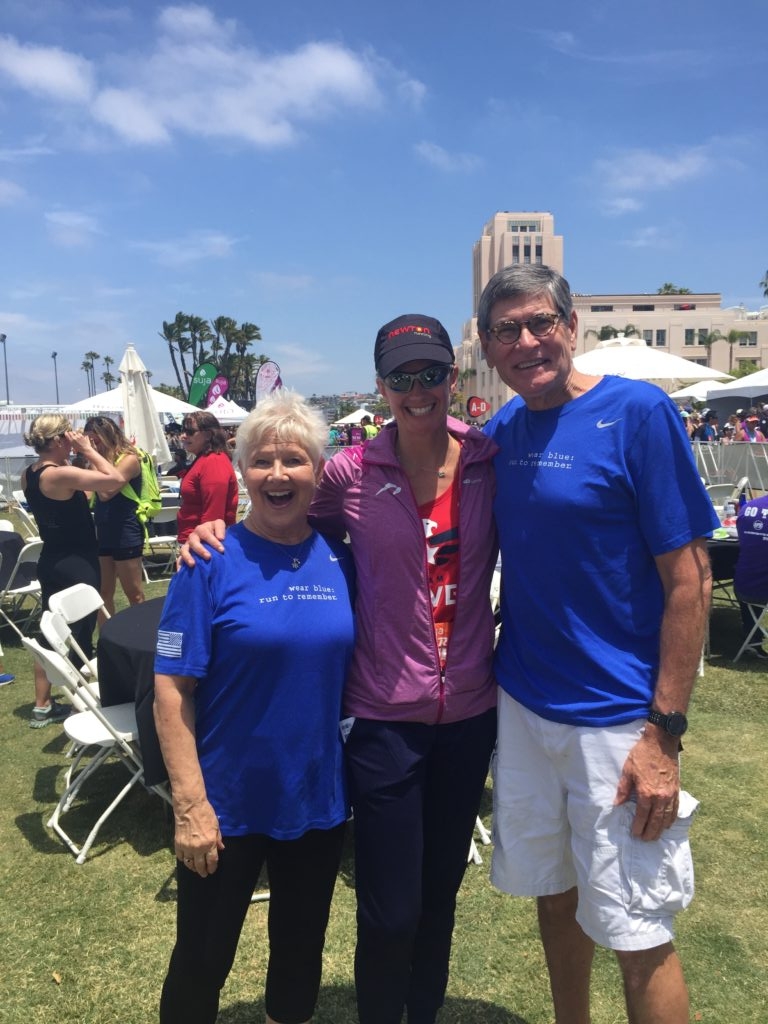 Race recap for #47.
That almost sounds absurd. 47 finish lines I've crossed? I know for some who run 100 marathons or half marathons, it's not that much overall but considering I never thought I could run let alone never planned to hit a goal of 50 of these, it's still shocking in a fun way. And also in an emotional way – truth be told, I get choked up before every race. Sometimes it's during the last training run I do at home, coming around the corner and slowing down to walk, finish up and I realize why I'm about to board a plane and I look up, tears blinding my eyes. Thanking the powers that be for the ability to do this. Sometimes it's the morning of, as I'm up at some ungodly hour trying to eat something so I have time to digest and I have my moment to pause, get ready and they come then. Sometimes it's the night before as I'm laying all my gear et al out, getting organized for the morning so I can sleep through the night without worrying. Sometimes it's right in the corral, as they're announcing various things, just minutes away from crossing the start line again, and my heart squeezes and the tears slide down the sides of my face, and I'm grateful I have wrap around sunglasses on. There's always a moment that gets me, specific to "can't believe I'm really doing this" – there's many more times where I see victory, love and/or encouragement in other runners and spectators that gets me every time, emotional welling up, but I know there's this specific one coming, to let me know I am far far far from taking any of this for granted. Ever.
For the runners/athletes and/or those that follow the Olympics, so this happened: long after I finished, I'm standing watching the headliner performer sing, and suddenly next to me facing the opposite direction is Meb. As in Meb Keflezighi the Olympic runner and incredible supporter of runners through Rock n Roll races. He looks up at me and sees my medal and reaches out his hand to shake mine, "Congratulations!" he says. I'm dumbstruck. I'm having a moment with him. I quickly thank him, and as he begins to step forward with his beautiful family, touch his shoulder and wish him luck in Rio. He could've walked right past me, but he didn't, he pointedly stopped to make a connection. That was amazing. And no, I didn't ask for a selfie, (and yes, it still happened), in that moment it wasn't right. Thank you Meb!
I also met Jim Ryun, who won the silver medal in the 1500 meter in the 1968 Olympics. His lovely wife Anne I met in DC and she's become a friend. Jim was also the first high school miler to break the four minute mark. I've now shook hands with two Olympic medal-winning runners! Woot!
Alright, the leg. Currently it is pretty ugly, looks slashed and angry where the 1st degree burns are and the 2nd degree burn wounds are, well, oozy (sorry TMI!) But, I tried to take good care. I made myself get in the ocean the day before – it stung but the consensus was it probably was good to clean it all out. Morning of the skin felt tight, which had been my concern, so a healthy dose of coconut oil loosened everything and made it so I could run. Didn't feel the affects too badly while running, thankfully it wasn't located in a way that got contact. But it was scare, and I'm also glad I didn't let it derail me. It's quite ugly at the moment, and I'm lucky as it could've been much worse.
There is NOTHING quite like getting the at-home support of friends for a race weekend. Holy moly. Thank you, dear Tracy, and Brady and Sage and Skye. Being there, instead of a hotel where yes, I can put my head down and focus but also feel quite alone, was divine. Tracy even graciously got up at 4:45am to drive me to the race start and kept up with me during the course so she and Skye could find me. When they missed me at mile 9 (by half a block!), they made the effort to find me at mile 12.5 which was an AWESOME surprise and then raced down to see me at the finish line. Who does that? That was amazing and I'm incredibly grateful for that and ALL the efforts made. And it all made this one of the most special races for me yet. To have Skye, my goddaughter, make a sign for me (the glitter!), wear the race t-shirt and be so enthusiastic and excited to cheer me on, even just writing that right now, brings happy tears to my eyes. Love you all.
And, to Dawn and Bill who "follow" me online as I'm running – do you know how cool that is to know you are? It makes me not only feel supported but also inspires me to step it up sometimes, cause I know you're there!
Alright, so Italy. Yep, an international trip 2.5 weeks before a race, landing home 8 days before and attempting to recover jet lag – the most brutal I've had (jumping 9 time zones plus 28+ hours of flying time and 7+ hours of solo driving navigation in a foreign country will do that) plus (thankfully) being fully in the moment while in Tuscany, eating and drinking and laughing and spending brilliant time with dear friends, is not on anyone's training plan. That and I attempted to mitigate it a bit by doing three two-a-days in the days leading to this race which would normally be a taper week. Had a friend try to tell me the trip was my taper but, um, not so much. Sure, I ran couple times while there (thank you Alanna, so glad we explored together!), but again, not what I would normally do. And here's the thing – NOT ONE OUNCE of it would I trade. I made a conscious decision months ago in the booking of everything, knowing full well. And I enjoyed every minute I was in Italy (including feeling like a bit of a badass driving around by myself on the autostrada!) Thank you Phil and Alanna. Endless gratitude. It was a deliberate trade off. And yup, I felt every bottle of wine, every plate of food, every four hour meal in each mile I ran. And oh my goodness was it worth it, I actually used the race to review and enjoy the trip all over again. I'd plan it exactly this way again, because it's not often you get the chance for the kind of trip I was lucky enough to enjoy and still follow through with my goal and journey. Every sip, bite and conversation was bellisimo. (that and wine is kind of like water over there, in it's ubiquitousness, so really I was hydrating with fruit?)
(it's time we recognize the honest exhaustions that come from travel, and perhaps not eating 100% healthy as well as running – I attempt to pretend that travel for a race doesn't affect my running and that the race doesn't need time afterwards, physically AND mentally to recover. Not true. I'm owning that.)
First few miles I actually felt pretty good, better than some other starts. Legs, feet, body overall. Then I remembered I used the pre-race porta potty nearly 30 minutes before I started running. And I realized I needed to find another one. Too much water I guess. I negotiated with myself as to if I could run without stopping (I can and have before) but then remembered I want to enjoy these races, my finish time is, yes, a goal and also not the only thing that's important. So I passed the line of porta potties at mile 1. And another at mile 2, attempting to see how far I could push. Then I decided I should use the next set of them I see, cause no one seems to be standing in line with how many are out here. So at mile 3 I pull up as I see one. One. Not 8. One. And there's a line. Again, a deliberate tradeoff, I decided to give up a super fast time (cause honestly, I was feeling positive about it, aside from a full bladder) and wait. And wait some more. And more. Three people in front of me. Probably ended up using nearly 2 or more minutes for the whole thing. So there's that. Note to self – go earlier and make sure there's more than one. In the end it was worth it, as I ran much happier.
Mile 5. Oh my, if you don't feel some sort of emotion running the Wear Blue to Remember section, something's off. They're the group that has photos of all the military members fallen. Or in their words: wear blue: run to remember exists of the fallen, for the fighting and for the families. First you run through photos of men and women who sacrificed their lives, one after another, right and left. No way to capture it all. And then their families members on either side, each one holding an American flag. It's incredibly powerful and I swear I saw more than ever, both in photos and family members, than any race where I've seen them before. Sure enough, I teared up, pretty much the ugly cry face and tears streaming down out my glasses. That wasn't sweat. I'm glad they're out there, it's beautiful and powerful and good to remember. See you all in Seattle along Seward Park.
And right after that? A house with shots of tequila being served on a silver tray. And about half a block down from him? A guy in a kilt serving shots of whiskey. I didn't see too many people grabbing drinks, nor did I, but I got a kick out of it and gave me a good smile – and curiosity about who does in fact grab a shot during a race?
One of these days I'm going to bring my phone on a course and just snap pictures of some of the hilarious signs I see. Some clever, some silly, some shocking – all awesome.
New post race pastime – I laid on the grass after I got my gear bag. For an hour. Chilling out. That was nice.
Ended up walking about five or so times (bathroom wait not included) and given the kind of funky cloudy humidity it was a good thing for me to do, not being fully ready/prepared for the race. And the cool reality of it is – had I not walked when I did, for the 5-10 seconds I did here and there, I would've missed Tracy and Skye when I saw them. And that, that is 1000% worth it.
So here's the deal – I'm feeling fairly ready for Seattle. I've got some work to do between now and June 18 to take good care of myself. And I'm recommitting myself to my race weekend routines and set up, even if there's something fun to do or see – I'm still curious about potential. I'm super happy with the time I finished in, and when I calculate the walks and the bathroom break out, I would've run it super fast which given all the travel and lack of training, is fascinating to me. Or maybe Seattle will be a playful race and #49 (I don't know where that is yet) will be head-down-focus kind of race. I don't know yet, we'll see how recovery goes and what the hills (I love you hills!) are like in Seattle. Either way, I'm overflowing with gratitude for San Diego, the Davis family, the ability to run, an amazing trip to Italy and all that I continue to learn and embrace along this incredible and generative journey that unfolds in such cool ways.