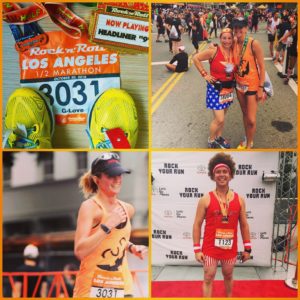 Calling this an experiment gone way better than expected. Still more than a little fried physically and mentally but feeling pretty good about it all. And LA did not disappoint in terms of s cast of characters!
First, having this race in the middle of LA's ComiCon and right around Halloween makes for a pretty entertaining course. I saw lots of superheroes, people dressed as tacos and pizza, chickens and Big Bird, a mom runner dressed as a cop and her spectator husband and kids dressed as prisoners, a guy running with a Yoda backpack (somehow that worked), Thing 1 and 2, a number for Where's Waldo (including an itty bitty little boy spectator, he and his dad dressed both as WW – so cute!) and a couple of zombie stations at mile 6 and 8. I do not like zombies and let's just say they're glad they didn't try to mess with me like they did with a few other runners. There's a few things I can't unsee: the guy in only a leopard print bikini bottom and the other guy in a loin cloth, running, with nothing underneath. Yep. Or the barefoot Elvis runner who was also Cap'n Jack Sparrow. Say what? And my particular favorite – the grim reaper. He ran past me and I didn't see him again so there's that. And of course, my favorite for the race itself – and I only saw one of each of these: a Forest Gump and Richard Simmons. Both perfect costumes.
Happily I saw my Chris-sign early in a Penske truck in mile 1. Then mile 2, I saw a sign that my amazing friends from Ottawa who'd I'd just spent a couple incredible days with were there too – I took a left where I've run before and saw for the first time a giant concrete FROG! 😉 This one I'm still trying to wrap my head around: at mile 3 there was a band, the enlisted Navy band. In uniform. Playing "Cake by the Ocean" Which just seemed odd in their jazzy version of it.
Really impressed with the police presence everywhere – friendly, helpful (including with downed runners), supportive – and saw lots of runners heading to them to give a high five.
Anyone else ever thought of the Expo as adult trick-or-treating?
Favorite sign this race? "When you can no longer run with your legs, run with your heart!" I get that. Was pleasantly surprised that I had relaxed legs for a lot of the race, but still felt like I had to push hard breathing and moving and don't know if that was travel fatigue or ?
Again a meaningful experience shared with my friend Judy. Got to see her right before we started, big hugs and smiles and encouragement. Then, along the course, as I'm crossing 11 or 12 and it's an out an back, this gorgeous, vibrant, jumping for joy Wonder Woman comes towards me and I realize it's Judy, having the best race of her life, so excited to see each other! Yay! You totally gave me a burst of energy up that last hill – what an awesome surprise. And then to get to cheer her in and meet her family and deliver the news that she surpassed her PR goal by more than 4 minutes was incredible. You rock Judy, can't wait to see you again in Vegas!
There was a guy who paced me up that last couple hills, between mile 10 through mile 11.5. He had on bright pink knee socks and glasses. We kept interchanging running next to each other or pulling the other along. He helped me immensely that last bit as I was struggling to maintain my breath. And this time, I got to run into someone who helped me along the course after the finish and thank him properly for being on the course and being an inspiration to me. He lit up knowing that he'd been able to be such an encouragement.
Standing at the start, in the corral, in the dark, next to a guy dressed as Superman. At one point he stretches his arms up and out and almost clotheslines me. He apologizes and I say, no worries, you're prepping to fly, Superman! 😉 (I'm a dork) We are standing there, and he then taps me on the shoulder and says "I see a hospital ID bracelet on your shoe…what?" And so I briefly explain to him the "why" I run and what this race is (and the concern I have being that I just flew across the country the day before.) He tells me he hasn't trained at all for this race, doesn't know how it will go. We talk about how the fact that he will cross the finish line in some fashion and that will be his to claim, and he says thank you. I guess you could say Superman validated me a bit and I got to give some support and perspective to him as well. Speaking of that, a ran (no pun) into a woman walking back to the hotel and we were wearing the same tank top and so we got to talking about the race and I asked her about her experience. She said it was her worst race ever. I asked her "did you cross the finish line?" She said "yes…" And I reminded her what a rock star she is, that no matter how she crossed it, she did and she got her medal and it's hers no matter what. She grabbed my arm and thanked me for reminding her what the accomplishment really was for her.
Here is another piece on the opposite side (could do well to take my own advice above): feeling pretty good, rather happy actually about my 1:49 finish time – after a lot of travel, I had no idea how fast I would/wouldn't run. Ran into Richard Simmons and as we were talking, asked him about his finish time. He stated he did much more poorly than he wanted, ran too slow, far off his goal. He was quite disappointed. I asked him his time and he says "1:49." Oh. Wow. Talk about a difference in perspectives. I hid my own disappointment in a gulp of reality of my own time, encouraged him to not be too down on himself, that he still had Vegas to run fast. I can't help but think about this and the danger of comparison. The thief of joy indeed.
So, this is the fourth time I've run Rock n Roll LA. Haven't run it in a few years. The course is a little different. And it's the fastest I've run it. In fact I broke 1:50 for the first time here (sneaked in with 1:49:55 officially.) Maybe it's a different course so it's faster. Maybe it's a different runner. Maybe it's both. But the experiment worked, even if I'm a more little disheveled than usual. The experiment was worth it to be able to experience all of what the last 36 hours involved. Including working out in the hotel gym with some Phoenix Suns players this morning and one of them saying "Damn Girl!" after I finished one of my circuits. So there's that. One more for the year to go!
And yes, I took a two hour 'nap' post race. No choice and glad I did!