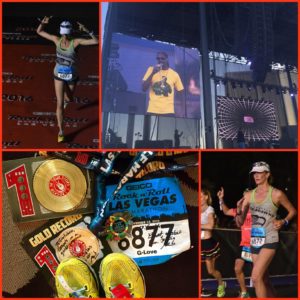 "It's crossing those finish lines when times are tough, when you don't even feel like trying, that's a measure of your commitment and courage." That's the words my friend Joanna wrote to me when I shared with her how tough this last race was for me to find motivation to run it at all. I almost sub titled this post "broken hearted run" or "running at night is bizarre" but had to go with the Snoop theme…
And it's helped ground how I will think about the 53rd half-marathon finish line I just crossed. The 10th of the year. How I was able to do that, I really can't say right now. I ran 11 in 2011 and then no more than 8 since, usually 6 or 7. Somehow I gutted out 5 just since September 18. Things to remember and recall how strong my resilience, persistence, get-back-up-and-keep-going is.
Ran Vegas with a heavy heart and apparently that makes me run slower I guess? It wasn't the finish time I hoped. Or even felt during the race I was going to end with. I mean, at one point I passed the 1:45 pacer so even though he was clearly struggling, I thought maybe? And in some ways, this being 5th in less than 2 months, I'm in the best shape of the year, and so I thought I'd finish with a strong time. But it was warm, and at night and had been in and out of casinos and lots of smoke for a couple days leading up. Plus I was wearing a Seahawks tank top so that should have made me run fast? Not so much.
Couple more things:
I'm a dork but I couldn't help but think at least this race had a good omen since 5+3 = 8, one of my lucky numbers.
I have a whole new respect and understanding for athletes who have games in the afternoon or at night. To get up at a fairly normal time (as opposed to 4am to eat) was nice and odd. But then to have a normal morning, still knowing you have to prep and get race-ready later in the day… I tried to do a similar routine to my morning races but it didn't work out quite the way I wanted. Felt suddenly frantic at the end and not well prepared. And mentally to stay with it through the day wasn't easy and frankly, wasn't into it. By the time mid day came around, I really didn't want to run. I train a lot in the afternoon in the heat but those are short runs and not 13.1 miles – after being on my feet all day long (got my 11K steps in looooong before the race ever began.) Tired feet, legs, body before the 4:30 start. Again, whole new understanding and respect for what kind of training and aptitude it must take for athletes to stay in the zone and be game ready in the afternoon or evening.
Some things that helped were as I'm walking down the strip to get to the starting line: I call my friend Judy who's also running the half and see where she's at. She's just leaving her room to make her way down – what hotel are you at I ask? She says Tropicana and I look up and that's the hotel I"m staring at. So we met right outside and I had the lovely surprise and gift of walking into the runners start village with her. What a treat. And then, as I'm in my blue wave start and making my way to the corrals, I run into a fellow runner/blogger and start talking with him. He's already run his 50th half and Vegas was a marathon for him. He and his girlfriend do a lot of these races together and I keep running into them. Being able to get in the zone and get excited for the course and the race by talking with him and having him share his experiences was super and truly helpful. Thank you Andrew.
In the elevator heading out of the hotel with my dear friends Dawn and Bill – fellow runners in the lift and one looks down and asks about the hospital ID bracelet. Quick share and they're excited for me. I'm contemplating continuing to wear it for more races – it helps me appreciate my why. Bummer but Dawn, who was running the 10k, and Bill had to go to the opposite end of the strip to get to that starting line so we parted outside the hotel. Cool thing was, part way through my course the half met up with the 10k course and since she was long finished before me, multiple times I had the thought "Dawn ran here, Dawn saw this too!" That was fun.
Speaking of smoke – I'm still nursing a sore throat and lungs from three days in Vegas. I guess I just don't go there enough to experience that but holy hell that was a lot!
Per the earlier post of meeting Meb – that was outstanding. It happened suddenly as I saw a small line of people at the expo and wondered what it was for. I looked up and realized people were waiting for Meb – to sign bibs, meet, take photos. I've always wanted to meet him and say thank you for being such a great ambassador to the sport of running. I stood in line and then started to feel nervous – partly cause I'm a fan and partly cause I didn't know what exactly to say, other than thank you. I contemplated more than once getting out of line – oh what does it matter, he won't care, I have nothing to offer him. But I knew I'd regret not taking the chance right in front of me. And I'm not a quitter. I felt the fear – really allowed myself to feel it, and did it anyway. And I may have been goofy and clumsy a bit, I am so glad I followed through and got the chance to meet the legend that is Meb. What an incredibly gracious, lovely, welcoming human.
Can we talk about Snoop Dogg being the pre-race headliner? I've never gotten that close to an artist before so that was incredible. And yes, I wonder if he runs. Somehow I doubt it. He definitely still has "it" in terms of swagger and talent and delighting the crowd. And, cough cough, never seen nor smelled that much weed before a race. Bizarre dichotomy for sure. (speaking of, did anyone get a photo of me using my inhaler as someone blew weed smoke in face?) But damn he was good. Just didn't ever think I'd hear before a race, after playing Young & Wild & Free, "So much love in this crowd tonight, you guys are so great. So, I have just one thing to say: Go smoke some weed, motherf@#*ers!" Hahahaha. Lotta people were laughing. Still giggling over all the songs.
The cannons shooting fire off the start line – a first and awesome. I'd like someone to install those at my house to go off every time I step out the front door.
The amazing announcer Anne at the start line – I see her beautiful self and wave and as she is in game mode, announcing and getting the crowd ready with energy and stories, as I cross the start line and hear "And there goes our girl Gretchen, we're moving her to Colorado!"
I forgot to play Gonna Fly Now from Rocky before I ran. Didn't do much of my routine in my room for that matter. At about mile 3 I realize I didn't do listen to my pre-race song. At mile 4 there was a performer on the side with the spectators playing the horn. And what was he playing loud and clear? Gonna Fly Now. Yup, that happened.
Another first for a race, other than being at night and the sensory deprivation of that – never seen so many drunk spectators! LOTS of drinks in hands and stumbling around. But damn they were cheery! And it was cool running down the strip with the overpasses full of people cheering runners. At one point I saw a huge group of Seahawks fans, including a 12 flag and ran over to point out my tank – they erupted in cheers and "GO HAWKS" which was an awesome boost.
One thing not cool: I saw a spectator sign I've not seen before. "Running is stupid." Really? Even if it was a joke, really? It made me sad and mad at the same time. While running isn't always easy, I work hard to look at it as something I get to do, that's it's a gift that keeps giving, not as something to hate or battle with or struggle about. Running isn't stupid. Not for the people on that course that gave their all to cross a start line, and eventually a finish line. Even if it was a joke, it's about perception and how we view things and seeing it as a chore or stupid or whatever isn't going to make it more enjoyable or successful. And hating on running doesn't make me a better runner.
Back to the good parts: the moon. Oh my God the MOON! It was gorgeous and full and bright and so very close. I don't run with a phone or camera so I got no photos but running down the strip with it rising up on the right was just so spectacular and awesome. That alone was wroth the entire run. Supermoon indeed.
Whoever the Cher impersonator was early on the course on a small stage was incredibly talented. WOW!
It was an odd course in that it was at night. Some parts I felt good, some I was quite tired, some I felt like I passed a lot of people, some I felt like I was running in molasses, some miles went far faster than others. Very interesting how everything I thought I knew was upended. At least I did see a heads-up penny at mile 9 to give me a smile and a boost. And yes, I saw many Penske trucks along the course and exactly when I needed to – thank you Chris.
One thing that gave me a big burst was the last few miles coming back down the strip towards the finish line at the Mirage. Along the side of the building is a big advertisement for their Cirque du Soleil show about the Beatles. It's called Love. So there was a big sign in my line of vision for the last few miles that was lit up in the words LOVE. It's hard for me to believe in love sometimes, but seeing it all around me at the course, in couples, friends and in human interactions, seeing that giant neon sign shouting LOVE was a beautiful thing and brought a light energy lift for me to run in.
At the finish line, I met a nice older gentleman who congratulated me on my 10th race of the year. You see, I got an extra bib to wear on my back that is a "gold medal" bib for running 10. I said thank you and noticed he had one too, only it said 22. Holy crap! He's run both halfs and fulls to get that in one year. I remembered there was another older guy on the course wearing one that said 24 – I'd seen him in LA too and had tried in vain to not compare myself as 'haven't done that many' – and suddenly he comes walking over to his friend I was talking to. We all introduce ourselves and one guy explains he's run 134 marathons in his life. 134. Wow. I said goodness, I can't compare to you two even in this one calendar year. His friend who first congratulated me says, oh no, you've done a great job! And then asks his friend of the 134 marathons he's run, how many halfs has he run. And he says "oh, I don't count, or I mean, keep track of the half marathons." And my heart sank. We continued a brief conversation, I congratulated them both on their finish lines for this half and said thank you and that I look forward to seeing them at another race soon. And as I walked away I thought about that. How many accomplishments do we not count or keep track of, and by not doing so, diminish or minimize the accomplishment?
Then I thought, I'm proud of my halfs. All of them. The weird ones, the strong ones, the hard ones, the cold ones, the hot ones, the intense ones, the slow ones, the fast ones, the fun ones, the surprising ones, the meaningful ones, the goofy ones, the ones I bounce back from, the ones I struggle in recovery from, the ones I'm prepared for, the ones I am not, the ones I do solo, the ones I have support for, the ones I wish I could do again, the ones I never want to do again, the ones I barely got up for, the ones I leapt out of bed for, the ones that dismay me, the ones that inspire me. I draw inspiration, courage and appreciation from ALL of them. All 53 in 6.5 years. The 5, 6, 7, 8, 10 or 11 in one year. All of them are worth it. Goal is to stay open and curious as throughout these runs and the training for them; I am always learning, always growing. Grateful.
Ain't nothing but a G-thing.