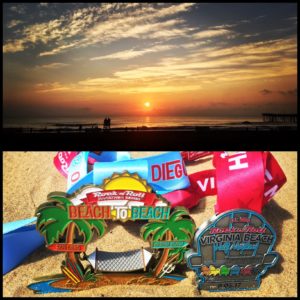 When it's 93% humidity and your hair is wet before you've even arrived at the starting line, when your head is still gushy and warm from yellow jacket venom, when you're not entirely sure how this one – #59 – will go since the last year of running (for various reasons) has been so tough and you're wondering what you're doing – NONE of it matters when you start the race with a sunrise like this over the Atlantic Ocean.
Yes, I had to adjust my running hat to accommodate my the part of my head that's still apparently a bit swollen from those a'hole yellow jackets, but it's SO much better and the doctor said while it may get exacerbated from the run meaning I'd feel it warm up (I did), I should be fine to go ahead and do it. So I got my butt on a ridiculously early flight to Virginia Beach on Friday and headed straight to the Expo – seems I actually had forgotten to sign up officially for this race. Given the Summer chaos, I'm not entirely surprised, I was surprised I didn't realize it until 36 hours before my flight. But since I had a flight and hotel booked, I checked to make sure it wasn't sold out and got myself to the East Coast. (and by the way, signing up last minute when you have the Global Tour Pass, meaning you can do any and all races for one price – meant I didn't have to pay the last minute entry fee, which was very nice.)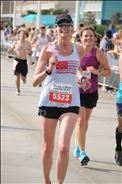 Slept most of Saturday because I didn't have the pressure of having to go to the Expo, which was lovely – and then met a fellow runner that has one of my favorite PR stories ever. Richard is an English teacher in San Antonio, running 10 RocknRolls himself this year. His wife runs, his sister is trying, and he's getting his kids into it too…Oh and as an English teacher, instead of listening to music when he runs, he listens to books on tape – brilliant! Anyway, a few years ago when his son was about 6 months old, he ran a half marathon (he just started running less than five years ago.) He decided to run this half with his son in a running stroller – which in and of itself, is a feat. His son is blessedly asleep for the first 7ish miles, which makes Richard's run pretty easy. Then the little guy wakes up and wants to be fed, so Richard bottle feeds him on a quick pit stop with one of the bottles he brought with him just in case this happened. But it happened earlier than he expected. Now, it's mile 8 and Richard realizes he has no change of diapers for his son in the stroller, just back at the car at the finish line. He's thinking, there's no way this kid doesn't blow through a diaper after just eating and I still have 5+ miles to go. So he kicks up his speed and essentially races with his son wide awake and giggling in the stroller, running the last five miles as fast as he can for the sole purpose of a potential diaper change. And yes, he crossed the finish line faster than he ever had (or has since.) If you're looking for new motivation, that's one tactic.
Couple other observations from RockRoll Virginia Beach – it felt good. For the first time in a very long time – and entirely regardless of my finish time – this one felt good. I felt fairly strong and grounded – I've made a couple big changes in the last month or six weeks and it seems to be paying off (more to come on that) in ways I am so far happy with. It's been a long time where the majority of the run didn't feel like a struggle – and while I had moments of "OH LORD!" on this course of course, the balance shifted, the majority of it felt good and joyful. So so grateful for that. Learned and learning a lot from that – including sometimes a dip in motivation can last longer than expected and still worth it to follow through with the commitment and eventually come out the other side.
In the first couple miles, a fellow runner taps me on the shoulder and asks me about the Tour Pass bib on my back, how much it is and is it worth it. I share the information, and of course I say yes, and am also struck by the fact that I can talk while running. This is a new thing – I mean, I am not entering a Gettysburg Address recitation contest while running, but the fact that I could talk a brief conversation and not get lightheaded for a while afterwards is pretty cool.
At one point along mile 4 I was feeling this surprising light and good feeling and looked to my right, as I was appreciating the feeling, and saw a mail box with angel wings on either side, as the postman flag. I love the divine timing of that. And right after that, a big group of Texas Longhorn fans and signs and something about giving them a quick Hook 'Em Horns greeting was uplifting to both sides.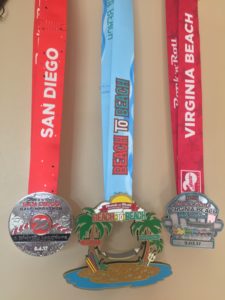 Now, mile 5? Why, sir, would you have a sign at mile 5 that says "you're almost there, the end is near!" and I thought "Dude not cool – it's mile 5, not mile 12!" and his partner next to him, she kept screaming at people "pick it up, pick it up!" So, here's the thing – maybe that works for some people but probably more so for if you're running alongside as a coach or something. Maybe something more encouraging like "you can do this, dig deep, you got this, keep going!" or something along those lines. It was jarring and not just for me – I heard a few people tell her to join them on the course and pick it up herself. Ha!
It's beyond cool to run and get support from the military, and to run near military housing – and then there's running through Camp Pendleton where the Virginia National Guard is cheering you on, followed by a couple female MPs. Felt like sacred ground we were running on (didn't hurt that the one house address happened to look at was 88!) It was awesome to run through CP.
Yes, it was some of the heaviest air I've run in, although a couple of very welcome strong breezes helped. Also yes, it was the best I've felt in a while and that's incredibly encouraging and motivating for the next big race. That feeling wasn't 100% expected – I am just excited I ran the whole race, aside from some water walk breaks. I haven't run a full course since maybe Philly of a year ago. No, I didn't get to jump into the Atlantic ocean post-race like I'd hoped to, but I did get a chance to connect with some really freakin amazing people and that, as you may know, is really the reason I keep doing these. Thank you, Virginia Beach and RocknRoll, for surprising me in a number of ways – I'm truly looking forward to my next run and next race.