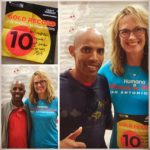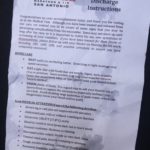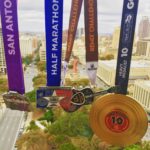 Ok, it's a week late. But not really late, cause I kind of just needed to savor my last race weekend of the year before writing about it.
First, this race was ALL about gratitude, thanking everyone I possibly could for whatever part they play to make these races come to life the way they do. It was also about celebrating all the good that is the Rock 'n' Roll event series, especially since 53 of my 63 halfs are on one of their courses!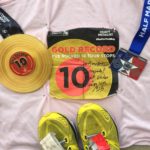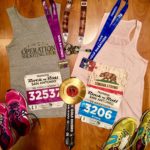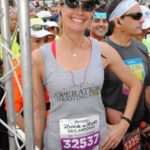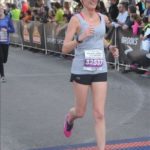 Is it possible to fall in love with running all over again? And in the weirdest, hardest way possible? To be sure, this year has been hell for me. Especially for running. That I still ran 10 half marathons is slightly beyond comprehension. But I really wanted to do San Antonio, and end the year on a high note.
Frankly it couldn't end much lower than last year. I needed this year to end on the upswing, something to build upon for next year and reenergize my confidence in running. Part of that included shifting a whole lot of habits and revisiting a few old and trusted methods. And, another part of that was to challenge myself and do a Remix Challenge weekend by running a 5k on Saturday and my half on Sunday. I was nervous but also know that often doing a shake out run the day before a race – provided you don't go out too hard or fast – can be incredibly helpful.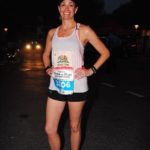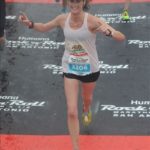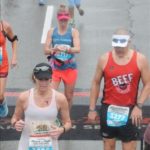 And so the good news is, despite the immediate post-finish line involuntary medical tent visit, it is in fact my PR for 2017. That's not saying much, considering it's slow for me for 2016, 2015, but it's as I wanted it – to feel that I'm heading in the right direction and I can use this as momentum to keep striving for more and learning different ways to (still) improve my running. I'm loving the fact that after this many races, I'm still curious, still learning, and able to apply lessons to shift both performance and experience. You can't step up to this many starting lines, keep running throughout, and cross this many finish lines without learning a thing or two about the human body and condition.
A few key highlights from the races (in addition to the previous post about All the amazing people I adore):
*did I mention I ran the fastest for this half race than all of my 2017 races? 🙂 Ok, okay, that is not the only reason to run. Here's a few of the others…
*It was my favorite expo, perhaps because it had the energy of the last one of the year and the transition of the merger shifting staff and next steps and feelings of who knows what it will all look like next year. In fact, I went two days in a row just to see all my favorite people: runners, vendors and staff. Oh yeah, and got to meet Meb's awesome brother Hawi and Meb signed my Gold Record bib again.
*bound and determined to make this race weekend not only count but be worthwhile and feel good. took really good care of myself inside and out to make sure I was prepped.
*Right before the 5k, I ran into Ann doing her thing and she reminded me "the people running hard and fast today are not running tomorrow!" after I mentioned I'd never done a remix weekend before and wanted to have the half go well too.
*wore my Operation Shooting Star tank top for the 5k, to honor Audrey and OSS and to stay connected to my WHY I do this at all.
*With Ann's words in my head, I made myself run a little slower, and came in happy with my time, certainly slower than my fastest 5k and still, probably could/should go a little slower. It was the perfect distance – I still had to get into it, but also knew it was almost over right when I was feeling my legs truly relax into the race itself.
*As I'm about to round the corner to the last .2 of the race, Meb comes around running upstream on my right, so I got a low five from him – he was on his way to run in with a crew and without a doubt it gave me energy to kick it up for the last bit of the race and cross the finish line with a big smile.
*Got some rest, took it easy, met up with a big group of awesome runners to celebrate briefly at the Black Sheep event (thank you Al, that was powerful) and then to bed to feel strong for the half. Couldn't help but laugh when my Garmin had told me the 5k I just ran needed a "47 hours recovery", so yeah, that wasn't going to happen.
*did everything I could possibly do to take care of my body and mind to start the half race morning off well – feel super good about that and knew it would make a difference, even if simply to ENJOY the race more than I had all year!
*It couldn't have been a better start to the morning, in terms of finding all where I needed to be, running into friends, feeling set and ready. The weather – okay, that was not awesome, a bit strange in it's humidity and lack of breeze. Ah well, I've run in weirder conditions. And yes, started the thank yous – there was a volunteer wearing one of those awkward "Ask Me" signs attached to her backpack – she looked askance at me, so I said it again "thank you for being out here and helping us all!" and she nodded. Made me think we could all say thank you a little more.
*I had a goal for this race, to actually meet Kathrine Switzer and say thank you for all she did. Given my post-race condition, that didn't happen. But, lo and behold, at around mile 1.5 I saw her and her crew running. So I ran around to the left and in front of them and turned around, clapped my hands together and said "Thank you, Kathrine, for everything you've done to elevate this sport!" And she smiled and said "you're welcome!" Little did I know I wouldn't get to see her again but damn, that was cool.
*Took a cue from my friend Joe to thank all the many police along the course. I didn't get them all but I got a lot of them. Some I got to shake their hands. I swear one of them started to reach for his holster he was so startled. Some of them got big grins on their faces, thanked me for thanking them. They're making a difference, keeping us safe in a myriad of ways, not simply standing there to look hardcore. They probably should all get thanked a lot more than they do for being on the course for us. Thank you Joe, for the inspiration for that (and for always being such a wonderful friend every time I see you, it's truly a joy to hang out with you.)
*Ok, here's a little reality – I don't remember all of this race or the course. Sure, that's not too unusual given what happened at the end of the course, and it's why I try to write down as many thoughts and memories as soon as I get back to my phone in my gear bag – but still, it feels kind of strange to only recall a few key points. But what beautiful key points they were.
*I love the San Antonio course, so many running teams from Mexico representing – I love seeing all the teammate shirts runners are wearing, really helps you grasp the scope of the sport.
*Here come the thank yous for volunteers – any and all volunteers, including the ones handing out gatorade and water and also all the folks helping pass out food at the end, those helping the general organization of the course to run as smooth as possible, and certainly, all of the medical volunteers (fascinating to learn how some of them are learning about the field and may become nurses, doctors, EMTs and many other professions – what a cool way to learn the ropes.)
*The Run to Remember mile. Wow. Somehow I timed it perfect, cause the weather had begun to shift and the humidity began to lift. Well, right as I'm running along all the pictures and then it turns into all the family members of fallen soldiers holding American flags on either side of the course, the skies absolutely and completely opened up and poured down on us. Somehow it seemed entirely right for that to happen, the downpour splashing on my face and mixing with my inevitable tears as I thanked over and over each of the family members – their beautiful faces clearly feeling the emotion of all the runners appreciating them and their sacrifice as they ran through it all. That mile is always incredibly powerful, this particular day even more so. Mother Nature played a little role in that, connecting with family members too. Thank you for this Run to Remember portion of so many of the courses – it never fails to make an impression or to make me feel a deep sense of appreciation.
*Can't quite recall which mile it was, maybe around 10 or so? But I passed a firehouse. Initially my brain said "oh, you already stopped in Savannah, you did what you wanted" and I kept running – at this point, I was pretty happy with my running time. I was feeling a bit off a few times but for the most part, I knew I was on pace to run my fastest 2017 time, just go for that one part of my brain urged. Just 15 steps past the fire house, I couldn't keep going. I had to stop and go say thank you again. I knew I would regret not doing it, not be oaky with not saying thank you. So I literally pulled up, did a 180 and ran upstream back to the firehouse (I'd already waved to them as I ran by, which just wasn't enough given everything in Sonoma) and ran up to about eight guys in uniform. I stopped, a bit breathless and admittedly through some choked up tears, and said, hey, I know Texas didn't technically send anyone to CA for the wildfires in October, but I want to say thank you for ALL that you ALL do to save lives, property, communities. And showed them my Sonoma Strong shirt I was running in. Every single one of them high fived me, said thank you – beaming – and said it meant a LOT to them that I took time out of my race to come say this to them. I could've stayed there talking with them longer, but they shooed me back to keep running. It was the best thank you I've been able to give to first responders. That memory I'm tucking in my heart forever, and so damn glad I doubled back to share my gratitude.
*Was that mile 12 or so? The dancers on the pedestrian overpass? I loved that. Seriously, they were AMAZING and so talented, it was delightful. I was actually feeling okay, and despite the hill to run up under them that I knew I could tackle at that point, I had to slow up for a walk, just to enjoy the Mexican folk dancing and the music. THAT is a first for a race, and unique to San Antonio. Brilliant.
*I lost count, in the best way possible, of how many thank yous I had the opportunity to shout out and share. It was amazing how it really lit me up every time, it actually made me run better and faster after each thank you. Seems appropriate.
*As per the previous post from last weekend, sure my immediate ending after the finish line wasn't what I expected and I still have some questions about the why. (I still say it's a barometric pressure incident) And sure, I missed a lot of my 'normal' routine post finish – no finish photo, no chocolate milk, no banana, no wandering happily and deliriously through crowds of equally happy and delirious runners. Instead I was running over ankles in a wheelchair. And, as noted, while the experience was super scary at the time, it was also incredible because I was able to experience – for the first time – the absolute remarkable medical help at a Rock 'n' Roll race. While the experience of it pretty much sucked for me physically, I was continually blown away by everyone I came in contact with.
*And finally, being able to hang out at the finish line and cheer marathon runners in was just simply the icing on the whole day. And yes, I cannot help it, I have to admit I cry – when you see someone's emotions of such an accomplishment, and THEN you see them connect with their loved ones who embrace them with such pride and happiness, and then they all start crying together… It's just so incredible. My friend Lisa, who was cheering people on despite being on crutches and unable to run herself, noted "oh you have a tender heart! and you're going to make me cry!" The tall young son, who crossed the finish line of his marathon and found his mama and his auntie on the side and collapsed into their arms with tears running down his face. Damn, I'm tearing up just thinking about it. THIS is why I run, why I love supporting other runners, why I keep going to race weekends.
And so, it was another race of firsts. And at 63 finish lines, that's pretty freakin cool. First time with that kind of finish being wheeled into the med tent, first time doing that many thank yous and really experiencing the lift of it, the first time for the Mexican folk dancers, first time with a down pour in the middle of the race with sudden puddles everywhere, first time doing a remix weekend with a 5k on Saturday, first time meeting Kathrine Switzer, first time for lots of things. And perhaps the end of one kind of era, in that Rock 'n' Roll is in the transition from the merger that happened, Ironman purchasing them. Things are bound to change, staff already has, and the look and feel will be different and I'm committed to going to practice approaching it all with an open mind and a willingness to offer feedback.
I'm forever grateful for this race weekend – somehow it restored my belief in my running and my why. It reinvigorated my goals and potential for what else I can do. It renewed my excitement about race weekends. I so wanted to end on a high note, believing that I can again improve my running, and that absolutely happened. OH YEAH – it IS in fact my PR for 2017!!!
Let's GO 2018!